Genesius Guild's Richard III is not what I expected. I sat down for Sunday night's Lincoln Park performance anticipating a well-done, respectfully somber production - something along the lines of a group oration with limited movement. What I saw instead was a dynamic show filled with remarkable performances and clever staging, and delivered with proper respect for the material.
Director Michael King deserves high praise for making Richard III so visually interesting. Rather than a lofty, potentially condescending presentation of William Shakespeare's historical drama, Richard's all-too-bloody rise to power and subsequent downfall are presented here with unpretentious and accessible staging, and King's work is enhanced by designer Ellen Dixon, whose consistently stunning costumes are, once again, vibrant with color and meticulous in craftsmanship.
King is also praiseworthy for his portrayal of the title character. Slinking his way across the stage with his humpbacked physique, and letting Shakespeare's words flow from his mouth with a sneering, vile tone, King's performance suggests that this is a dream role for him; he seems to positively relish enacting the contemptible creature that is Richard. It's not easy to like him, but his performance is so dynamic, so fully committed to the baseness of the character, that it's fun to hate his Richard. (While it may sound insulting, I intend this as a compliment: With his delightfully malicious sneer and darkly humorous deliveries, King's characterization reminded me of Jeremy Irons' Scar from The Lion King.)
Meanwhile, King's ensemble cast is almost entirely deserving of accolades. Among them, Denise Yoder is particularly noteworthy for her crazed portrayal of Queen Margaret. I thought I knew the limits of Yoder's range as an actor, but she moves beyond those perceived boundaries with a believable, well-honed lunacy that avoids cartoonishness. Adam Overberg is well-suited to his royal roles as both King Edward IV and Richmond; his stage presence is nothing short of regal, and he commands attention without being haughty. Rachel Krein's careful pacing and diction also create an air of royalty, with a tone that suggests Lady Anne's purity, even when she's almost violently angry. And Earl Strupp's Catesby seems so unamused - with a "que sera, sera" attitude toward the stage proceedings - that the character stands out in Richard's court by trying not to stand out.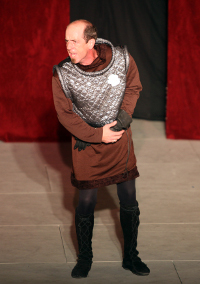 Bryan Woods, who excels at characterizations of the condescending and disreputable, almost matches King's detestable Richard in his role as Lord Buckingham. Melanie Radkiewicz is impressive as a commoner who marries into royalty to become Queen Elizabeth; there's a sort of defensive pride underscoring her dialogue, which Radkiewicz employs to reveal her character's lower-class roots. And then there's the incomparable Dee Canfield, using the lower registers of her voice to convey the noble nature of her Duchess of York. Canfield exudes a striking sovereignty in her performance, one filled with nuances of pride, anger, motherly love, and pity.
Since projection is vitally important to an open-air theatre experience, I should also mention that every single actor managed to project at least adequately enough to be heard by the audience (with many loud enough to be heard even further into Lincoln Park, I'm sure). Down to the youngest cast member, this ensemble understands the auditory needs of the environment and meets them.
When it comes to Shakespeare and Richard III, an eye far more discerning than mine might find some trivial fault in the way it is presented by Genesius. I, however, do not, nor can I guess what could be held against King's direction of, and portrayal in, what many believe to be the Bard's greatest work. While I could take issue with the three-hour-and-20-minute running time, I felt nothing but awe at this performance I thoroughly enjoyed from beginning to end. Bravo, Genesius Guild, and bravo, Michael King. You have reason to be proud for pulling off, impressively, such a grand undertaking.
For more information, visit Genesius.org.
Thom White covers entertainment news for WQAD Quad Cities News 8.