Clocking in at just under 50 minutes at the opening matinée, the Circa '21 Dinner Playhouse's (under) 21 Youth Theatre's adaptation of Go, Dog. Go! is a great opportunity for preschool and early school-aged kids to experience their first local-theatre production. (In retrospect, I could've even taken my 20-month-old daughter, along with a Snack Trap and three refills of Cheerios.) The show features a series of simple vignettes plucked from the pages of P.D. Eastman's 1961 children's-book classic about the friendship between six adorable canines. And while the general lack of dialogue or a steady plotline may bore some adults, the rudimentary yet whimsical scenes and characters will likely appeal to the under-10 crowd.
I was particularly impressed with the functionality and wittiness of the costume and set-design choices by Gregory Hiatt and Sarah Oziemkowski. The six dogs were dressed in colorful sweat suits with matching tennis shoes and cloth ears and tails; they cavort on and around boxes that spell out the title of the show, and enter and exit from backstage through three wooden dog houses. The use of the umbrellas as trees was quite clever, as was the incorporation of the roller coaster and Ferris wheel as toys, as opposed to rides, for the larger-than-life-sized dogs. And the increasingly exotic hats worn by Hattie (Erin Churchill) were as extravagant as they appear in Eastman's illustrations. (My only qualm with the costuming was that the female actors' ponytails were visible and constantly swinging back and forth behind their dog ears, which made for very strange and very un-dog-like appearances; a hat that covered the backs of the performers' heads would've made their "doggie-ness" seem much more believable.)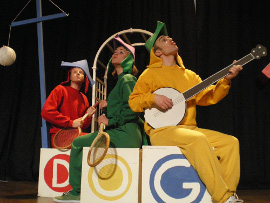 Directed by Brad Hauskins, this show required little in the way of dialogue, aside from the MC Dog's (Janos Horvath) occasional observations of the dogs' actions, such as, "Work, dogs. Work!" (Or my favorite - his agitated, "Night is not the time for play. Night is the time for sleep!") The other colorful dogs worked as an ensemble while playing out the various scenes; for example, "Dogs at Play" featured the canine version of a baseball game, while "Dogs at Work" had them digging with shovels and jackhammers. Each vignette transitioned fluidly into the next, and with the help of the frequent musical accompaniment by Ben Holmes, kept the action moving at a quick pace. However, I wish that the actors had been encouraged to physically and emotionally individualize their characters a bit more, as I think this is might've helped the younger audience members better connect with and appreciate each character. (I enjoyed, for example, the sporadic pouty-ness of Bret Churchill's Yellow Dog, and wanted to see what each of the other dogs were like, too.)
My favorite interactions between the dogs were the hat scenes with Hattie and MC Dog, which received the loudest laughter from the adults; as the hats that Hattie tried on for MC became more and more outlandish, the more insistent were MC Dog's replies of "No!" to Hattie's inquiry, "Do you like my hat?"
At just $8 a ticket, Circa '21's current matinée offering of Go, Dog. Go! is a fun and affordable entertainment option, and is a great way to expose a younger crowd to local theatre productions - as well as encourage children to connect a familiar book to a larger, live experience. I wish I had taken my daughter.
For tickets and information, call (309)786-7733, extension2, or visit Circa21.com.