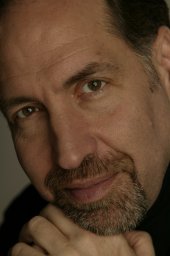 For St. Ambrose University's forthcoming production of Crème de Coco - being performed at the Galvin Fine Arts Center from April 20 through 22 - the school recruited guest director Philip William McKinley to helm what will be the world premiere of William Luce's one-act play. During his area tenure, McKinley is also teaching an advanced acting course at St. Ambrose, and in a recent interview, the director explained why honesty is essential in eliciting the best work from performers:
"I think a lot of times, people tell them what they think they want to hear, rather than tell them what they really do need to hear. And if they know that you're telling them something to make them better, or for their own good, they're totally receptive to it."
That seems like a perfectly logical method for directing student actors. But, at this point in our conversation, McKinley wasn't referring to student actors. He was referring to Hugh Jackman.
And Bea Arthur.
And Chita Rivera, and Victor Garber, and literally dozens of other stage and screen stars with whom McKinley has worked over the years.
"They're really regular people," McKinley says of the A-list talent he's directed, "and they're hard-working. I mean, Chita's phenomenal. Chita and Bea Arthur and Gwen Verdon and Bebe Neuwirth, they're like ... they're workhorses, you know? 'Cause they came up in the theatre."
Best known for guiding Jackman to a Tony Award for his portrayal of Peter Allen in The Boy from Oz, McKinley also had the pleasure of directing Betty Buckley in A Little Night Music, Phyllis Diller in The Wizard of Oz, Tony winner B.D. Wong and Emmy winner David Ogden Stiers in Peter Pan, and a whopping 342 theatrical talents in 1994's eighth-annual Broadway Cares/Equity Fights AIDS Easter Bonnet Competition fundraiser, which Backstage magazine described as "one of the most exciting shows seen on Broadway this season."
"That was the first year that we broke a million dollars," McKinley says with pride. "CNN broadcast it that whole weekend. That was fun. Three hundred forty-two Broadway performers. Two-and-a-half days to put it on."
Directing such an assemblage of talent - and with such a short period for rehearsal - would appear to be intimidating to any director, but McKinley insists that the key to his directorial ease lies in not treating the celebrities as celebrities.
"I'm gaining a reputation of working with stars - if you want somebody to make sure the star's comfortable - and it's because I just make sure I'm honest with them," he says. "I think that what happens is sometimes a star will be in a production and the director is intimidated, and doesn't necessarily treat them like they would another actor. And then that star ends up doing a really bad job, and not because the star is not capable of doing a good job, but because no one was telling them what was right and what was wrong.
"I'm not intimidated by stars," McKinley continues. "Like working with Hugh. Hugh's great - I mean, he's just a real lovable guy, a hard worker, and very dedicated to his craft."
Yet in The Boy from Oz, Jackman was also cast in a role - that of famed, closeted-gay composer/performer Peter Allen - that would make many established stars blanch.
"He asked me once," recalls McKinley, "and I said, 'You don't have to play gay. It's not about playing gay. For Peter, it was about not playing gay.
"The thing for me," he continues, "is that, as a director, I understand that when I'm working with a star, they have a lot to lose when they put their neck out there. My main regard is to make sure that they are protected and taken care of, and that they're not gonna be in something that's gonna embarrass them."
The director's modus operandi certainly seems to have paid off for Jackman, who not only won the Tony for Best Actor in a Musical, but received an Emmy Award for hosting the 2004 Tony Awards, in which he performed a show-stopping number from The Boy from Oz.
"I knew the role was one that would demonstrate all of his abilities," says McKinley, "and would certainly give him the platform to express all of his talents, which, up to that point, he hadn't really done. I knew when I saw him - when we worked in the workshop, like, the first day - that he is a triple-threat [as an actor, singer, and dancer]. He is cut from theatre cloth, no doubt in my mind. He is cut from theatre cloth.
"I'm really proud of the fact that I was there to direct that," McKinley continues. "It's a great feather in my cap to know that I was the one who helped construct that performance that helped garner his awards.
"Now I wanna get him an Oscar," he adds, with a laugh.
Before that can happen, though, the director will helm St. Ambrose's Crème de Coco, a 75-minute examination of the tortured history behind famed fashion designer Coco Chanel. Yet landing McKinley for the job wasn't quite as difficult as you might imagine.
No stranger to the area, McKinley - whose interest in theatre began, he says, when he was "three or four years old" - grew up in the small farm community of Avon, Illinois (estimated 2005 population: 881). McKinley eventually enrolled at Augustana College, where he amassed five majors in three years, and where he first met Circa '21 Dinner Playhouse producer Dennis Hitchcock, who was teaching in the school's theatre department. (Asked exactly when this was, McKinley, who refuses to divulge his age but looks about 50, grins and says, "I don't tell.")
McKinley and Hitchcock stayed in touch through the years, and in March 2006, Circa '21's producer convinced McKinley to return to teach a workshop for St. Ambrose students, and participate in an Inside the Actor's Studio-esque Q&A for the public. (Hitchcock currently serves on the advisory board for St. Ambrose's theatre department.)
"I had a great time doing it," McKinley says of his experience last year. "I really, really enjoyed it - enjoyed helping the students. And Denny was really instrumental in wanting to do it, because he thought it was important to have someone from the area - who had grown up in the area - and had come from a small town, and yet was able to go out and really make a profession of doing something like this. To say to people: You can do it."
During his stay, McKinley recalls, "One of the students said to [St. Ambrose theatre professor] Cory Johnson, 'God, it would be great if we could get him back here to teach a semester and, you know, direct a show.' And Cory said, 'Yeah, right. Sure. That's gonna happen.'"
At a dinner later that night, however, the topic was broached. "Cory was telling me, 'Yeah, yeah, too bad we can't get you back here,' and I said, 'Who says you can't?'
"So that started the wheels turning."
The director admits that he did have a few personal reasons for returning. "I have a house - it's an hour and 15 minutes from here - and I can go there on weekends and garden and spend spring on the lake with my family, which is great, 'cause I haven't done that in 25 to 30 years."
But McKinley was also excited about the professional opportunities afforded, in that he was able to help select the production he would eventually direct. "They asked, 'What about directing a show while you're here, too?' And I said, 'Well, I'd like to do that if it were an original.
"'Cause that's what I like to do," he continues. "It's good for them [actors] because they have no reference. They can't watch the movie; they have to do it. From that standpoint, I think original work, in some ways, is a better teacher, because performers can't base their work on something else; they have to base it on themselves."
The production that St. Ambrose and McKinley finally agreed upon was Crème de Coco, which McKinley directed - in Japan - in its two-act incarnation Chanel, and which, its director states, is anything but the design show one might expect.
"'Cause if you know Coco Chanel's name," he says, "you think it has to do with, you know, Paris fashion. And what people don't know about her is this whole other side, where she had a Nazi lover and was accused of collaboration with the Nazis, and actually was trying to arrange the assassination of Hitler. She had some interesting stories to tell about Churchill and about de Gaulle which really ended up saving their lives, because she had the dirt. And yet, after it was over, she was basically crucified for the whole thing, because no one ever believed her."
To hear McKinley tell it, the Crème de Coco experience has, thus far, been a supremely positive one. "They all seem to be enjoying it," he says of the work-in-progress, "and it's a good company; it's a really good company. They've been really responsive."
As has McKinley's team out East. "Even being out of New York this long," McKinley admits, "my managers and agents are not real thrilled."
But for the opportunity to work with William Luce's debuting script - and for the chance to share his talents with a group of promising up-and-comers - McKinley appears more than pleased with his current professional sojourn.
Crème de Coco will be performed in St. Ambrose University's Galvin Fine Arts Center at 7:30 p.m. on April 20 and 21, and 3 p.m. on April 22. Director McKinley and playwright William Luce will participate in a Q&A discussions after each performance, and tickets are available by calling (563) 333-6251.