Author Emily Mann's Having Our Say: The Delany Sisters' First 100 Years is a two-character series of reminiscences taking place entirely in one home, and in close to real time. Consequently, you might not expect the Timber Lake Playhouse's latest to boast much in the way of technical showmanship. But the visual effect that occurs 30 minutes into director Chuck Smith's irrepressibly jubilant production is a true stunner, and would no doubt stand as the show's most magical element if the play were presented wholly free of actors.
At its start, this dual-stage biography welcomes us into the 1993 living room of Sadie Delany (Jenia Head), a 103-year-old former schoolteacher, and sister Bessie (Shayla Brielle G.), a 101-year-old former dentist. African Americans who staunchly prefer the terms "Negro" or "colored," the women admit to enjoying rich, largely fortunate lives without feeling the desire to marry, and Having Our Say's first third is a getting-to-know-you in which the Delanys describe their upbringing and share evocative scrapbook photographs. (The latter are projected, within oversize picture frames, above designer Tucker Topel's set.) During one of Sadie's anecdotes, Bessie – who'd rather not hear this particular tale again – wanders off to the kitchen, and can be seen in what appears to be a small, darkened enclave upstage-left. Not long after her return, however, the sisters decide to get cracking on their annual dinner celebrating their late father's birthday, and off to the kitchen they go. Or rather, off to the kitchen we go.
You anticipate a rotating set in Les Misérables. Yet when, on June 16, Having Our Say's playing area slowly spun and the Delanys' tastefully decorated living room transformed into a sunny, sprawling, tchotchke-laden kitchen, you could both hear and feel the audience's collective amazement at the theatrical feat. Over the next hour, as the women conversed while preparing food, this initially charming, cozy two-hander seemed to explode with newfound vigor and purpose. But better yet, the bustling activity seemed to match the experience of Smith's production. Sadie and Bessie were genial, welcoming hostesses from the start. As the play progressed, though, you more and more felt the heart-swelling joy of these ladies' combined 204 years – a joy that couldn't, and shouldn't, be confined to two comfortable seats in a living room. And not for an instant did Head and Brielle suggest anything less than lives extraordinarily well-lived. From first moment to last, the performers were fantastically believable sisters and best friends, and absolutely superb raconteurs.
That the young performers – I'd guess both to be in their early 20s – aren't really convincing centenarians is almost immaterial, because what we may lose in natural gravitas is handily made up for in wit, emotionalism, and devastating comic timing. (Head and Brielle frequently deliver lines in sync, and amusingly mirror not only speed but vocal timbre.) Having Our Say's co-stars are so beautifully paired, in truth, that it's impossible to separate one's divine work from the other's. Head, as the more well-mannered Sadie, displays a heartbreakingly lovely forbearance and decency, and Brielle allows Bessie's snappish impatience to sneak out in unexpected bursts, as in her hilarious left-field attack on Dan Quayle. But the play's signature image is of one sister sitting while the other stands behind her with a reassuring hand on her shoulder – a hand that's immediately, instinctively grasped – and Head and Brielle deliver the performance equivalent of that image. Theirs is clearly a partnership of deep adoration and support, and the exhilarating time spent in their company isn't nearly time enough. (Overheard at the act break: "It's intermission already?!" Overheard at night's end: "I want a sequel!")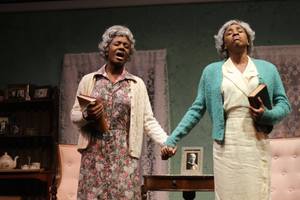 The Delanys' stories – about their mixed-race heritage, their eight siblings, their lives under Jim Crow laws, their hard-earned battles for equality – are ceaselessly fascinating. Sadie's and Bessie's visible thrill in telling them, meanwhile, is sublimely winning, whether one sister giggles with delight at the other's reminiscence, or urges the other to share a tale that she herself immediately starts telling. Head's and Brielle's are phenomenal performances lovingly directed by Smith, and, if possible, the women were actually at their most moving during Thursday's curtain call, when their tearful grins suggested utter, humbled surprise at the thunderous standing ovation greeting them. Having Our Say is an unmissable treat, and, when Bessie reveals having participated in every election since the dawn of women's voting rights, a particularly resonant one in this contentious year. "If you don't vote, you give up your right to complain," she says, "and honey, I am not giving up my right to complain."
Having Our Say: The Delany Sisters' First 100 Years runs at the Timber Lake Playhouse (8215 Black Oak Road, Mt. Carroll) through June 25, and more information and tickets are available by calling (815)244-2035 or visiting TimberLakePlayhouse.org.