Maybe you'll need to have seen a lot of stage farces, or feel like you've seen every stage farce, to appreciate what writer/director Jim Hessleman is doing in the Circa '21 Dinner Playhouse's world-premiere presentation Love, Lies, & the Lottery. Because this isn't just, as its title implies, a traditional, door-slamming slapstick, despite the numerous doors to be slammed. (Or rather, here, gently closed.) This energetic, sometimes hilarious, incredibly busy production is more accurately a comedic greatest-hits package, and one boasting a larger number of familiar genre conceits than you would've thought squeezable into two hours of stage time. You could teach a semester on Intro to Modern Farce using Hesselman's play as your textbook and still not cover everything in time for the final.
In general outline, LL&TL concerns the resulting complications after exterminator Peter Oostendorp (the manic yet recognizably human Marc Ciemiewicz) finds himself in possession of a year-old but still-valid lottery ticket worth $510 million, with the prize needing to be claimed before the ticket's impending expiration date, and before shrewish ex-wife-to-be Rachel (Tamarin K. Ythier) learns of Peter's newfound wealth. That's what the show is "about." But what it seems to actually be about are the conventions of theatrical comedy all but guaranteed to make audiences - especially audiences of a certain age - deliriously happy. So take a deep breath as we dive into what you can expect.
Farcical adultery. Slapstick beatings. Goofy accents. (Peter's mom Beatrice, played by Janet Ellen Brucken, speaks in a comically thick Norwegian dialect with occasional Italian, Irish, and Jewish cadences.) Misunderstandings based on hearing loss. Misunderstandings based on eavesdropped phone calls. Men in drag - three of 'em. (Out of a cast featuring four men.) Jokes about failing elderly bodies. Jokes about active elderly libidos. A pretty girl (the sweetly dizzy Erin Clark) showing up in a nightie. The family patriarch showing up in an urn. Characters hiding in closets and behind couches. Accidentally switched bottles of pills. Visual-gag costumes and props. (Brad Hauskins, as Beatrice's elderly beau Alfred, gets one of each in designer Gregory Hiatt's bellydance outfit and a strategically placed towel.) Double entendre. Double-casting. (James Fairchild plays two comically distinct working stiffs.) A plumber presumed to be a gigolo. A hooker presumed to be a psychic. Living-room chases. An off-stage barking dog. And three characters, as such characters are oftentimes required to, shouting the same words in unison. ("The phone!!!" Twice.)
So how did all this go over with July 24's preview audience? Pretty darned well, I have to say. There were times when you could feel the material slipping away from the heavily senior crowd; I sensed audible discomfort at the rather shockingly racy gags toward the end of Act I, and several of the less obvious punchlines, including one that was simply "LGBT," fell on figuratively (or not) deaf ears. (Patrons did, however, roar at the inevitable "I've fallen and I can't get up" reference.) Yet they appeared to adore most of LL&TL, and, I thought, had mostly good reason to.
Hesselman's pacing was sharp and brisk without being frenzied; even though Thursday's show was still technically a rehearsal before Friday's official opening-night performance, I registered only one mildly tardy entrance in a show with a lot of entrances. And happily, Hesselman has a real way with a one-liner. I may have been one of only a few to roar at Beatrice's attempted compliment to Peter ("Speaking of gay sons, the table looks really nice"), but the endearing Brucken delivers, sensationally, at least a dozen additional laugh-out-loud rejoinders, and Hesselman gives each of his other characters a goodly share of witty, biting jabs. Hell, there's even a hilarious lawyer joke that I'd never heard before, and that I'm now planning to tell at every given opportunity.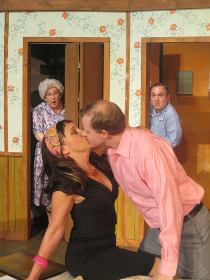 But as LL&TL is a work receiving the benefit of audience response for the first time, it's not surprising that the results feel somewhat unfinished, despite the beautifully lived-in quality of Susan D. Holgersson's scenic design. (Set in Wisconsin, this detailed, lodge-style domicile boasts a stuffed deer head center-stage, along with a mounted fish that looks ready to sing "Don't Worry, Be Happy" if you clap at it.) I wish, for instance, that more had resulted from Beatrice's mistaken belief that her son was planning to kill her, and that there was more consistency regarding Beatrice's "need" for a walker. (She frequently toddles around the house without it, but if Brucken's doing so isn't merely a directorial oversight, it should be made clear that Beatrice doesn't really need the walker, and only uses it to appease Peter, or for comic sympathy, or for something.) While Ythier does get in a riotous bit about Rachel's marital status in Singapore, her character has been designed as too mean-spirited to ever be really enjoyable. And Tristan Layne Tapscott, unfortunately, appears stuck with a currently impossible role as Peter's devoted best friend who's also a vicious back-stabber who's also a cunning lawyer who's also too dumb to open a pill bottle with a child-proof cap. (No wonder the actor looks uncharacteristically confused.)
I'm hoping, however, that these problems are resolved through what I'm guessing will be a long shelf life for Hesselman's comedy, because the script, and Circa '21's production of it, are already in pretty fine shape. The cast is game, the direction is terrifically polished (Hesselman's best bit has Ciemiewicz speaking in tandem with the lottery announcer on TV), the jokey retorts are solid, and the crowd I saw it with appeared to have a ball. But in a personal aside, although Hauskins is very funny here, did he really need to be cast as a barely ambulatory senior citizen with a walker and a serious balance issue? The guy was my freshman-year college roommate. We shared bunk beds, for Pete's sake. The laughter at Love, Lies, & the Lottery may have suggested that Thursday's audience was feeling youthful again, but seeing Brad in that role made me feel older than hell.
Love, Lies, & the Lottery runs at the Circa '21 Dinner Playhouse (1828 Third Avenue, Rock Island) through September 6, and more information and tickets are available by calling (309)786-7733 extension 2 or visiting Circa21.com.