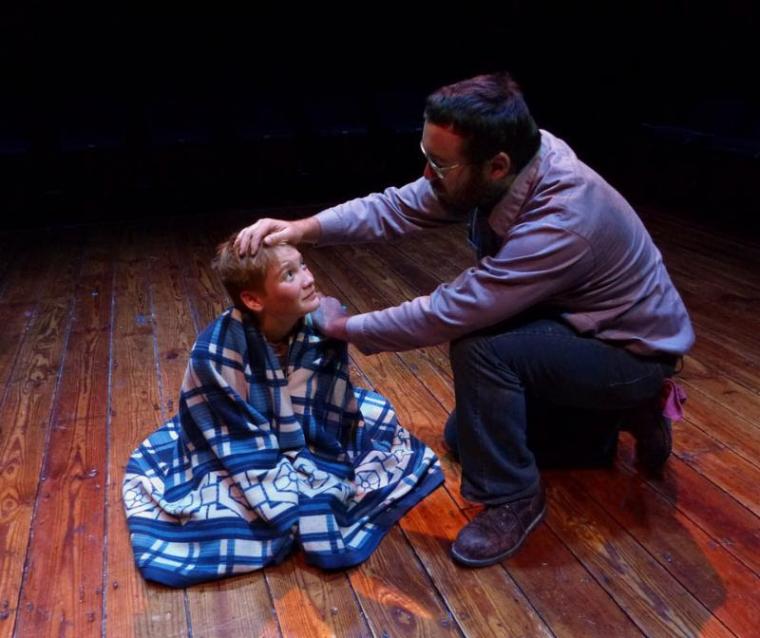 Not to alarm anyone, but I think there may be a typo in the Richmond Hill Barn Theatre's program for The Diviners, because it credits Mike Skiles for the show's "Set Construction." I'm pretty sure that's meant to say "No-Set Construction," given that there's literally no set for director Jalayne Riewerts' production – just Richmond Hill's traditional theatre-in-the-round space decorated by occasional props. That's not at all meant as a put-down. This touching, graceful take on playwright Jim Leonard Jr.'s period drama succeeds primarily because of its bare-bones, Our Town-esque simplicity, and those qualities, happily, are mirrored in the engaged, heartfelt portrayals by Riewerts' cast.
Set in fictitious Zion, Indiana, during the Great Depression, Leonard's allegorical tale finds wanderer C.C. Showers (Adam Sanders) entering the sleepy Rust Bowl burg seeking food and employment, and immediately encountering 14-year-old Buddy Layman (Colin McConville). Although magically gifted at locating buried reserves of water, Buddy is largely dismissed by the community for his oddness, slow-wittedness, and refusal to bathe, all stemming from a river accident that caused Buddy's brain damage and took his mother's life. As the play progresses, it becomes apparent that C.C., feeling spiritually bereft, needs Buddy. Buddy, with his paralyzing fear of water, needs C.C. And before long, it appears that everyone in Zion needs C.C., from Buddy's harried father Ferris (Matthew McConville) to the boy's romance-minded sister Jennie Mae (Faith Douglas) to the citizens astounded to learn that the recently arrived stranger is, in fact, an itinerant (yet former) preacher.
It's a solid, unfussy story, even if Leonard can't resist adding several helpings of fussiness. Beyond The Diviners' dealings with C.C. and his impact on the Hoosiers, there are sitcom-ready subplots galore: farmer Basil (Don Faust) needing repair on his trusted Schwinn; the town busybodies (Sondra Karben, Terri Nelson, and Dana Skiles) sharing gossip and increasingly zealous chitchat; teen-tramp-in-training Darlene (Elle Winchester) pining for the sweetly dim Dewey (Andreas Renberg); Dewey taking dance lessons from fellow farmhand Melvin (Justin Hager). All this, however, could be chalked up to Leonard's apparent desire for "local flavor" – if, perhaps, flavor less grounded in reality than in the sassy-hick comedies of popular playwriting triumvirate Jesse Jones, Nicholas Hope, and Jamie Wooten. (One of their actual titles – Doublewide, Texas – opens at Richmond Hill in less than eight weeks!)
The bigger problem for Leonard, and potentially for The Diviners, is the intentional, heavy symbolism. For anyone with even fair-to-middling biblical familiarity, it's impossible to ignore the connotations behind the town name Zion, to say nothing of the arrival of a man of God – one helpfully named Showers – to metaphorically and literally cleanse the Laymans (Laymen?). But there's also Buddy's habit of speaking in third-person, an act that causes the boy to say "He" when he means "I," and to make frantic pronouncements such as "Him is coming!" There's the unmistakably allegorical washing of feet at the end of Act I, and the eventual, similarly loaded religious imagery at the Zion riverfront. There are plaintive renditions of "You Are My Sunshine" and "Amazing Grace." And there are the script's very first, quasi-poetic lines that divulge Buddy's death from the start (with the play itself unfolding in flashback), implying that this character is saintly – someone Too Good for This World – before we're even allowed to meet him.
That's an awful lot to throw at an audience, and I'd imagine there's a built-in temptation to oversell the allusions and John the Baptist/Jesus Christ parallels so no one could conceivably miss them. But beginning with her choice of a bare stage, Riewerts instead delivers a minimalist, matter-of-fact presentation that helps disguise the play's more pushy elements and brings out every last ounce of its charm.
As weighty as The Diviners' themes are, the script's not-so-secret secret is that it's frequently a load of fun, with Leonard providing juicy, expansive character types and endearingly dry regional dialogue. ("What kind of preacher'd work in a garage?" "Well, we can't afford to be picky.") Riewerts, blessedly, accentuates the fun, and while she does lovely work with her actors during heart-wrenching moments, she keeps the overall mood light and the pacing brisk until it's absolutely necessary to pull out the dramatic stops. Best of all, she and her cast don't condescend to their less-than-worldly, Depression-era figures. Barring the early-'30s setting – and with not all of Leonard's conversations sounding period-accurate – these could be any bantering and bickering neighbors in any contemporary small town in America, and Riewerts' expert, non-judgmental handling of the material ensures that the people feel relatable and the situations feel true.
They'd feel even more so – or rather, they would've on October 5 – if more attention were paid to the mime work. A number of physical props are employed on The Diviners' empty stage: a water-filled washtub, Basil's bicycle, Buddy's tree-branch "divining rod." But others are conspicuously absent, and while I certainly understood the rationale behind the diner's mimed countertop – why schlep on a major set piece for so little purpose? – I wish the actors had remembered there was invisible coffee in their invisible mugs, and behaved accordingly. (I.e. You can't lift a full cup of hot liquid to your mouth, swallow the contents, and replace the cup in one second flat.) That said, if your biggest performance gripe comes from skin tissue that only gets theoretically burnt, a cast is clearly doing something collectively right. And while some members of The Diviners' ensemble are noticeably more confident and prepared than others, there isn't a one of them who doesn't appear invested, and better still, delighted to be involved.
Few stage sights are more satisfying than an actor you've never seen before knocking a difficult leading role out of the park, and that's just what Sanders did on opening night. Empathetic, down-to-earth, believably tormented, and ashamedly unable to hide his revival-tent excitability that keeps spilling out in messy bursts of emotion, this C.C. is a mass of contradictions, and, in the end, a fiercely moving one. Sanders does something tricky yet essential that performers are always instructed to strive toward: He acts on the line as opposed to the self-created pause before the line, which tends to elicit a more honest reaction and more honest emotion. He also makes beautifully imploring eye contact and delivers his dialogue in unexpectedly witty, character-revealing ways, and shares exceptional rapport with Matthew McConville (marvelous as a fundamentally decent single parent too proud to show how badly he's struggling) and the bashfully radiant Douglas. (This has been quite a year for Douglas, who was similarly terrific in Genesius Guild's summer presentations of The Trojan Women and Henry V.)
Everyone involved with this Diviners, though, is given opportunities to look great – and that includes the typically masterful Jennifer Kingry for her adroit lighting and sound effects, and costumer Stacy Herrick for her effective, deliberately low-key wardrobe selections that make the performers seem distinctly of-the-period. The cheeky Skiles and Winchester are amusingly cast as, respectively, a comparatively diminutive aunt who lords over her towering niece, with Karben and Nelson evidently having a ball as Leonard-ized versions of The Music Man's pick-a-little ladies. Faust unleashes impressively raging impatience when Basil chastises Ferris for ignoring his son's ringworm; Hager and Renberg are adorably partnered throughout, especially as dance partners. (The only other Jim Leonard Jr. play I've seen – and one I also acted in as a college student – is And They Dance Real Slow in Jackson, another Indiana-based saga that features a pair of straight male characters engaged in a comedic waltz. As authorial calling cards go, that one's pretty specific.)
Colin McConville, meanwhile, has been handed a seemingly insurmountable challenge in Buddy Layman – a mentally challenged boy who steadfastly wants to avoid emotional and physical connection yet who's also a barely disguised Christ surrogate. I'm happy to say that McConville pulls it off with skill, especially for an actor not yet in high school.
I'd previously seen two productions of this show with adults cast as Buddy, and in both cases, Leonard's conceptualization fell apart when the actors, for understandable reason, overplayed the kid's many, many maladies, physical quirks, and vocal eccentricities. But while McConville can't quite avoid all of his role's inherent pitfalls, if only because no human being could, he attacks his tough assignment with sweetness and zest. On Thursday, he also had chilling individual moments, as when Buddy shrieked upon threat of being doused with water, and when his hand reflexively quivered as he tentatively reached toward the Zion river. Co-star Hager's beautiful, acoustic-guitar rendition of "Amazing Grace" comes at The Diviners' very end. By that point, though, McConville's fearless, committed portrayal makes you think you may have just seen that grace in the flesh.
The Diviners runs at the Richmond Hill Barn Theatre (600 Robinson Drive, Geneseo) through October 15, and more information and tickets are available by calling (309)944-2244 or visiting RHPlayers.com.