Hello, Quad Cities! I am Roger Pavey Jr., a new addition to the River Citiesi Reader team. I grew up in the QCA, participated in Davenport Junior Theatre and Pleasant Valley High School productions throughout my childhood, and am currently a sophomore at Augustana College, studying theatre and sociology. I am thrilled to be another voice in local theatre coverage. And with so many Augustana students involved onstage and off in the Spotlight Theatre's current The Lightning Thief: The Percy Jackson Musical, this was a wonderful experience for my first Reader review.
The Lightning Thief, a relatively new musical, had its QCA premiere at the Spotlight, and this production based on Rick Riordan's YA books about a young half-blood was a delight to watch. It was just as fun and playful as the original book series – and Saturday's telling of this energetic story was inventive, theatrical, and entertaining.
Delivering a fresh interpretation of such familiar (for many) material can't be easy. However, director and scenic designer Noah Hill, a senior at Augustana, brought considerable imagination to this show. The scenic elements were decorated almost entirely out of cardboard, which included large pillars ascending to the heights of the proscenium. This leaned into the playfulness of this fantastical story involving characters who were half-human and half-Greek-god, and lent itself to ingenious solutions for some scenes. Cardboard was also used to construct the head of a minotaur, it lined various pieces of traveling set pieces, and it built up the set's rear facade.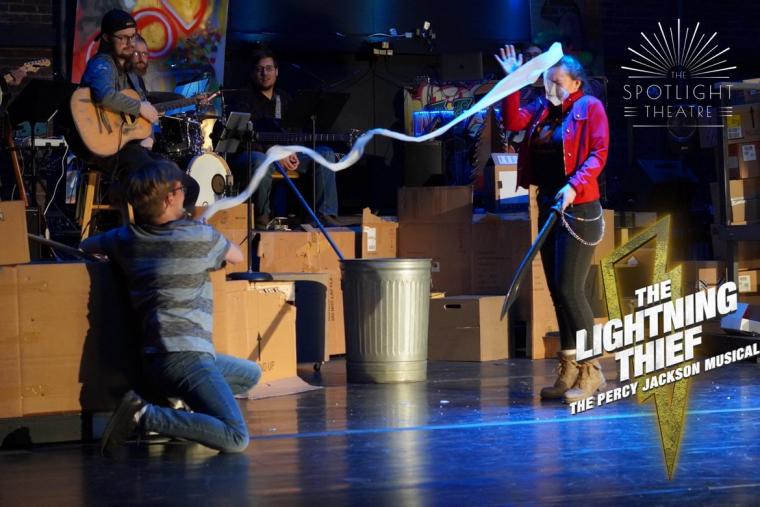 Hill's scenic design paired well with Brent Tubbs' lighting design. Tubbs captured the music's upbeat style by utilizing a wide array of colors and isolated lighting effects that visually matched each song's mood. In addition, his lighting elements heightened the show's magical moments in engaging ways – and this show was full of electrifying magic. Some of the design choices, however, were not as clean as they could have been. Although impressive, the design utilized moving lights perhaps too much, and they spilled into the audience a few times during the show, which was a bit distracting.
Certain parts of the set, meanwhile, were spray-painted randomly and sporadically, and while the goal was likely to lean into an intentional playfulness and messiness, there was generally a bit too much going on, technically, for the Spotlight's stage. Overall, though, I greatly enjoyed the inventiveness that the production staff brought to this story.
What blew me away perhaps the most was the vocal and dramatic talent this cast had to offer. Composed mostly of young adults, The Lightning Thief's engaging crew of performers was led by Joseph Lasher, who showcased a gorgeous, powerhouse tenor throughout his performance as Percy Jackson. He portrayed the right amounts of angst, wonder, and awkwardness that came with Percy's character, and alongside Lasher were Kirsten Sindelar (as Annabeth) and Jorge Mendez (as Grover), who each brought flair and likability to their roles. Sindelar's voice boomed energetically through the large Spotlight space, matching Annabeth's warrior persona, while Mendez provided a beautiful softness in Grover's "The Tree on the Hill." This song and other slower numbers – such as Becca Casad's beautiful rendition of "Strong" – were nice breaks in the upbeat music and action throughout the play.
A stellar ensemble of performers portrayed multiple roles during Percy's quest to prevent war among the Greek gods. As we were approaching the climax of the show, CeCe Birgy brought the house down with her lightning-charged rendition of "DOA" – the entrance theme to the underworld. Brycen Witt's Luke, a fellow youth at Camp Half-Blood, was bright and spunky, and his featured vocal moments were clearly and impressively performed. Although a brief part of the show, Ryan J. Hurdle's exaggerated portrayal of Percy's slimy stepfather Gabe was hilarious as he made a mess with a bag of Lay's potato chips. Another comic moment appeared in Erin Emerle's costume design for the centaur Chiron (played by Tim Diminicus), who had a moveable tail attached in the back. Subtle design choices such as this matched the charismatic father figures Diminicus joyfully portrayed.
There were many more wonderful instances merging direction, design, and stellar performance, which I found entertaining as both an audience member and fellow a theatre artist. And a final nod goes to the talented music director Mason Moss and his well-rehearsed onstage band. Moss jammed on the keys throughout the show, but also conducted his fellow band members, and the decision to have live musicians embedded into the set made this musical all the more fun to enjoy.
I talked to director Noah Hill after the show, and he said one of his biggest goals as a director was to simply create a fun experience for the audience. While I am a sucker for tear-jerking dramas, shows that bring the thunder and lightning in a playful way can be equally entertaining, and this production's thorough commitment to a fun experience is important to the community-theatre scene. The Spotlight's fantastical presentation of The Lightning Thief: The Percy Jackson Musical was well worth the watch, and an area premiere that certainly did not disappoint.
The Lightning Thief: The Percy Jackson Musical runs at the Spotlight Theatre (1800 Seventh Avenue, Moline IL) through February 27, and more information and tickets are available by calling (309)912-7647 and visiting TheSpotlightTheatreQC.com.