Every once in a while, you see a show in which all the pieces click and it becomes greater than the sum of its parts. In the case of Next to Normal, currently running at the Black Box Theatre, the intimacy of the venue was reflected in the intimacy of the material, and as such, director Kyle Schneider's dark musical was extremely moving.
With its book and lyrics by Brian Yorkey and music by Tom Kitt, Next to Normal is the story of seemingly perfect suburban wife Diana (Shana Kulhavy), her husband Dan (David M. Miller), and their children Natalie (Olivia Lyman) and Gabe (Joe Lasher). Diana's ongoing struggle with mental illness, however, forces the family to cope and make some hard decisions.
Next to Normal is almost entirely set to music, and this production's pit orchestra – music director Randin Letendre on the keyboard, Ben Kays on guitar, Kyle Jecklin on bass, and Peter Letendre on drums – was wonderfully strong, seamlessly transitioning between songs and setting the mood for the entire room. The score's highs and lows, with the heightened reality of most of the dialogue sung rather than spoken, mirrored Diana's illness. And I appreciated that the vocals were perfectly imperfect; by keeping the music raw, this musical became less about the amazing singers (even though they were amazing) and more about the complexity of the characters' emotions.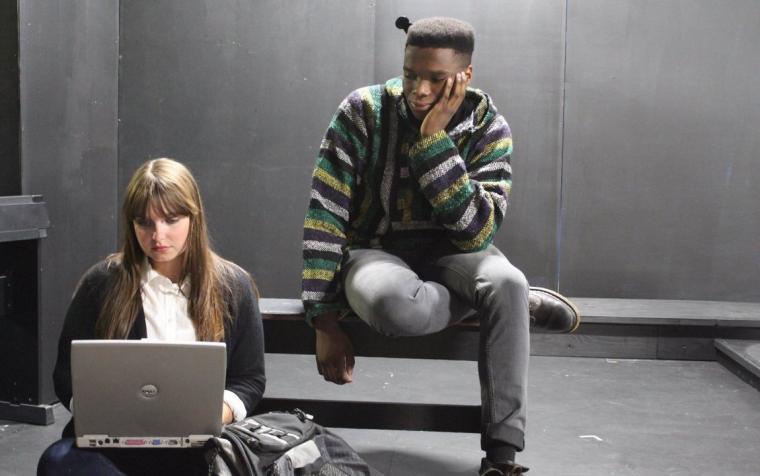 Kulhavy captured the twisted world of Diana's mind with an intensity that permeated every ounce of her body. Anger, disappointment, guilt, and grief are hard enough by themselves, let alone together, and Diana is so full of emotion that she was almost uncomfortable to be near. Yet somehow, watching Kulhavy's eyes darting around desperately looking for a solution was mesmerizing. Diana's relationship with Dan is similarly complicated, and Miller captures that complexity in his excellent portrayal. Dan just doesn't know quite how to help, and Miller brought a level of denial and a bit of tenacity to the battle for Diana's stable mood. Dan is fighting for his family the best way he knows how, acting ultimately out of love, even though his parenting skills leave a lot to be desired.
Natalie and Gabe come together to sing "Superboy and the Invisible Girl," which perfectly expresses the roles they play in their family. Lasher was a truly phenomenal Gabe, a character whose presence really didn't allow much room for Natalie. With a perpetual smirk that was somehow both contrite and sinister, Lasher's big number "I'm Alive" was full of feeling – probably the catchiest and most memorable song of the evening – and the actor kept Gabe bouncy and light in complete contrast to Natalie's dark and moody self.
Lyman seemed perpetually uncomfortable in her skin, and whether that was a character choice or opening-night nerves, I'm not sure. But it certainly worked for the role, and Next to Normal is as much the story of Natalie as it is about Diana. Lyman's ferocity perfectly conveys all the frustrations of a teenager who is completely fearful that she, too, will succumb to a mental illness, and being all but forgotten by her parents, she just wants to be seen. Natalie does, though, find some solace in the mild-mannered stoner Henry, portrayed by the earnest Anania Williams. He and Lyman navigate the big promises their teenage characters make, and together, they have a sweet chemistry that feels real and familiar.
The production's minimalist set was completely effective, with a narrow catwalk and a larger jagged platform painted black and accented in purple. When combined with Clay Becker's lighting design, the whole stage suggested the color of a fresh bruise, and the long, narrow Black Box space ideally suited this production. By utilizing the extreme ends of the stage and forcing people to turn their heads, Schneider kept the experience polarizing. (At certain moments, it was unclear where the focus was, and in a small way, this let the audience into the manic/bipolar world in which Diana lives.)
The stage picture only really found a balance when Diana was with her therapists (both deftly portrayed by Zach Hendershott), which made sense, as that was where Diana tended to be the most stable. Hendershott, meanwhile, was wonderful, reacting subtly, then ultimately, when seeming to be defeated by Diana and his inability to fully help her.
Throughout the show, Schneider's cast of six was a well-balanced ensemble, all working together to tell a tough story. In the finale "Light," their voices blended especially beautifully, ending the musical on a note of positivity and reassurance with many of Thursday's opening-night patrons brought to tears. (The Black Box was prepared, and had tissue boxes available.) Beyond being a mere exploration of hardship and survival, this Next to Normal allows you to break down some of the stigmas associated with mental illness, and, in my opinion, is ultimately a tale of hope. What more could you ask of your art?
Next to Normal runs at the Black Box Theatre (1623 Fifth Avenue, Moline) through August 18, and more information and tickets are available by calling (563)284-2350 or visiting TheBlackBoxTheatre.com.