I realized it was not going to be an ordinary show right away. As the lights dimmed, the accompanist for this non-musical production attempted to play her electronic keyboard, but it would not produce a single note. After a couple more attempts, a stagehand walked out and started pulling several times on a small-engine pull cord – a.k.a. a chainsaw. That led to a sputtering engine that evidently started the keyboard … thus allowing the pianist to play the opening theme song to a 20th Century Fox film. All this set the appropriate tone for the rest of the Richmond Hill Players' latest and incredibly silly production: an adaptation of Molière's Scapin.
In the show's program, director Jennifer Kingry asks the audience "to imagine themselves as villagers in a small, provincial town" where an ensemble of traveling performers is set to provide an evening of a different style of theatrical entertainment. The setting is no particular time or place – somewhere vaguely French, or Italian, or possibly Portuguese – and this was clearly another hint about what was in store for the audience to experience.
Truthfully, there was so much going on in this crazy carnival of zaniness that the story threads were a little hard to follow at times, but it was so much fun I didn't really care. However, let me see if I can briefly summarize the plot. The sly Scapin (Chas Young), servant of Geronte (Patrick Kelley), promises to help Argante (Tom Naab) with the love life of his son Octave (a peppy Nolan Fassett), while also assisting his master's son Leander (Sam Schelly). Both young men have fallen in love with two out-of-the-ordinary young ladies, Hyacinthe and Zerbinette (amusingly played by Dana Skiles and Kelsi Ford). But both men also realize they need money to resolve their dilemmas.
Being crafty, Scapin understands that a good-old-fashioned scam could solve everyone's problems, and he invites Sylvestre (Dana Moss-Peterson), Octave's servant, into his wild ploy. In one of the funnier scenes, Scapin convinces Sylvestre that he is a wonderful actor, and ends up playing a tough biker character while using multiple famous movie lines to deceive the family patriarchs into parting with their money. Moss-Peterson perfectly owns this scene as he recites lines from (by my count) more than 20 different contemporary films – among them Toy Story, Scarface, A Few Good Men, Star Wars, Network, and The Wizard of Oz – while wearing a gut-busting false mustache and beard that, during the scene, hilariously kept coming unglued.
At the story's conclusion, there is a long chase scene and mega-mix dance among the entire cast, which left the October 6 audience wildly clapping with appreciation. And Kingry, who has a keen eye for talent, did a masterful job of placing the right players in the perfect roles. Young was a fired-up ball of energy whose fish-eating grin throughout let the audience know he was in on Scapin's every joke, and Kelley, dressed as a Thurston Howell III wannabe, was thoroughly enjoyable as Geronte struggles to give up his wealth, and priceless when audience members were literally invited to beat him with batons. Naab's take on Argante was professionally yet frantically square with his colorful vest and shoes, but his finest moment may have been in the chase scene while ludicrously pursuing the young servant girl Nerene (a believably naïve Olivia Egert).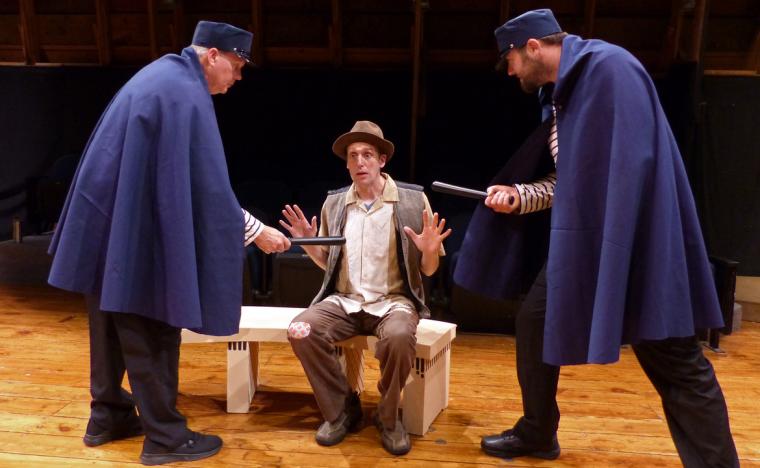 As the show's accompanist, Nancy Green was an invaluable member of the cast, employing her musical talents and sound effects to perfectly underscore, emphasize, and add loads of laughs to an already crazy production. Props also to Kingry on her simple yet effect scenic design and Heidi Hamer's clean, classical paint scheme. With walls going up a second story and small door openings that allowed characters to appear much like in the old Laugh-In television show, the technique added an unexpected and fun dynamic.
Tackling a classic farce such as Scapin can be daunting for a cast, and even unbearable for an audience. But with Molière's original script adapted by Bill Irwin and Mark O'Donnell, and presented under the clearly comedically apt direction of Kingry, Richmond Hill's latest is anything but daunting and unbearable. In truth, this production is a riotous, laugh-out-loud evening of wacky theatre that left even the youngest audience members grinning from ear to ear.
Scapin runs at the Richmond Hill Barn Theatre (600 Robinson Drive, Geneseo) through October 14, and more information and tickets are available by calling (309)944-2244 or visiting RHPlayers.com.