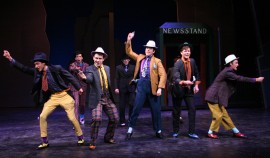 On any given day, the musical I consider my all-time favorite will either be Sweeney Todd or Guys & Dolls ... unless that day is the day after I've seen a production of Guys & Dolls, in which case it's the clear winner. Heaven knows there are plenty of entertaining, tune-filled warhorses from Broadway's golden era, but do any of them have the effervescent fizz and pop of composer/lyricist Frank Loesser's 1950 triumph, a beautifully constructed musical comedy so funny and clever and sweet that it can keep you happy and humming for hours - like, 100 hours - after it ends?
As audiences basically get their money's worth before the show even starts, a theatre is doing something right just by producing this Damon Runyon-inspired work in the first place, and consequently, perhaps the highest compliment I can pay the Timber Lake Playhouse's Guys & Dolls is that almost nothing about it feels halfhearted or rote. Seeming to take their cues from designers Tate Ellis' and Katy Freeman's multi-hued, sometimes gloriously garish costumes, director James Beaudry's summer-stock cast is vibrant and alive, and the actors' song-and-dance brio is matched by the continually sharp compositions, the expert pacing, the outstanding contributions of music director Kenston Rider's orchestra, and Will Taylor's minimally employed yet madly exuberant choreography. You can have a pretty excellent time at even a not-bad Guys & Dolls. I'm happy to report that a merely not-bad production is not what you'll be getting here.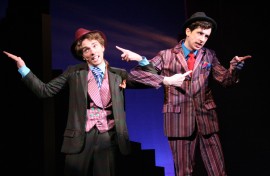 At Thursday's presentation, during the prelude's breezy influx of Manhattan sightseers, I actually started chuckling in advance of characters opening their mouths, when I saw that Beaudry had the wit to stage two of Guys & Dolls' gamblers in a cheeky act of photo-bombing. Laughter, though, practically becomes your default reaction in Timber Lake's season-opener, partly because so much of its amusement - like that genial street sabotage involving Tim Wessel's Nicely-Nicely Johnson and Kyle Branzel's Benny Southstreet - seems to be caught out of the corner of your eye. To be sure, the performers are in generally splendid voice, and there's no paucity of terrific showcase numbers; Taylor's spirited "Crap Shooter's Dance," with ensemble member Lawrence O'Neill pulling off a truly impressive center-stage back flip, is particularly exhilarating. Yet there's giggly pleasure tucked into nearly every nook and cranny in this Guys & Dolls, be it in the oversize wardrobe hanging from Ben Isabel's ironically named Big Jule, or the daffy happiness radiating from Alexis DawTyne's silent comic Agatha, or the unexpected cheer with which a Carmen Miranda lookalike sweeps up broken glass after a nightclub tussle.
Even romantic leads Sky Masterson and Sarah Brown, here, are funnier than you might remember them being. Doing a thoughtful, musical riff on his no-nonsense G-man from last summer's Timber Lake farce Red Herring, Dryden Meints lends thrilling vocal resonance to Sky's solos on "I'll Know" and "Lucky Be a Lady," but the actor's deserved comic confidence makes his inveterate gambler's throwaway bits just as satisfying. (I loved the blithe assuredness with which Sky left an IOU on the torn remains of a paper cup.) And surprisingly, Hanah Rose Nardone's soul-saving Sarah is a hoot even before the New York missionary finds herself plastered after too many sips of a dulce de leche. Nardone's fetching snippiness and crack timing with comebacks render Sarah instantly likable, and while this gifted soprano could stand to modulate the highest of her high notes - which are delivered with maybe too much blaring gusto - she's an enormously appealing presence, and an occasionally hilarious one. (On Thursday, Nardone had obvious struggles with the lyrics on Sarah's "If I Were a Bell" number, yet remained so perfectly in-character - staggering and grinning as she hurled drunken, rhyme-less phrases in Sky's direction - that the goofs came to seem absolutely right for the song.)
Portending another overall-sensational season at Timber Lake, Guys & Dolls is chockablock with performers you're already itching to see more of this summer: Wessel, who delivers a show-stopping take on "Sit Down, You're Rockin' the Boat" and whose curly flattop makes Nicely-Nicely's head resemble a downward-facing triangle; Branzel, his Benny an endearingly gangly doofus whose Noo Yawk pronunciation of "pleasure" turns it into a four-syllable word; Isabel, his Big Jule a perpetual scowler with a nasal whine and unshakable deadpan. (With equally fine, enjoyable work courtesy of Andrew Way, Analisha Santini, and Henry McGinniss - the latter, like Meints, one of Timber Lake's resident performers last year - the only relative disappointments in the cast are guest actor Brad Field and Genesius Guild's 2011 MVP James Alt, neither of whom, on Thursday, seemed fully engaged with his role.) Joe Capstick, aiming more toward Frank Sinatra than Nathan Lane in his interpretation of Nathan Detroit, underplays shrewdly, projecting the comically frazzled desperation of a dapper smoothie who's neither as dapper nor as smooth as his reputation suggests.
And portraying Nathan's long-suffering fiancée Miss Adelaide - the goodhearted good-time gal who's one of the true indispensables in the musical-comedy canon - Hayley Gribble is positively bewitching. (Timber Lake is now serving beer and wine at the theatre, but those spirits are superfluous when you're graced with a presence as intoxicating as Gribble.) Whether Adelaide and her fellow Hot Box showgirls are delivering a gently saucy rendition of "Take Back Your Mink" or the headliner is trying to decipher her psychosomatic head cold in "Adalaide's Lament" - or even when she wordlessly, hysterically questions Sarah's correcting of her grammar in their "Marry the Man Today" duet - this marvelous comedienne and divine singer makes her every on-stage second a joy. Timber Lake's Guys & Dolls is a delightful experience, and for all the ovations the show received at Thursday's finale, Gribble's adorable feather-brain implied that even one more might've been in order. When something steals as many scenes as the explosive conglomeration of blond tresses that make up Adelaide's wig, how do you not let it take a curtain call?
Guys & Dolls runs at the Timber Lake Playhouse (8215 Black Oak Road, Mt. Carroll) through June 17, and tickets and information are available by calling (815)244-2035 or visiting TimberLakePlayhouse.org.