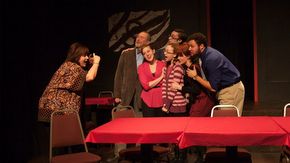 Before seeing Saturday's production of The Big Meal, my wife, youngest son, and I decided to grab supper. I wanted pizza, but my wife wanted to try something different, so we landed at a little restaurant just a few blocks east of the theatre. As we ate our hummus and falafel, we chatted about family, work, the future, and life in general. Little did we know that our simple meal together would be an almost mirrored precursor to what we were about to witness on stage.
Written by Dan LeFranc and produced by the QC Theatre Workshop, The Big Meal is a theatrical metaphor for one very average yet dysfunctional family's generational love, heartache, and essence, as its characters meet at different stages of their lives for various meals at favorite restaurants. The rapid-fire storyline arcs over 80 years and five generations in just about 90 minutes, and as their characters age, eight of the nine cast members pass their roles on to other actors as easily as if they were passing a side dish of peas and carrots at the dinner table.
The first bite of this Meal comes when Sam meets Nicole as she waits tables in a restaurant. The next comes when they begin a casual relationship. And many more bites arrive as the play dives into serious dating, engagement, marriage, children, detachment, infidelity, grandchildren, reconnection, aging, great-grandchildren, and death, all seasoned throughout with varying flavors of family love. This is a very large feast for the cast and audience to chew on, and yet with no intermission, the plot is easily digested due to the ease with which the production serves it. (Beware: The menu does offer up some spicy language that may not be to every palate's liking.)
Under the direction of Workshop veteran (and Reader employee) Mike Schulz, The Big Meal is served very simply, and yet with so much texture and depth that, were it a real restaurant, it would certainly be presented with the prestigious James Beard Foundation Award. Schulz's cast delves deeply into their characters' layers through LeFranc's realistic, overlapping dialogue, yet the actors are also able to find the most intimate moments in the silences between words.
Although very much an ensemble piece, the nuclei of the story and cast are provided by Erin Churchill and Jordan McGinnis, who play Nicole and Sam from their pre-marriage and child-bearing years through the death of Sam's mother, and then slide into the roles of those characters' own children. Churchill reveals her estimable acting chops with a beautifully nuanced, tender, and, at times, salty performance. McGinnis, meanwhile, goes heart to heart with Churchill, and is always in the moment. Whether enacting a young lover, father, son, or brother, he hungrily dives into each aspect of his present character, and brings an endearing warmth and humanity to each one's surface.
Angela Elliott and Michael Carron play the aging characters throughout The Big Meal. Elliott is exceptional about accepting Nicole's character traits when passed to her, while at the same time making the role her own, and her portrayal of Nicole's final years made me reminisce on my own mother's final months. As for Carron, he commands the family dynamic when playing the politically incorrect patriarch, delivering some of the script's funniest moments.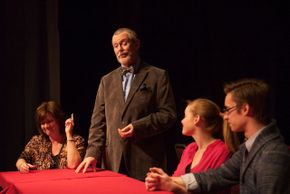 Joshua Pride and Abby Van Gerpen energetically begin the story, and eventually transition from lovers to bratty teenagers to betrothed young adults. Both actors deliver lively performances in some of the script's most chaotic scenes, yet switch from character to character with the ease of taking another bite of food from a plate. And the youngest cast members are Laila Haley and Brody Ford. Keep your eyes on these two adolescent actors, because they deliver portrayals every bit as professional as those of their more senior castmates.
Rounding out the ensemble is Sara Bolet as the omnipresent Server. Without a single word of dialogue, her presence and appearances are oftentimes harbingers of tragedy; on the rare occasions in which she serves actual meals on real plates – the rest of the show's props are all mimed – we quickly understand that another character is about to metaphorically pass through to the kitchen.
"Where does the time go?" is a common theme throughout the play, and is illustrated beautifully by Zachary Meyer's lighting design. Each scene here (some of them only seconds long) is shifted by a brief dimming of the lights, reminding us that in the blink of an eye, everything can be suddenly different. You, too, should try something a little different. The Big Meal is a deliciously wonderful serving of area talent, one that cooks up some of the tastiest acting you might enjoy this year. Your heart will be full and your belly (figuratively) satisfied – but make your reservations in advance, or you may have a difficult time getting a table.
The Big Meal runs at the QC Theatre Workshop (1730 Wilkes Avenue, Davenport) through March 20, and more information and tickets and available by calling (563)650-2396 or visiting QCTheatreWorkshop.org.