What starts as a theatre audition quickly becomes something entirely different in the QC Theatre Workshop's second production, Private Eyes. And this change from what's real to what's ... well ... something else is something I don't want to fully describe, because such a shift happened several times - and at very unexpected moments - during Friday's performance, making the evening a bit of an intriguing thrill that repeatedly piqued my curiosity.
Director Daniel D.P. Sheridan's pacing matches the frenetic, gentle, and more painfully and beautifully emotional moments offered in author Steven Dietz's script. Even during the scene changes that occur as the action continues, I don't recall the momentum stalling for an instant as the first act built to a high-energy climax that left me enthralled, and had me trying to figure out what was true - within the show's reality - and what was not during intermission. While I can't say much about the plot's details, as doing so would give too much away, Private Eyes focuses on two stage actors and a director as they navigate their ways through their marital and extramarital relationships. But Dietz doesn't present their stories quite so straightforwardly, and it's the experience of uncovering his layers of truth and lies that makes his play so interesting.
Sheridan's work as the production's lighting designer is also highly commendable, particularly when one of the characters repeatedly walks from a single pool of light to an unlit area but, through seamless transitions, keeps ending up in another singular pool of light. Bret Churchill, meanwhile, deserves a more-than-kind mention for his similarly inspired transitions within the play's sound design, as well as his selection of incidental music that matches perfectly with the mood and tone of the play. There's a scene in which a character mimes riding an elevator and, as he steps into the imagined lift, the musical accompaniment shifts from full sound to the tinny squawk of music heard in an enclosed space, emanating from sub-par speakers. The full sound returns when the actor exits the elevator, which is both technically impressive and warranted a laugh from Friday's audience.
And in terms of performance, Sheridan's assemblage of some of the Quad Cities' greatest actors does not disappoint. Thomas Alan Taylor, who was a highlight for me in last summer's QC Theatre Workshop debut of Red, plays Matthew, the character at the core of Dietz's mind game. In his first scene as a director holding auditions for a play, Taylor portrays a forceful, self-important man, exuding almost spastic fits of energy that manifest themselves physically whenever Matthew entertains a new thought. Taylor then goes through several impressive personality shifts as the layers to Matthew are added or stripped away, and as his wife Lisa, Jessica Sheridan continues her streak of notable performances that began, for me, when I first saw her on stage in 2009's area production of Bash. Her abilities as a performer are on full display from the show's opening minutes, when Lisa auditions for Matthew and acts out a scene from memory. After it's over, Lisa is then asked to repeat the scene, and Jessica Sheridan manages to improve her performance, offering a different, more nuanced take on the material that a lesser actor would struggle with.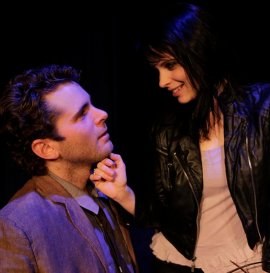 Reader employee Mike Schulz manages a British accent quite well - sounding like Patrick Stewart in dialect but John Rhys-Davies in inflection - as he shades his theatre director Adrian with subtle suggestions of the contemptible yet perhaps pained nature behind his pompous, noncommittal, condescending exterior. Jessica Denney turns off her natural cuteness in favor of a sometimes sultry, often curt and willful take on the waitress Cory. And Pat Flaherty tones down his typically amusing, dynamically large-scale characterizations for a quieter but no less engaging turn as Frank, the man who is Matthew's ... . Well, I can't say, as doing so would give away one of those important plot points.
While I will admit that my mind did wander a bit during Dietz's less harried, more (seemingly) traditional second act, I will also declare that the play's climactic scene makes the entire production - which is already noteworthy - worth seeing all the more; thanks to director Sheridan's somewhat shocking choices in the staging, the final moments of the play are poignantly rendered and stunningly stirring. With Private Eyes, the QC Theatre Workshop continues toward what I expect to be a long-running streak of professional, polished productions.
Private Eyes runs at the QC Theatre Workshop (1730 Wilkes Avenue, Davenport) through February 3, and more information and reservations are available by visiting QCTheatreWorkshop.org.