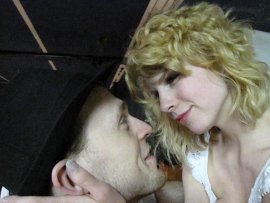 The Prenzie Players' current production, Cyrano de Bergerac, is costumed in nothing but black and white. Yet that lack of visual variety counters the abundance of color in the performances of the cast, which add shades of nuance to what could be presented as cut-and-dried "good" and "bad" characters. The actors' portrayals make it possible for audiences to feel sorry for the villain, to fall for our hero's rival in love, and even, to some degree, to occasionally dislike the tale's namesake.
Author Edmond Rostand's tale is a familiar one to many, as any Baby Boomer or member of Generation X likely knows the basic story from the 1987 film Roxanne starring Steve Martin and Daryl Hannah. It's also, maybe, less familiar than you might anticipate. Cyrano (Tracy Skaggs), of course, is most handsome in word, but not in face, and his poetic speeches would be enough to make Roxanne (Maggie Woolley) fall in love with him were it not, he presumes, for the uncomely sight of his gargantuan nose. Seeing him as nothing more than a good friend, she instead falls for Christian (Adam Overberg), a handsome man who becomes stupefied around women. Eventually, Cyrano writes for, and even speaks as, Christian, bringing Christian and Roxanne together.

That's not the entire tale, though, and what many may not be aware of is the storyline of the Compte de Guiche (Reader employee Mike Schulz), an aristocrat who loves Roxanne and hates Cyrano. When Roxanne refuses to return his affections, the Compte sets off a plan to use war to separate her from Christian, by way of his death in battle.

The play begins in the theatre of the Hotel Burgundy, and for the Prenzies' production, director Aaron E. Sullivan has chosen to incorporate the audience into that setting, serving as members of Parisian society. (Judging by the condescending ad-libbed lines prior to the show's official start, obviously the lower classes.) Cyrano remains in that setting throughout, with actors frequently breaking the fourth wall (the scene where Cyrano, and others, feed lines to Christian is brilliant fun), props hanging on the walls in full sight of the audience, and even patrons' chairs being pulled into the play for use by the actors. The show's intentional theatricality extends to its lighting, with designers Cait Bodenbender and Jennifer Kingry employing a dozen or so chandeliers, which are then dimmed and brightened in lieu of the usual usage of spotlights and footlights.

Cyrano's supporting cast seems to enjoy the setting, playing directly to the audience at times, and frequently amplifying the humor of the show. Oftentimes their actions are even funnier than their words, with the most notable being Kim Gackle's frantic eating of pastries, down to their very last crumbs, and Jeremy Mahr's blank, insecure stares gradually turning to moments of clarity. For spoken humor, Jake Walker - in an atypically restrained protrayal - excels in his improvised lines, which are often asides to the audience, which sometimes feature expletives, and which are always deserving of audible laughs.

While the supporting cast plays up the amusement, the lead actors approach their roles with sincerity. Overberg brings not only good looks to Christian, but also a strong baritone voice and a confident demeanor that are equally attractive. Schulz's De Guiche is haughty and condescending, with his constant air of aristocracy, but the actor also creates a Compte for which the audience can somewhat sympathize when his love goes unrequited. Woolley abandons the sensuality she often brings to her roles, instead showcasing - and impressively - a young woman's innocent excitement in new love. And Skaggs left me wondering if any other actor could portray Cyrano quite as well. He brings the expected pride to the role, but also delivers undercurrents of sadness and loneliness, as Cyrano, after all, is a man who slays with words, makes enemies with his wit, and loves a woman who does not return that love.

At two hours and 30 minutes, the Prenzie Players' Cyrano de Bergerac is a bit long - even with Anthony Burgess' translation condensed from its full length - and, at times, feels it. But the production is oftentimes a lot of fun, with extraordinary performances, and leaves you wondering if a Cyrano de Bergerac by any other theatre group would smell as sweet.


For more information, visit PrenziePlayers.com.

Thom White covers entertainment news for WQAD Quad Cities News 8.