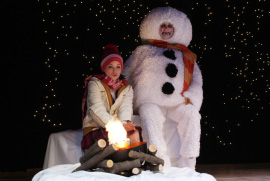 The story's kind of lame and the songs are kind of blah. But all told, the Circa '21 Dinner Playhouse's family musical Frosty's Magic Hat is a winning, rambunctious treat, the sort of unapologetically silly good time that can cause adults to laugh with even greater vigor and frequency than their pre-teen chaperones.
That's not to say that the younger patrons at Friday's matinée performance didn't audibly react; one tyke sitting in front of me, who couldn't have been a day over five, routinely giggled with such enthusiasm that I prayed that Circa '21's seats were Scotchgarded. Yet despite its considerable kid-friendly appeal, the infectious and somewhat unanticipated joy of Frosty's Magic Hat lies in the witty comic instincts of its cast (who also provide first-rate vocals), and of its director, Kimberly Furness. There aren't really any jokes here that would fly over the head of your average five-year-old, but they're delivered with a vibrantly grown-up sense of the ridiculous; the production manages to delight adults as well as children by making nearly every figure on stage - even Janos Horvath's Frosty the Snowman - seem just a little bit nuts.
It's a minor shame that the show's script and score aren't as strong as the performers, but it's hard to be too troubled by that, because transforming fair-to-middling kids'-show material into clever family entertainment is becoming something of a cottage industry for Furness. With its book and lyrics by Greylyn Gregory and music by John Spencer (not, I'm presuming, the late actor from The West Wing), Frosty's Magic Hat mixes a bit of the character's origin story with a new plot about an evil magician named Herbert Frankenstein and the necessity of getting Frosty to the North Pole ... for reasons that still aren't entirely clear. 'Cause he'll stay cold there, I think. (Whatever. It's an acceptable-enough excuse for involving Santa in the proceedings.)
Yet while the plotting is slight and too much of this two-act, 90-minute production feels like filler, Furness - who lent similarly loopy élan to Circa '21's Snowderella, Junie B. Jones, and Pinkalicious - ensures that the audience doesn't get fidgety, because the filler is where you find all the best gags. In truth, one comedic sequence, wherein a pernickety railroad attendant (Patrick David) refuses Frosty a ride, is about as funny as anything I've witnessed anywhere in 2009; David, whose character scoffs at the $1.20 that Frosty and pals have scraped together for tickets, enters with hysterically prickly hauteur and exits in a gut-busting huff. ("I'm leaving, and I'm taking my train station with me," he says, rolling the wheeled set piece off-stage.) And happily, Frosty's Magic Hat features numerous comic gambits and throwaways that are almost as inspired as David's spikiness, and that regularly salvage rudimentary scenes that might've otherwise floundered.
A routine that finds Frankenstein (Don Hepner) failing at simple sleight-of-hand runs a tad long, but Hepner's incensed admonition of the audience members laughing at him is so enjoyably brazen that you almost wish it ran longer; the kids in Friday's house just loved pissing this guy off. Similarly, the oft-repeated games of charades performed by the magician's rabbit Edgar (Andrea Moore) would probably get tiresome if not for the deliriously goofy improvisations of Horvath and Meghan Gibson (a frequent riot as Frosty's best friend Carrie), and for Moore's hilarious, wordless incredulity at their thickheaded guesses. (Moore, who also choreographed Frosty's Magic Hat, is a fantastic comic mime here; Edgar's tumble from a moving train is an especially ovation-deserving bit.)
There are plenty more visual and verbal pleasures: the hyper-active classroom antics of Gibson, David, and the equally lively Elizabeth Miller; the marvelously inventive reveal of Horvath in full Frosty regalia; the fireside pas de deux between Moore's Edgar and Miller's Raccoon. (Kudos, as usual, to designer Greg Hiatt for the wonderful storybook costumes.) And for all of the inspired lunacy on display, Furness' production isn't shy about indulging in a warmly sentimental side. Narrator Autumn O'Ryan makes a true, tender connection with her young listeners and offers cheerful exposition, while Kevin Grastorf provides a thoughtful, kindly Santa and a lovely solo prelude, delivering pre-performance announcements complete with holiday puns, a clapping game, and juggling. (Grastorf told us to clap whenever he accidentally dropped a ball, which we only wound up doing twice.)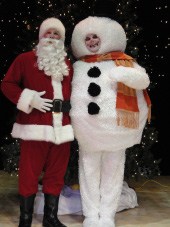 Yet the show's blend of the sweet and the silly is most acutely felt in Horvath's adorable, big-hearted Frosty, who delivers unexpectedly well-articulated morals about friendship and being yourself without pandering or condescension, and who's just sly enough to suggest there's more than snow between his nonexistent ears. (In lead-up to the third round of charades, Frosty, for understandable reason, asks, "Really? We're gonna do this again?") Horvath is every bit as magical as his character's chapeau, and so, too, is Frosty's Magic Hat. Despite some built-in obstacles, it's as alive as it could be.
For tickets and information, call (309)786-7733, extension 2, or visit Circa21.com.