Neil Simon's Barefoot in the Park turns 60 this year. His longest-running Broadway play (which says a lot, considering we're talking about Theatre God Simon), it's been a firm favorite with audiences and theatres ever since. Moline's Playcrafters Barn Theatre presented it in 1968 and 1995, and I'm happy to report that you can see it there again this weekend. Since I saw it on Saturday, I can also report that director Adam Michael Lewis – a Western Illinois University theatre instructor and actor, as well – orchestrated this production like a virtuoso. Even though saying that this venerable, ubiquitous script really holds up today is cliché, I'm saying it. And this production as a whole is fresh in every aspect – thus, unlike me, staying far away from the formulaic.
In this tale of newlyweds enjoying and enduring their first week in a cramped, under-furnished New York apartment, Lewis' cast of theatre veterans is superb, underplaying the humor most of the time. Deadpan is often a great choice, and while Simon's script is packed with jokes, you can't wocka-wocka your way through all of them. When they hit certain funny bits hard, the laughs were all the more gratifying. Sarah Walton completely inhabits her role as Corie, organically exuding wonder and delight with a frolicsome sense of humor. Her take on the character isn't a blissed-out flower child or a ding-a-ling woman-child. Walton's Corie is a capable adult, albeit an impulsive, charming, and enthusiastic one. Her good nature has its limits, though, and when she gets upset, Walton delivers a skillful and fairly terrifying build. She's simply a consummate performer.
Will Crouch's Paul, meanwhile, is not an uptight stick-in-the-mud (or up-the-rear) killjoy, as the character is often played. This Paul is as in love and amorous as any fresh-from-his-honeymoon guy could be – at least sometimes. Crouch, as he's demonstrated in other productions, is a master at playing many shades of comedy, and here he's funniest when angry. As infuriating situations are revealed, Crouch's Paul swallows his protests, masks frustration, glowers, simmers – and, at times, briefly devolves into a hysterical, tantrum-y three-year-old, which proves hysterical (in the other sense of the word) for the audience. As a couple, Walton's and Crouch's Corie and Paul are capital-A Adorable. These actors have trysted theatrically before, performing in The 39 Steps at Augustana College last spring, so they've logged plenty of affectionate stage time before this play beckoned. Moreover, this production has Lily Blouin as its intimacy coach, which is a thing in the theatre world. (The job usually means working with actors in sexually explicit scenes, but there's nothing that risqué here.)
Alexa Florence, as Corie's mother Mrs. Banks, is 100-percent pleasure to watch. Florence has morphed into various roles on area stages – and several in Playcrafters' 2020 Their Town. Here, she entertainingly serves not only to toss an occasional diamond-studded wrench into the works (she's rich, ya see), but also to ground Corie and make her more relatable, as her behavior causes her daughter's starry eyes to focus on how annoying one's family can be. Tell me that's not relatable.
Jake Ladd plays Corie and Paul's oddball neighbor Victor Velasco, who appears to be some flavor of Eastern or Southern European. His hilarious characterization dances nimbly along the borders of Charming and Creepy. Overall, Ladd strikes a perfectly ambiguous tone that alternately makes you want to know Velasco better and run screaming for help. This role requires that delicate balance, and a lesser actor would've taken the easy road of upstaging everyone for more laughs. What Ladd accomplishes is much harder. Two additional amusing actors round out the cast: the versatile Thayne Lamb portrays the phone repairman with a credible New York lilt in his voice, while Jim Strauss plays the delivery man well without a word of dialogue.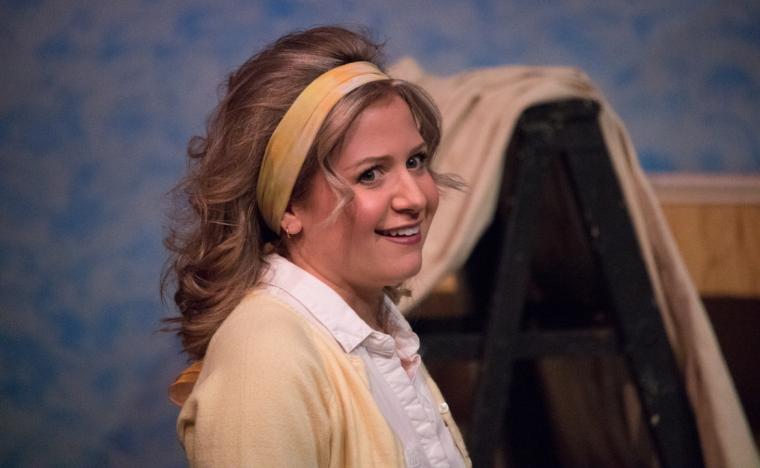 Lewis' crew is as wonderful as the cast in bringing Barefoot in the Park to life. There's a fantastic period fridge, lovely furniture, and a well-stocked bar on set, while the phone is an actual Princess phone as described in the script (though on Saturday, it tended to ring after being answered). With the props courtesy of Marcia Templeman, the flowers in the first scene are fresh, not plastic, and the specific food consumed in Act III is the real thing, too. As for the show's wardrobe, I'm glad costumer Yvonne Siddique didn't pursue the easy choice of a hippie aesthetic for Corie – even though the bride's jeans (an "out there" choice for the period that were appropriate for the character) were way too '90s for my taste. However, Corie's Act II mini-dress was a stunner that made up for it. Mrs. Banks wears her fur, and everything else, well, while Velasco's garb in his first scene is also a marvel. And sound designer Laulak Siddique's between-scenes music did wonders in setting the mood, skewing toward romantic, bantering standards rather than contemporary (for that time) pop tunes.
I got lost in this production. Even scenes with two seated characters talking quietly were so completely absorbing, I forgot I was watching a play. Barefoot in the Park is a classic comedy, yes – but the superlative work of Playcrafters' staff, cast, and crew made it an uplifting experience to cherish during these chilly, gray days.
Barefoot in the Park runs at the Playcrafters Barn Theatre (4950 35th Avenue, Moline IL) through February 19, and more information and tickets are available by calling (309)762-0330 and visiting Playcrafters.com.