Here's the thing: Any show that opens with a warning of "Please don't shift your chair to avoid being trampled" is bound to be thrilling, even if, I admit, I was initially pretty hesitant about the idea of seeing the Prenzie Players' Friday-night opening of Macbeth amidst the snow. But damn was this an exciting, emotional two hours in Scotland care of director Catherine Bodenbender.
One of Shakespeare's best-known tragedies, Macbeth is the tale of a rise to power and the following of the fates. After hearing that he would one day be king, Macbeth (Aaron Sullivan) journeys down a path full of greed, power, and ultimately guilt. Oh, and murder. There's a lot of murder. And if you think you can just sit back and watch, let me tell you there's no escaping the action in this Macbeth.
The fight-choreography team of Payton Brasher, Jarrod DeRooi, Aaron Sullivan, and Denise Yoder created epic battles that completely filled the QC Theatre Workshop space, which was sparsely decorated with five sculptures, constructed by DeRooi, made of branches that allowed ample room for the fighting to occur. Treading a hair-raising line, the fighting induced a barrage of emotions. In fact, the fights were staged so closely to us that I was on the edge of fearful, but the sheer entertainment factor and skill of the actors kept me impressed yet still heartbroken by what would be truly gruesome deaths.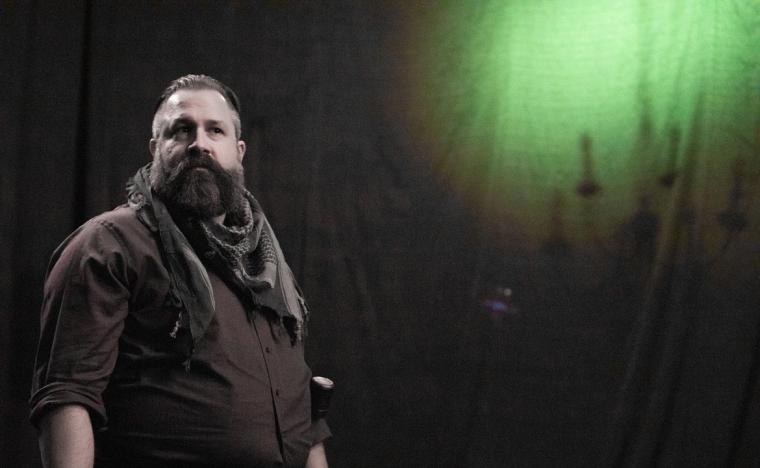 Bodenbender's direction was well thought-out and extremely well-executed. Depending on the seat you chose, there could be some extreme angles to contend with. But the stage action was never in the same place for long, and the stage setup offered ample opportunities for cast members to move around, providing everyone the chance to be right in the moment. (The playing space is so large that patrons are confined to the venue's small breezeway until the house opens.) I would love to see this production again from a different perspective, but also feel secure in saying there isn't a bad seat in the room. And beyond its creative staging, this Macbeth is spectacularly well-cast across the board. From Sullivan's truly epic portrayal of Macbeth down to the smallest of roles, Bodenbender's group of actors has obviously been well-coached to understand exactly what they are saying and why.
What was most surprising to me about this production was that Bodenbender was able to make Lady Macbeth (Maggie Woolley) particularly relevant and sympathetic by planting seeds suggesting she was, in fact, suffering from postpartum depression. Woolley was riveting. Whenever she was on-stage, I was drawn to watching her over anyone else, and she and Sullivan had such undeniable chemistry and honesty, and were so connected in their grief, that I rooted for their success even knowing exactly what would happen. But while Woolley had many wonderful moments, my heart absolutely broke for her as she came across the slain bodies of Lady Macduff (Maggie's talented sister Beth Woolley) and her children – Lady Macbeth's portrayer elicited a scream so wrought with guilt and sadness that people in the audience were brought to tears.
Sullivan's Macbeth exuded strength and, from the beginning, his relationship and camaraderie with the loveable Banquo (Denise Yoder) was enviable; they looked like they were having such a good time together. However, watching Sullivan's Macbeth descend into evil and madness was frankly exciting to watch, while the killing of Banquo was especially gut-wrenching because Yoder is great fun to watch. Luckily, though, in a show with multi-cast actors, the stage after Banquo's death was not lacking Yoder-level skill for long, and Jeremy Mahr was a magnificent Macduff, a sizable physical presence who spoke with undeniable passion. Mahr and Sullivan's final fight was an intense capstone to a production that was incredibly satisfying, with Mahr allowing his character the courtesy of appearing both pleased and anguished at the end.
The small details of this Macbeth were not overlooked, from the painted brick floor to the braided Celtic-esque hairstyles, and made the production all the better. I would be remiss not to mention Justin Hager's lighting effects, most of which came from 13 chandeliers that gave the entire production a sense of opulence. Hager's strobe-light effect for the appearances of the witches (Jen Brown, Angela Rathman, and Jake Walker) cleverly added to the overall uneasiness the trio brought to the table. My only difficulty with the lights was that the distinction between a scene's lighting and the house lights was so indistinguishable that when it came time for Friday's intermission, no one was quite sure if it was safe to leave our seats, lest we be caught unsuspectingly in a battle.
For this fully immersive experience, the Prenzie Players have adopted the Workshop's "pay what it's worth" model, and I can honestly say that this presentation of Macbeth – one whose run is currently sold out – is worth a whole lot. Get yourself on the wait list, or beg the Prenzie Players to add an additional performance of this absolute gem of a production.
Macbeth runs at the QC Theatre Workshop (1730 Wilkes Avenue, Davenport) through January 26, and more information and tickets are available by calling (563)484-4210 or visiting PrenziePlayers.com.