I was going to begin by saying that Snowderella is the strangest show I've ever seen at the Circa '21 Dinner Playhouse, but that seemed too limiting; it might be the strangest show I've ever seen. This kiddie comedy, which lasts just under half an hour (!), is so surreal that it's practically Dadaist - a cupcake topped with peyote buttons.
This is not, for those who might think otherwise, meant as high praise. I'm not sure what I'd think if I was a small child or, for that matter, the chaperone of one. (I'm interested in learning why Circa '21 cut the word "crap" from 2006's Grease but - last Tuesday, at any rate - let it sail here. Whatever happened to "crud"?) Yet I'm not a small child, nor was I chaperoning a small child, so I had quite a bit of fun, head-scratching though it was. After this manic, borderline-incoherent production ended, a friend turned to me and asked, "Don't kids have ADD enough?", but she was laughing as she said it, and that seems an honest response to Snowderella - you laugh, as many of us did, even though you should know better.
The setup finds a sextet of young thespians ready to perform what we're continually promised will be bits from all 231 Grimm Fairy tales in the course of 30 minutes. An impossible feat, sure (as even the show's characters admit), but The Compleat Works of Wllm Shakspr [abridged] isn't really "compleat" either, so we gladly grant the benefit of the doubt - let 'em give it a shot, at least!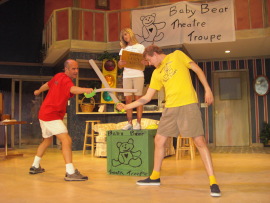 Would you believe, though, that we're eventually treated to less than two dozen of the Grimms' tales? Snowderella's program has conspicuously left off the name of the playwright, but a little Web-hunting reveals it to be Nate Eppler, of Nashville's Chaffin's Barn Dinner Theatre. (At one point here, Brad Hauskins' character responds to a castmate's query with, "Why don't you Google it, moron?" So I did.) And Eppler seems curiously confused about math; not only do we get roughly a tenth of the tales we've been promised, but the much-ballyhooed 30-minute time frame clocks in at just over 20.
Take a deep breath and dive in, because here's what you're in for: A setting-the-stage intro scored to the Benny Hill Show theme music - a nice touch by director Kimberly Furness - followed by a show intro delivered by Hannah Solchenberger's narrator. (The actress is a sophomore at Assumption High, and this poised performer is cleverly cast as the most mature figure in Snowderella.) Then some madcap clowning followed by Solchenberger, five minutes later, giving the same intro all over again. (For those with really short attention spans, I guess.)
Now the "clock" starts. We begin with five-plus minutes spent enacting a Grimm tale involving a cow, elderberry tea, and cutting cheese in the kitchen. (Hauskins' incessant giggler loves that one.) Then the narrator's text is accidentally dropped on the floor, the stories become scrambled, and suddenly we're presented with such amalgamated skits as Snow White and the Three Little Pigs, and Rumplestiltskin and ... the Three Little Pigs.
And then, time starts running tight (though it isn't, really) and the troupe is forced to perform versions of the Grimms' fables in mere seconds. The best one is the ensemble's "Three Blind Mice," with its blackout, shrieking, and hilarious tableau; the most succinct is "Pinocchio," which finds Hauskins shouting, "I'm a real boy!" (End scene.) Then there's a climactic dance number. In short, it's like Circa '21's recent Miss Nelson Is Missing without Miss Nelson even from the start; goofy antics and funny voices with no one there to keep the hellions in line. Yes, it's a children's show, but Snowderella isn't crud; it's crap.
So why did I end up laughing as hard as I did?
Well, for one thing, the show never stops moving (though I don't want to see any less-than-half-hour production that does stop moving), so I managed to find something amusing happening nearly every minute, be it Liz J. Millea's priss enacting the Big Bad Wolf, or Janos Horvath's slow-thinker delivering an inspired Homer Simpson, or Andrea Moore's nerd, in the "Jack & the Beanstalk" spoof, offering Hauskins a magical can of beans. (From Hormel, unless I was mistaken.)
But for another thing, laughter was sometimes the only option: What else is one to do when confronted with a re-enactment of that classic Grimm fairy tale The Lion King, which is interrupted by Moore donning a Darth Vader mask and intoning, "I am your father," which is subsequently interrupted by Tristan Layne Tapscott's hysterically level-headed argument for Star Wars actually qualifying as a fairy tale? Responding to that bizarre elderberry-wine fable, Moore's character tells the others, "I kinda liked it. I didn't understand it, but I liked it." I didn't understand it, but I kinda liked Snowderella, too. But I do not - repeat, not - make any guarantees as to whether you will.
For tickets, call (309)786-7733 extension 2.