The cast of the Timber Lake Playhouse's Rumors does its best to squeeze out every bit of humor from playwright Neil Simon's clichéd farce. Some of the actors are wildly successful, eliciting laughter beyond what Simon's script deserves. Others at least have their moments in this play about eight anniversary-party guests trying to figure out why their host (who is never seen) shot himself in the earlobe, and why his wife isn't home for the gathering.
But what especially amused me was how scenic designer Colt Frank and costume designer Kathleen Embrey managed to add humor by celebrating the tackiness of the story's era. Frank's set is a two-story home complete with second-floor landing and a hallway that runs off-stage. The staircase is decorated with floral arrangements set in two alcoves, and there are also pastel paintings on the lavender walls, making it humorously, hideously clear that this play is set in the 1980s - 1989, to be exact - even before the performance begins. When the metaphorical curtain does rise, Allison Hunt's character Chris Gorman enters wearing a red dress with a metallic silver bow on one shoulder, an ensemble fashionable in 1989, but comical now. Embrey subsequently has the rest of the women in shimmering metallic materials or, in the case of Analisha Santini's Cookie Cusak, an overly bedazzled dress.
At times, director Derek Bertelsen's comically frantic production is as verbally funny as it looks, especially when Matt Webb is speaking. Playing Lenny Ganz, who arrives at the party after an accident with his two-day-old BMW, Webb proves a comedic master, using pauses and drastic changes in inflection to elicit some of the Saturday matinée's biggest laughs. At one point, as his Lenny attempts to escape to the bathroom to avoid the increasingly chaotic proceedings, he's asked, "Didn't you just go?" Webb responds with a quick "Yes ... ", and then takes a beat before adding an emphatic "... but not enough!" He's funny even when his lines are not, as when he switches from calmness to outright yelling within the same sentence.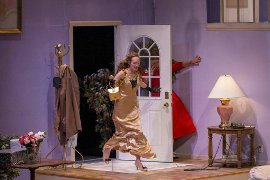 Cody Jolly uses a similar bi-polar comicality as Ken Gorman, the only person beyond wife Chris to know that the party's host shot himself. Yet while Jolly's portrayal starts off with a bang, his overly animated movements and sometimes shrieking deliveries soon become grating. Jolly's style is similar to Webb's, but it lacks Webb's control, as evidenced by the poorly modulated sound quality from his microphone whenever he shouts. Jolly also has the misfortune of being handed one of my least favorite comedy conceits - misunderstanding words based on hearing problems - and unfortunately, fails to rise above it.
Portraying Lenny's go-with-the-flow wife Claire, Caroline Murrah does rise above her character, as written, by being endearing. Effectively using a New York accent, Murrah comes across as sincere, particularly as Claire blows off Lenny's spouts of anger during small arguments. As the bumbling Cookie, Santini reminds me, pleasingly, of an Ana Gasteyer character, as she shares the performer's physicality and vocal qualities. Grant Brown makes laudable use of a Mid-Atlantic accent and laugh as Cookie's husband Ernie, and pulls off some amusing physical humor when his character is repeatedly hit by the kitchen door, and when he delivers a physically spirited alibi for the police.
The final pair in the mix are Gabriel Brown's running-for-office politician Glenn Cooper, and his socialite wife Cassie, played by Lexie Plath. Both actors exude an uppity sense of social standing and delight as a couple obviously close to divorce, bickering and throwing barbs at each other while alluding to the reasons for their inevitable break-up.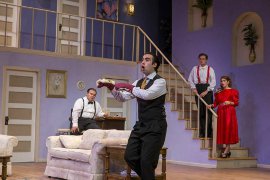 Blake W. Price's Officer Welch, though, is a bit of a conundrum. Arriving at the Brock home (along with Christian Chambers' Officer Pudney) to investigate a crime, Price is every bit the striking, admirable officer of the law. However, while Price's acting is commendable, his portrayal throws off Bertelsen's otherwise perfectly-paced production. Price takes overly lengthy beats between and during line deliveries and attempts ineffective gags, such as curling up into a ball and crying after insisting he's a real cop. He's fine, but a little off.
That's true, too, of the Timber Lake Playhouse's Rumors. Despite the numerous, notable individual performances, and the remarkable set and costumes, the cast's chemistry is amiss, as if the actors excel so much at hitting their own marks and characterizations that they neglect to connect with each other. Hopefully, subsequent performances will afford them the opportunity to add that missing element, which would greatly improve what's already a good, though not great, production.
Rumors runs at the Timber Lake Playhouse (8215 Black Oak Road, Mt. Carroll) through July 26, and more information and tickets are available by calling (815)244-2035 or visiting TimberLakePlayhouse.org.