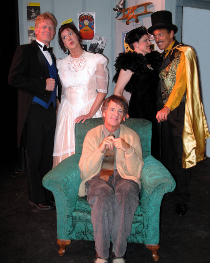 I had an utterly fantastic time at Quad City Music Guild's preview performance of The Drowsy Chaperone, director Bob Williams' high-spirited and hysterical presentation of the long-running Broadway hit. Yet I'm embarrassed to say that I may have inadvertently missed 10 of its most entertaining minutes, because I made what was, in retrospect, a terrible mistake: I left the auditorium during intermission.
Granted, we were given permission to do so, even if that permission was given grudgingly. Set in a drably furnished apartment, The Drowsy Chaperone finds our guide - a meek, late-middle-aged, possibly agoraphobic theatre lover known only as Man in Chair (portrayed here by Mark McGinn) - introducing us to the joys of his favorite LP: the 1928 musical comedy of the show's title. And as he plays the record, the production comes to life in Man in Chair's dwelling - characters pop in and out of doorways and walls, set pieces are whisked on and off - while the album's owner provides frequent, frequently bitchy commentary and behind-the-scenes gossip about both the show and its cast. (One of the production's stars, we're told, was eventually devoured by his poodles, a fact that we're politely asked to forget about. Not a chance.)
It's a two-record set, though, and at the end of the first LP, Man in Chair allows us to leave our seats, despite feeling that a musical's mood is always somewhat killed by an intermission. (As written, The Drowsy Chaperone - the show, not the show within the show - doesn't include one.) With our host admitting that he had some tidying to do anyway, a bunch of us, on Thursday, took advantage of the interlude and stretched our legs. But returning to the house near the intermission's end, it was clear that while we Music Guild patrons were enjoying concessions and using the facilities and whatnot, Man in Chair was anything but idle; when my friend and I re-entered the auditorium, he was actually hard at work vacuuming. And it was at that point that I regretted stepping out for the break, because I realized I could've contentedly watched Mark McGinn futz around that set and fastidiously coil a vacuum cord all evening long.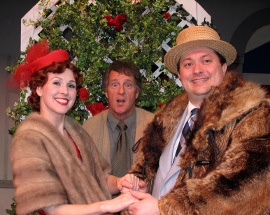 I absolutely adore The Drowsy Chaperone; staged last fall, St. Ambrose University's presentation of the show was so spectacular that I returned for a second viewing, and would've gone for a third had it run more than one weekend. Yet it's perhaps the only musical I love that I have no interest in owning the soundtrack to, because, for me, the leading figure of Man in Chair is the reason it's so wonderful, and the guy almost never sings. He is, however, lyrically funny, and under Williams' direction, McGinn's Man in Chair is magnificently lyrically funny. Perched on his seat with knees and feet together, swooning over the romantic, cornball perfection of his album, McGinn is a priceless priss here, and his character's acerbic asides are oftentimes witheringly hilarious. (During one low-slapstick routine between Valeree Pieper's dotty Mrs. Tottendale and her underling, Mike Millar's aptly named Underling, McGinn brings down the house with a blithely matter-of-fact "I hate this scene.")
Yet from the start, McGinn fashions a figure so richly textured and specific that he fully transcends stereotype. To be sure, the performer is assisted by The Drowsy Chaperone's book - a brilliantly meta deconstruction of musical-comedy tropes written by Slings & Arrows co-creators Bob Martin and Don McKellar - and by Williams, who provides his lead with plenty of breathing room and lovely bits of comic business, including that intermission-spanning act of housecleaning. Man in Chair's sweetness, complexity, and soul, though, seem to stem directly from the honesty with which McGinn plays this show-tune-worshiping shut-in. As more and more details of his character's life spill out over the course of the show's two hours, the actor takes what could be portrayed merely as a clever, persnickety Felix Ungar clone and invests him with legitimate poignancy to match his quick wit; McGinn is show-stoppingly funny in The Drowsy Chaperone, but even better than that, he's real.
His co-stars, happily, are anything but. As the radiantly sunny, maniacally self-involved ingénue Janet Van De Graff, a role played on Broadway by Sutton Foster, Melissa Anderson Clark continues to suggest that she just might be our area's Sutton Foster - a wildly charming, vocally and comically assured triple-threat. (In Clark's demanding "Show Off" number, she's more of a quintuple-threat, as the exemplary singer/dancer/actor also twirls a baton and performs a cartwheel.) J. Adam Lounsberry and Nathan Bates deliver a pair of endearingly obtuse gee-whiz turns, while Pieper and Millar make for an exquisitely silly and satisfying Burns-and-Allen coupling. (That intentionally ridiculous slapstick scene that Man in Chair hates so much, featuring a succession of spit takes, is actually one of the production's most uproarious segments.)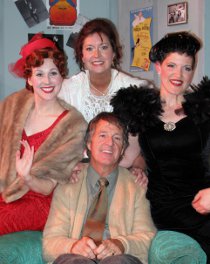 Valeree's husband Kevin Pieper and the ever-genial Tom Vaccaro have, and engender, enormous fun as knuckleheaded gangsters disguised as pastry chefs (it's that kind of show); Sarah Lounsberry, with a bracing squawk of a voice, is enticingly dippy as a feather-brained showgirl; James Turilli, returning to the Guild stage after a three-decade absence, more than makes up for lost time with his fearless and riotous personification of the Latin lover Adolpho. (Or, as Turilli's stupendously fatuous ham would pronounce it, "Ada-a-a-a-a-ahlpho!") And playing the titular chaperone, who exists in a sardonic and soused universe all her own, the marvelous Erin Lounsberry is comedic haughtiness incarnate, a preening diva served with a swizzle stick and a cocktail onion.
Admittedly, I was hoping for a bit more belt-voice bravado from the chaperone's "As We Tumble Along" anthem (Lounsberry sings beautifully but doesn't quite nail the brassy show-biz blare the song occasionally demands), and wished that the assertive, beaming Wendy Czekalski's solo more effectively showcased her vocal gifts. And I really wished - as I imagine its performers did - that the tempo had been picked up in Thursday's rendition of J. Adam Lounsberry's and Bates' tap number "Cold Feets." It seemed that the men wanted to move faster than music director Bob Masasco's generally terrific orchestra did, and their expressions appeared pitched somewhere between minor uncertainty and major panic. (Of course, the performers' nervous expressions might've been in regard to the dancing, and if so, the actors needn't worry: Lounsberry and Bates pull off their duet with aplomb.) As is wont to happen on preview nights, there were also occasional body-mic gaffes to contend with, but not so many that it became an issue, and Bates made up for his initially non-functional mic with strong vocal projection.
In a show, however, that provides this much ticklish pleasure (and, courtesy of Williams' exactingly detailed set and Deb Holmes' sleek and inventive costumes, this much visual pleasure), these are mere quibbles. Boasting sprightly choreography by Emma Williams and one of the overall happiest-looking and happiest-sounding ensembles I've seen in a Music Guild endeavor - the cast's happiness being totally understandable - The Drowsy Chaperone is sensationally produced and madly enjoyable. And if you try really hard, you can probably narrow your favorite jokes down to a dozen or so, which isn't at all bad when you consider that Mark McGinn alone delivers more than eight dozen to choose from.
For tickets and information, call (309)762-6610 or visit QCMusicGuild.com.