The Harrison Hilltop Theatre's The Complete History of America (abridged) is moronic on the surface, yet has undertones of sharp wit. While Chris Walljasper's direction makes the show play like a frat-boy presentation on the history of North America, there's also an intelligence to the humor, which mixes pop-culture references - from Super Mario to Lady Gaga - with historical events from the past 50,000 years.

Originally conceived by the Reduced Shakespeare Company, The Complete History of America (abridged) condenses 50 millennia into two hours, including a 15-minute intermission. Starting well before Amerigo Vespucci's discovery of the Americas, the script covers the writing of the Constitution, the Tea Party, the assassination of Abraham Lincoln, the presidencies of Ronald Reagan and George W. Bush, and many more key points in U.S. history, all presented with irreverence and pointed comedy.


While contemplating the script during Thursday night's performance, it struck me that (Reader employee) Walljasper could've presented the humor in several ways, with the actors in on the jokes, the butts of the jokes, or allowing the jokes - without theatrical embellishments - to speak for themselves. Walljasper, however, doesn't opt for just one of these, but mixes all three, with each of his actors employing a different presentational style.

Joseph Maubach plays his part knowing his lines are good ones. With his yuk-yuk approach, Maubach plays to the audience with a wink here and a nod there. Yet it's effective (without being annoying) because there's no condescension in his tone. Maubach doesn't deliver his lines with an attitude suggesting that the audience should find them funny; instead, he performs as if he's trying to be funny, finds himself funny, and hopes the audience will, too.

Adam Overberg offers a performance different from any I've seen from him in the past, in that he subdues the underlying intelligence that is typically evident in his acting (most recently well-displayed in the Richmond Hill Players' The Shape of Things). Here, he plays a dolt, an empty-headed man who seems unaware that he's funny. Of the show's three actors, Overberg most comes across as speaking off-the-cuff, as though he's improvising, rather than reciting lines. Had I not known better - having both spoken with Overberg and watching him perform in previous shows - I would've believed that, in real life, he was an idiot. He's that convincing here.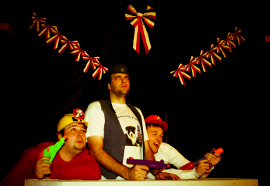 Relative to Maubach and Overberg, Paul Workman plays his lines straight. With the exception of a few accents, he doesn't embellish his scripted jokes (much) with humorous inflections or body language, and instead allows the audience to discover the wit in his spoken words. Yet Workman is also impressively able to deal with the unexpected. During Thursday's performance, a balloon popped before he could deliver the gag for which it was included. Workman, however, worked around the accident, incorporating the now limp and empty rubber tube into fresh, laugh-worthy material.

Unfortunately, whether intended or not, technical director Tristan Tapscott's lighting often leaves the actors in dark spots on the stage. (Despite being only 15 to 20 feet away from performers, I sometimes struggled to see their faces as they stood at the outer edge of pools of light.) And while Complete History is hilarious, and clearly delighted its audience, it could be tightened a bit to be even more effectively funny. On Thursday, each of the actors stumbled on at least a few lines, and while these were never big enough mistakes to derail the pace, tightening the tempos through secure dialogue could take the play into "hysterical" territory, and make it long-remembered. As is, though, it's still a lot of fun.


For tickets and information, call (563) 449-6371 or visit HarrisonHilltop.com.