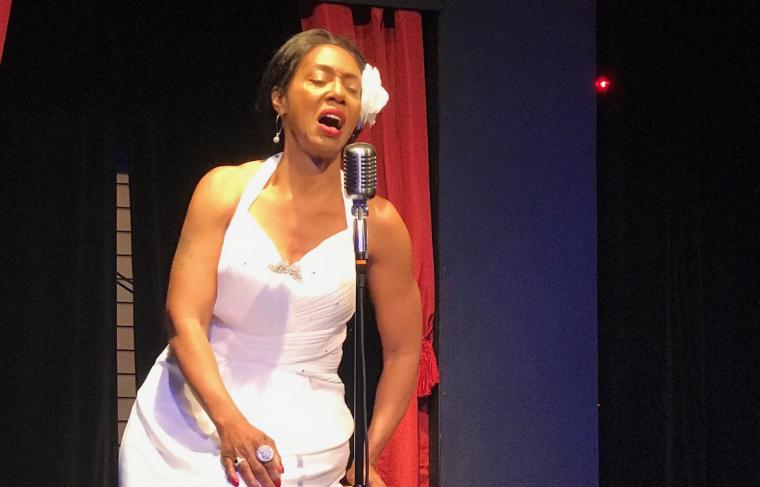 The heartbreak was palpable at the Black Box Theatre's Saturday-night opening of Lady Day at Emerson's Bar & Grill. Transformed into a quaint cabaret, the space featured a small stage with a single stool and microphone, with a bar (dutifully tended by server LuAnne Sisk), a three-piece band, and two tables rounding out the experience. And from the moment the lights went down, audience members were treated as patrons of Emerson's establishment, whisked away from the Quad Cities, and transported to 1959 Philadelphia – for Billie Holiday's last concert.
The lady we were all waiting for had to be coaxed onto the stage by Jimmy (Antonio Collins), Billie's piano player. But when she finally appeared without flourish, Cynthia Johnson Lomas was lovely as the epitome of Billie Holiday. In any biographical piece, actors, I think, must channel the people they're playing to capture their spirits while still making their performances personal and unique. In this, Lomas was entirely successful. Employing a raspy vocal quality for her monologues and a gorgeous singing voice, Lomas' presentation felt like Billie come to life.
Lomas also looked beautiful in a white gown that was purposefully too long, and she held a flower meant for her hair. With our star wistfully reminiscing about the history of her love for gardenias, director Lora Adams' production started off on a high note, and then the truth of Billie's hard life steadily came out.
At times, Billie's pain and anguish seemed almost too much to bear as she "solved the problem" with either another drink or song. As she's positioned about five steps from the bar, Billie throws back a significant number of drinks here, and it's really not surprising that the real Holiday succumbed to cirrhosis of a liver a few months later after this concert took place. But her over-consumption of alcohol makes it all the more probable that Billie would reveal the personal, painful stories of her past to her audience. Interspersed with songs ranging from her best-known hits such as "God Bless the Child" and "Strange Fruit" to the upbeat "Pig's Foot," these monologues cover the range of Holiday's life, from her impoverished childhood to her time spent in prison.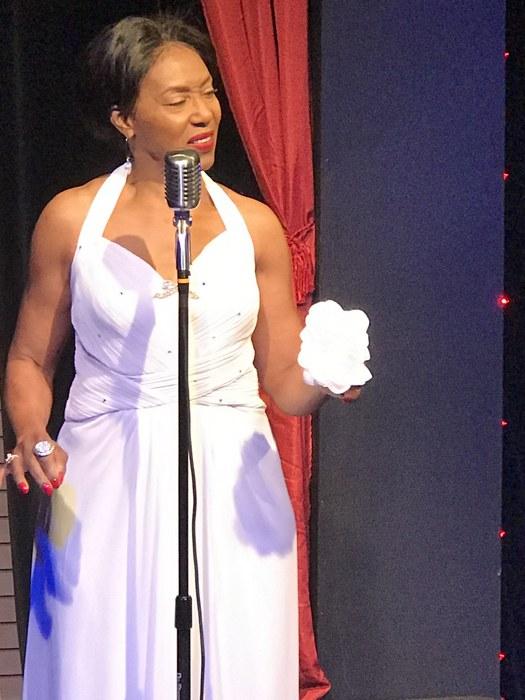 With Kyle Jecklin on bass and Wayne Allen on drums joining Collins to complete the trio, the band frequently exchanged glances between themselves and Sisk out of growing concern for Billie's well-being. Lomas' too-long dress offered several chances for her to trip about, adding to the idea that the booze was doing its job. Collins' Jimmy, in particular, tried to be Billie's caretaker, arguing silently with Sisk about how much alcohol to pour in each glass from across the room. Even as Billie mentally and physically deteriorated in front of our eyes, Jimmy's peppy spirit brought a bright spot to this otherwise gloomy production. Collins really seemed to have a good time as Jimmy and with the music, even becoming the show's focus at one point as David M. Miller's lighting design brought Collins into the spotlight while he rocked out on his keyboard.
Although Jimmy clearly cared for Billie, he would often try to rush her into a song, as singing seemed to refocus her. Ultimately, however, Billie would simply find a new horror to talk about. I didn't know a whole lot about Holiday's life going into this production, and I was woefully unprepared for how sad it was. Lomas allowed that grief and pain into her singing, even when she was occasionally overpowered by the band if she got too far from her microphone. But don't be fooled: Lomas is an excellent singer, and I wager to guess there were times she intentionally held back, per Adams' direction, in order to achieve the vocal qualities needed to effectively portray Billie Holiday. Watching Lomas sing was a real treat; you could see her get lost in the music, and then a lyric would spark a new emotion that she'd carry into the next monologue.
Adams made a delightful choice to have two of the theatre's patrons sit on stage watching the concert unfold and, as they became part of the show, I found myself periodically watching their reactions as they sat mere inches from Lomas. While Billie did interact with the whole room, she sparked an extra connection with the duo at the table, and in what is nearly a one-woman show, this added observable element kept the evening fresh long into the night.
This production of Lady Day at Emerson's Bar & Grill is painful but cathartic, with its smooth jazz vocals taking you back to a different era and making it possible to forget this is a stage play and not just a concert. The Black Box Theatre talents have once again found a show that perfectly suits their space and hits all the right notes.
Lady Day at Emerson's Bar & Grill runs at the Black Box Theatre (1623 Fifth Avenue, Moline) through February 9, and more information and tickets are available by calling (563)284-2350 or visiting TheBlackBoxTheatre.com.