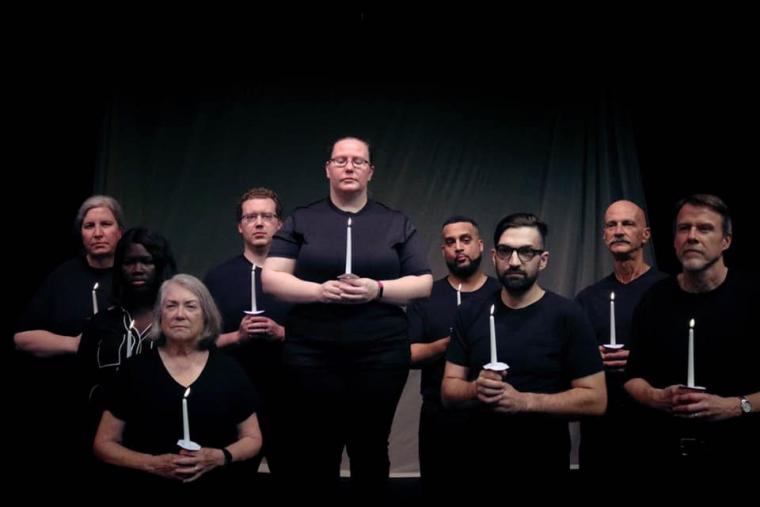 Playcrafters' presentation of The Laramie Project is, as you might imagine, not the feel-good production of 2018. But it is a raw and emotional retelling of a story that gripped the world.
Following the 1998 Matthew Shepard tragedy – with the young gay man kidnapped, brutally beaten, tied to a fence, left unconscious, and ultimately killed – Moisés Kaufman and members of his Tectonic Theatre Project conducted hundreds of interviews around Laramie, Wyoming, and put their research together as a piece of documentary theatre, resulting in The Laramie Project. And right away during Tuesday's dress rehearsal, I knew I was in for a slightly different trip to Laramie.
I don't want to give too much away here. But in director Cynthia Safford's production, you're given a chance to see some of the actors' personalities before they become the people of Laramie, which puts a really interesting spin on the performance. Meanwhile, Micah Bernas' pre-show music was simultaneously melancholy and toe-tapping as it filled the spartan Playcrafters space stripped down with only a few cubes, stools, and exposed prop tables in the back. There is also a scrim backdrop that worked as a giant projection screen to both set the scenes for the characters and display pictures, lending itself as almost a scrapbook of the tragedy – a perpetual reminder that this story is nonfiction.
Obviously, parent/child relationships feel more authentic if the actors are age-appropriate, and the wide range of ages in Safford's ensemble led to believable and meaningful stage moments. Assisted by Ivy Rinehart's somber acoustic-guitar music, the company is composed of 11 actors: Rebecca David, Don Faust, Emmalee Hilburn, Gregory Kerr, Eric Landuyt, Veronika Larson, Sara Laufer, Rae Mary, Zoey Sloane, Kyle Taylor, and Nicholas Waldbusser. They collectively portray more than 60 characters, and despite a few line flubs during Tuesday's rehearsal, especially toward the end of the show, the cast is overwhelmingly strong. As they all gave me at least one moment in which I connected with them fully, it would do this production a disservice to single out any performer in particular. The cast became a cohesive unit and found an intimate balance to make this production of The Laramie Project special.
Safford put her focus on the storytelling aspect of the show. The actors, all of them dressed entirely in black, donned scarves and shirts to seamlessly become specific characters, which made it easy to keep track of precisely who was talking. Props designer Emily Edens also did a fantastic job gathering and keeping track of the props needed to make The Laramie Project come to life. I may not remember all the character's names, but the visual reminder of a white towel for the bartender was all that was really needed, and the ensemble handled their props fluidly, passing them to each other in a synchronized dance that was delicate (so as not to draw focus), yet beautiful (in case it did).
Because the prop tables and coat racks were readily visible, it was possible to see the ensemble become their characters. While the backstage area was employed, presumably for when actors needed breaks, one or two castmates would at times remain visible in the wings, reacting to the on-stage action just as any other audience member. It was a really small choice that made a big impact, and a not-so-subtle reminder that everyone in the space had something to gain from the show's messages.
And Safford's production took some risks that really paid off, as key recollections – I'm sure you can guess which ones – featured shadow play on the scrim backdrop while being narrated on stage. By being given multiple things to look at, the production's visual impact was richer and fuller, and these moments in shadow brought Matthew into focus in a way that honored him while not distracting from the horror. Once the fence was set in place behind the scrim, it remained there, and one could faintly make it out for the remainder of the performance.
Another interesting directorial choice came with the second-act press conferences, which employed closed-circuit television and a stage picture that was both satisfying and heartbreaking. Playcrafters has an amazingly timed show, as Friday's opening-night performance will occur on exactly the 20th anniversary of Matthew Shepard's death. Consequently, the on-stage announcement of the date becomes almost hard to stomach. But it is Safford's ultimate focus on hope, with that word becoming a major focus, that allows this production to be more than just sadness and hatred.
The Laramie Project is a reflection on not only what happened in Laramie, but also how far we've come as a society since 1998 – and how far we've yet to go. Given a few more days, from when I attended, to smooth out some minor bumps with the show's lights and lines, Playcrafters' rendition is poised to be a stunning and hopeful tribute to Matthew Shepard and his legacy.
The Laramie Project runs at the Playcrafters Barn Theatre (4950 35th Avenue, Moline) October 12 through 14, and more information and tickets are available by calling (309)762-0330 or visiting Playcrafters.com.