In 1971, Jim Jacobs took his experiences attending Chicago's Taft High School and, together with Warren Casey, wrote the book, music, and lyrics for a musical titled Grease. You may have heard of it.
Set in 1959, the show follows the angst-ridden world of 12 teenagers, most of them "greasers," and the original Broadway production lasted 3,388 performances, was turned into a movie, and spawned two New York revivals, a live-TV performance, and several revised versions that have been performed by schools and local-theatre groups nationwide. Yet while the debuting Chicago presentation was written as a gritty spoof of those awkward teen years, its rawness and raunchiness have been significantly toned down in the 40-plus years since its creation, as is currently evident at the Clinton Area Showboat Theatre. Other than some male cast members employing pelvic thrusts to indicate sex, the Showboat's production of Grease is a fairly wholesome affair … and a mostly enjoyable one.
July 21 was opening night for the fourth show in the theatre's "Season of American Classics," and director Scott Hunt, music director Alyssa Kay Thompson, and choreographer Ruby Carlson put together an entertaining production that garnered a standing ovation. While not thought-provoking theatre, Grease is a fun and nostalgic look back at American teens in the 1950s, and boasts a musical score reminiscent of early rock-and-roll.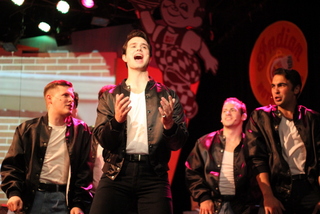 The Showboat's modestly sized stage, however, presented challenges for scenic designer Aaron Kennedy, as the musical requires sets for locations including a school cafeteria, gymnasium, burger joint, girl's bedroom, football field, and drive-in. Kennedy's simplified set instead consisted of a center-stage counter and stools, with iconic signs from the era hanging above, while the stage itself was framed in blown-up, black-and-white yearbook pictures of the cast members in character. Sound and projection designer Cameron Hoffman, meanwhile, projected large photos of Grease's different locales on a screen behind the counter, forming backdrops for each of the varied scenes. Although the results were a bit static, this did solve the space issue, and also added some visual interest.
Conductor/keyboardist Thompson and her four band members were tucked into an upper corner of the stage visible to the audience. Having the band on-stage consequently required the cast to wear body mics, which at times caused modulation inconsistencies during certain numbers and spoken lines. But that complication aside, the Showboat's summer-stock cast delivered a fun, energetic, crowd-pleasing production to a sold-out audience. "Those Magic Changes," sung in rock-star-wannabe style by Nick Petrelli's Doody, was a particular standout, and Allison Winkel showcased a strong voice on Marty's tongue-in-cheek number "Freddie My Love," a song performed with just the right amount of nuance.
Lizzy Stone may not have the physical makeup for Rizzo's expected tough-girl look, but her superlative deliveries and facial expressions left no doubt that this was a girl you wouldn't want to mess with, while Stone's convincing solo "There Are Worse Things I Could Do" showed a softer side of her character. Jon Loya and Holly Moss, as Danny and Sandy, appeared comfortable in their roles, both in their intimate moments and when interacting with the T-Birds and Pink Ladies. Each also exhibited that teenage awkwardness we all remember.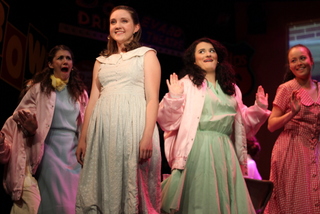 Thursday's wildest audience reaction came from the Act I song "Mooning," as Cash Maciel's Roger and Whitney Willard's Jan had the audience laughing and whooping at their comical rendition. (By this point in the summer, Maciel has established himself as one of those actors who just makes you smile when he enters a scene.) I must also mention Gillian Han, who, having seen her beautiful portrayal of Liat in South Pacific, was not recognizable to me in her perfect portrayal of Patty Simcox. Here, Han is that rah-rah cheerleader, student-council rep, head-of-the-prom-committee girl who's flawless in every way – and would stab you in the back in a New York minute.
The Showboat's annual casts consist mostly of college students (music and theatre majors) who reside in Clinton for the summers and put up five productions over roughly a 10-week period. While performing their current show in the evening, they're rehearsing for their next show during the day, and I've been impressed by their work … but I must admit that this one was hit-and-miss for me. That mic problem was a distraction that gave the evening an amateurish feel (one that I hope was remedied for subsequent performances). And although the ensemble song-and-dance numbers were exuberant, there were moments in which I felt some of the individual actors just going through the motions, and not really embracing their characters or the spirit of the material.
As mentioned, though, the enthusiastic audience members gave Grease a standing-O, and were clearly appreciative of the actors' efforts. Maybe, on that hot summer night after days of political- and world-news watching, memories of those confusing, joyous, anxious, adventurous, exciting teenage years were a welcomed respite – zits and all.
Grease runs at the Clinton Area Showboat Theatre (303 Riverview Drive, Clinton) through July 31, and more information and tickets are available by calling (563)242-6760 or visiting ClintonShowboat.org.