There was much to love about the Timber Lake Playhouse's opening-night presentation of Gypsy. But if pressed for a favorite moment in this dynamically entertaining musical, it might've been the one in Act II in which a third-rate burlesque show loses its featured stripper, and our protagonist Mama Rose, without apology or shame, volunteers her long-ignored, wallflower daughter Louise for the job. It wasn't the narrative turn that got me; it was the response of Timber Lake's audience, who released a collective "Oh no she didn't!" gasp-and-laugh implying they were legitimately shocked – shocked! – at Rose's readiness to pimp out her child. Was this crowd somehow under the impression that, despite all previous evidence, Mama was actually not a monster?
I adored the reaction because it suggested not only that patrons were wholly engrossed in the story, which they should've been, but that many of them were perhaps not previously familiar with Gypsy – in which case director James Beaudry's production serves as a particularly outstanding introduction. Composer Jule Styne's score, one of the 20th Century's finest, sounded smashing from overture on, with conductor/keyboardist Andrew Milliken and his eight-person ensemble oftentimes playing in full view of the audience. Yet minute by minute, Arthur Laurents' book and Stephen Sondheim's lyrics were handled, alternately, with the beguiling lightness and forcefulness we fans hope for from this tale of a savagely controlling stage mother and the daughters longing to escape her. It's hugely challenging and rewarding material – not for nothing did the New York Times' Frank Rich call Gypsy "Broadway's own brassy, unlikely answer to King Lear" – and Timber Lake's rendition is rewarding in spades.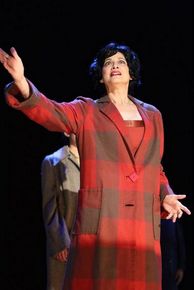 For the show's supremely charismatic guest actor Saundra Santiago, who plays Mama Rose, Thursday night also proved visibly challenging, at least when it came to her dialogue. She never appeared completely at sea, but in too many scenes it was impossible to not notice the awkward pauses, repetitions, and occasional phrases that made no grammatical sense – all of which would've been easier to overlook, or write off as opening-night nerves, if not for Santiago's intimidating résumé. (Her credits include 2003's Tony-winning Broadway revival of Nine and recurring roles on TV's Miami Vice, The Sopranos, and Damages.)
Blessedly and thrillingly, however, Santiago showed no such uncertainly when singing. As she belted out her first number, "Some People," I was so blown away by her vocal power, expressiveness, and perfect pitch that I would've needed a sandblaster to wipe the grin off my face. And as Rose's parade of hits continued – from "Mr. Goldstone" to "Everything's Coming Up Roses" to the devastating "Rose's Turn" climax – there was no denying that this was an exhilarating, capitalized Star Performance regardless of line troubles. Best of all, and maybe hardest of all, Santiago ensured that the tirelessly demanding Rose didn't come off as a cartoon ogre. The performer, who never seemed to judge the well-meaning harpy she was playing, kept Rose life-sized and specific, and when she overshadowed others on-stage, it was always clear that it was Rose, not Santiago, who was doing the overshadowing.
Not that, given the formidable talent employed for Gypsy, doing so was ever going to be easy. Olivia Kaufmann, an absolutely bewitching Louise, displays a rare ability to convey her lyrics' meaning through unaffected honesty and simplicity, and you wholly buy her gradual transformation from shy sweetheart to knock-'em-dead starlet; with her gorgeous soprano and subtle emotionalism in especially heartbreaking form on Louise's "Little Lamb" solo, Kaufmann delivers a triumphant turn. But director Beaudry, who pulls off a magnificent coup de theatre with his and lighting designer Riley Wood's strobe-lit fast-forward from one tacky vaudeville routine to another, has got to be one of the best friends a stage actor ever had. I admired the sheepish decency of John B. Boss' Herbie and giggled like mad at Caroline Kasay's chirpy take on favored sibling June, who's not half as ditsy and subservient as Rose imagines. This Gypsy, though, is chockablock with staging and Zachary L. Gray choreography that allow the entire cast to shine, no matter how much stage time they're given.
The stunning dancer Liam Johnson goes to town on a dazzling "All I Need Is the Girl." Alec Irion, quadruple-cast and excellent, hints that he might end up this summer's character-actor MVP. Annalise Griswold, Shayla Brielle G., and Elya Faye Bottiger (with a hilarious Lina Lamont squawk) execute a show-stopping "Gotta Get a Gimmick" that, on Thursday, routinely earned mid-song applause. (Among costumer Kenan Burchette's many extraordinary creations, Bottiger's swan outfit would be a priceless trick-or-treating option if it weren't designed to be worn by strippers.) Even the little kids are fabulous, with the beaming Avery Findlay, as Baby June, performing two sets of cartwheels that end in the splits – a sight soon equaled by the petite Avery Moran, in a sailor suit, performing a cartwheel one-handed. They were ideal visual representations for Timber Lake's Gypsy experience, because God knows I was doing cartwheels in my head.
Gypsy runs at the Timber Lake Playhouse (8215 Black Oak Road, Mt. Carroll) through June 12, and more information and tickets are available by calling (815)244-2035 or visiting TimberLakePlayhouse.org.