The Circa '21 Dinner Playhouse's Jack Frost Saves Christmas is the most adorable children's play I've ever seen. Okay, it's also the only children's play I've seen since... well, since I was a child. Still, it brought out the kid in me as I danced and sang along - at the appropriate, invited times, of course - and I wasn't alone; the children in attendance at Saturday's performance, including the two I brought along with me, laughed and danced and shouted exclamations of delight at the play's proceedings.

Directed here by Daniel D.P. Sheridan, this short (one hour plus intermission) musical tells the tale of Jack Frost's birth, his discovery of his unique gifts, and his attempt to make friends with the people of Christmas Town. Initially cast out for his lack of talent, Jack eventually saves the day - that being Christmas Day - when he uses his frosty powers to bring back the missing snow and cold in time for Santa's annual sleigh ride.

Santa himself was clearly the crowd favorite, bringing down the house with his (unexpected) Hawaiian shirt and red-velvet shorts trimmed with white fur, and dancing and joking his way through the higher-temperature portions of the show. It helped that St. Nick's celebrity preceded him, but also that Janos Horvath managed to bring the requisite jolliness to the role while adding his own style of physical humor, with big gestures and well-chosen pauses in his vocal deliveries.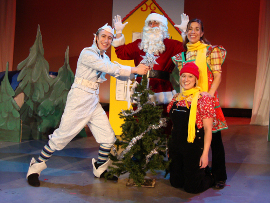 While the kids most enjoyed Santa, no one tickled my fancy more than Don Denton, double-cast as Penguin and Mr. Holly. As Penguin, Denton employs a silly, almost skipping waddle to move around the stage - one that made me giggle with every step - and as Mr. Holly, Denton speaks with an effeminate, condescending tone that's more nutty than negative. The character is the play's antagonist, but Denton is so amusing in the role that he's easy to like.

Laura Miller - familiar to Circa '21 patrons as a member of the performing wait staff, the Bootleggers - is a charmingly friendly Elizabeth, offering a sense of wonder in her speech and a soft, supportive tone in her efforts to be friends with Jack. Fellow Bootlegger Andrea Moore makes a wonderful Rabbit, using the lower registers of her voice to imply a wisdom in her words; her Mom character is also good, and her beautiful singing voice is even better. (With Moore additionally serving as choreographer, the show's dance moves are nicely sophisticated.) Shouting out the day's headlines, Ben Holmes brings a goofy, frantic nature to his Newspaper Vendor. And Bret Churchill couldn't be more likable as Jack Frost, with a sweet uncertainty in his voice mixed with a childlike innocence that makes you want to hug him.


As is typical of his work, Gregory Hiatt's costumes - among them Jack's elf-like suit - are impressive, with the animal costumes especially creative and interesting. Using mostly headpieces, rather than full-body outfits, Hiatt has chosen an overstuffed stuffed-animal look for Raccoon, Rabbit, and Polar Bear, and his Penguin costume is perhaps the show's cutest, with its headpiece attached to long sleeves closed at the ends to create wings. And Sheridan works in a bit of simple, but effective, stage magic when Jack creates frost on a window; the moment involved nothing more than the pulling down of a translucent shade, but when it happened, it was so unexpected that it kind of took my breath away.

I expected to be mildly amused by Jack Frost Saves Christmas, hoping my seven- and 11-year-old companions would be delighted by it. What I didn't expect was to be so joyously captivated by the sweet, tender holiday tale myself.
 

For tickets and information, call (309)786-7733, extension 2, or visit Circa21.com.