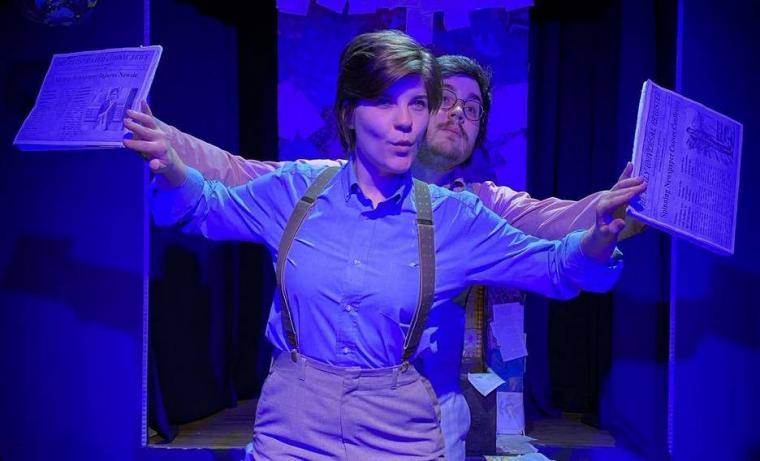 Derived from the travel-adventure novel by Jules Verne and adapted for the stage by Tristan Tapscott (who also served as co-director for this production), the Mockingbird on Main's latest offering continues their commitment to locally created theatre productions. In this case, Around the World in 80 Days follows a story you're likely familiar with, following Phileas Fogg (Sydney Dexter) and his newly acquired valet Jean Passepartout (Alex Richardson) as they attempt to circumnavigate the world within 80 days to win a bet.
Throughout their journey across the globe, this pair encounters a myriad of obstacles large and small, and any two-person production in which the actors play multiple characters is bound to be energetic. This production was certainly no exception, as Dexter and Richardson collectively play waiters, an inspector, a train conductor, a ship captain, and others. I liken the whole experience to an episode of the old Stephen Spielberg-produced cartoon series Animaniacs. The show's pace was almost frantic with zany humor, peppered with repetition and the occasional sign to signify time passing. I'll admit I was never a hearty fan of the Animaniacs approach, and as such, found it difficult to fully appreciate this production's comedic offerings. But note: Just because this particular brand of comedy isn't my personal favorite doesn't mean that others on Saturday didn't wholly love it.
While I welcome a good one-act, this production could have benefited from decelerating a bit, adding some more plot, and dialing back the antics. At times, it felt the characters were being funny just for the sake of humor in ways that didn't necessarily drive the plot. (How many times is a crash-box funny?) The action and dialogue were occasionally so fast-paced that I essentially missed what was happening. Luckily, I'm familiar enough with Verne's plot that the addition of a princess didn't faze me. It still felt like it came out of nowhere.
What kept this production grounded instead of completely losing me were Dexter and Richardson. Dexter has an inherent quality that inexplicably makes one want to befriend her. As such, she was the perfect choice to play Fogg, because you couldn't help but root for her. Every accent she employed seemed organic and not forced, and Dexter also excelled at reading the room, instinctively knowing exactly which audience member to interact with as well as projecting a casual "go with the flow" spirit. It certainly wasn't anyone's fault that an assault of weather-emergency alerts went off during the show, and Saturday evening's tornado warnings merited notice. But Dexter weaved them into the show with ease, and when the theatre door flew open in the fierce wind, she didn't miss a beat. It certainly made a specific line about Iowa having "all sorts of weather" land even funnier.
Richardson, a familiar off-stage name, has been holding out on the Quad Cities' theatre scene as an actor. because I utterly enjoyed him in his multitude of roles. Projecting great spunk and a commitment I appreciated, it appeared as though Richardson thoroughly enjoyed spraying Dexter with water from time to time. Did his top hat fit him well? Nope. Not even close. But I choose to believe the ill-fitting hat was a conscious decision made with humor in mind and not because a properly fitting hat wasn't available. In fact, the costumes were rather brilliant in their simplicity. Savannah Bay Strandin designed the production, which was a conglomerate of globes, maps, and money. This 80 Days was visually appealing and even the more ridiculous costume pieces and props made perfect sense.
Richardson and Dexter were beautifully paired, and, while I typically have no need for knowledge of actors' off-stage relationship status, it felt obvious they were a real-life couple by the way they seamlessly anticipated every movement and avoided any on-stage awkwardness. The actors seemed to have a marvelously good time, and I appreciate the artistry and on-stage teamwork they exhibited without restraint. Another thing that worked well was how they provided the sound effects of trains and carriages. I certainly hope that Richardson and Dexter have updated the "special skills" sections of their résumés, because the skills displayed here were fantastic.
Tapscott and co-director Douglas Kutzli managed to pack a lot into the presentation of the 80-day journey. For instance, I wasn't expecting Thornton Wilder to show up. But I can definitely appreciate the use of a ladder in utilizing the Mockingbird's intimate stage in ingenious ways. Overall, Around the World in 80 Days is certainly the fastest worldwide journey you'll ever take. Dexter and Richardson have enough energy to keep anyone entertained for an hour, and Tapscott and Kutzli sprinkled in quite a few pop-culture Easter eggs that are certainly appreciated gems. Will you have the time of your life? That remains to be seen (though Dexter sure does), But if you're looking for a familiar tale that's been turned a smidgen wacky, I can't think of a better option.
Around the World in 80 Days runs at the Mockingbird on Main (320 North Main Street, Davenport IA) through March 12, and more information and tickets are available by visiting TheMockingbirdOnMain.com.