Two of the things I miss most about reviewing theatre with greater frequency are raving about area artists whose talents I'm quite familiar with, and raving about area artists whose talents are brand-spanking-new to me. Happily, regarding the Playcrafters Barn Theatre's The Red Velvet Cake War, I get to do both. And that's especially gratifying because one of the things I absolutely do not miss is explaining why certain well-meaning, lighthearted endeavors designed solely to entertain simply don't work for me, and it looks like I have to do that, too.
A Texas-based slapstick involving a potentially disastrous family reunion and a bitter competition for the yummiest dessert, The Red Velvet Cake War was written by the prolific team of Jessie Jones, Nicholas Hope, and Jamie Wooten, and if you've thrown a rock over the last few years, you've likely hit an area production of one of their plays. Always a Bridesmaid, Christmas Belles, Dearly Beloved, The Dixie Swim Club - the Jones/Hope/Wooten triumvirate has practically cornered the market on comedic tales of drawling eccentrics, and it's not hard to see what makes their shows so popular: They're funny. An author's note in the Red Velvet script suggests that its characters "should be portrayed as real people, not Southern caricatures," but that seems a bit disingenuous. What Jones/Hope/Wooten admirers appear to most respond to - and I'm guessing this is true even in the South - are the caricatures, and the bigger and louder and brassier, the better. (If the authors really wanted to dissuade actors from caricature, why invite it with such character names as "Newt Blaylock," "Grover Lout," and "Mama Doll Hargis"?)
As blithe, good-natured comedies go, those in the Jones/Hope/Wooten canon generally agree with me, and this one might've, too, if I didn't spend so much time thinking I liked the show better when it was written by Beth Henley and called Crimes of the Heart. Those who don't know Henley's 1981 Pulitzer Prize-winner won't notice or care, and even those who do know it might not care, considering Jones, Hope, and Wooten provide a goodly amount of laughs (and include just enough script variations to make a lawsuit unwinnable). But still: Crimes is about three Southern sisters - the stalwart, sexless romantic Lenny, the lascivious good-time gal Meg, and the dizzy sweetheart Babe, the latter recently charged with attempted murder. Red Velvet is about three Southern cousins - the stalwart, sexless romantic Jimmie (portrayed, at Playcrafters, by Lisa Kahn), the lascivious good-time gal Peaches (Ashley Hoskins), and the dizzy sweetheart Gaynelle (Sarah Ade Wallace), the latter recently charged with attempted murder.
That would seem more than enough for an homage (and I'm using that word generously), but the echoes aren't quite over. Crimes features bitchy cousin Chick, who wafts into scenes hurling insults and denigrating the family. Red Velvet doubles up on that conceit with the bitchy cousin Bitsy (Sondra Karben) and the bitchy aunt LaMerle (Liz Blackwell), both of whom routinely show up with withering put-downs and holier-than-thou smugness. (Late in the play, Jimmie attacks Bitsy just like Lenny attacks Chick, albeit without a broom.) Crimes' romantically yearning male is Doc, who has a disabled leg; Red Velvet's is Newt (Chrs McElyea), who has one eye. Crimes features a sickly, elderly granddaddy who's never seen; Red Velvet features a sickly, elderly granddaddy who is seen, and played here by Al Whitmore. (Again: No point in a lawsuit.) Crimes climaxes with cake; Red Velvet ... . Well, do I really need to reiterate the full title?
So no points for originality. But originality can take a backseat so long as the material still plays, and at Saturday's Red Velvet performance, there appeared to be an awful lot getting in the way of successful play-time. For one thing, while the authors' notes insist that "Gaynelle's living room is the only set" with other places "suggested by lighting," that proved confusing in director Jacque Cohoon's production. Aside from the moderately heightened illumination in scenes featuring gabby talk-show host CeeCee Windham (Sara Laufer), Bill Peiffer's and Donna Weeks' lighting effects weren't specific enough to indicate different sites; on several occasions, it just looked like large portions of the stage weren't being advantageously employed. And Act I's closer was especially vexing, as it was purportedly set in granddad's house, and needed to be, but there were no changes to the décor clarifying that - the cousins, dressed in black and sneaking a trunk out of storage, appeared to be breaking into their own home. (Stagehands were visible during numerous scene shifts, so I wondered why none of them were scooting the furniture to new positions, to help establish new locales.)
But geography, and sensible staging, proved problematic throughout. Gaynelle and Newt discussed his planned, duplicitous seduction of Gaynelle's court-appointed psychologist Elsa (Mandi Wilson) in relatively full voice a mere four feet to Elsa's left. On two separate occasions, Newt was positioned center-stage when his glass eye popped out, making it impossible to ignore that no glass eye actually did. (On a third occasion, this invisible prop popped out when Newt was far upstage with his back to us, which worked much better.) The rear of the living-room set was cut away to reveal an elevated front-porch area with two rocking chairs, but 90-plus minutes passed without anyone sitting in them, meaning our focus was naturally directed at two empty chairs for most of the play's length. (Couldn't that area have been employed for Red Velvet's alternate Act I locales, and the chairs brought on for Act II?)
Pacing was also a serious issue, given the numerous, noticeable line stumbles, scenes ending in slow fades when quick blackouts were required to sell the punchlines, and a couple of performers' readings so halting and odd that they momentarily killed the show's momentum. But despite the script's detriments and the production's weaknesses, I'd argue that it'd be impossible not to garner at least some delight from Playcrafters' latest. It's there in the authors' curveball gags and many of costumer Weeks' more outré selections. (Peaches' tiger-print stretch pants, I thought, were particularly inspired.) It's certainly there in Blackwell's LaMerle, who lets loose with hilariously bilious invective and gets granddad to shut up by pinching his breathing tube. (Many in Saturday's crowd gasped at Blackwell's unapologetic comic nastiness, and were right to do so.) And blessedly, it's also there in the portrayals of the gifted Kahn, Hoskins, and Wallace, whose collective comedic skill and commitment and warmth convince you, as is necessary here, that their cousins aren't just family; they're friends.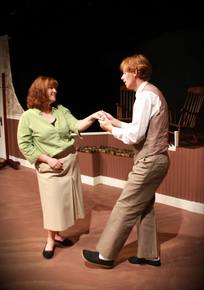 After her heart-rending turn in March's The 13th of Paris at Playcrafters, it's frankly a relief to see Kahn's radiant smile and easy confidence again employed in the service of comedy. (There are only so many tears I can shed for her in a single year.) She's a hoot as the hearty, salt-of-the-earth Jimmie, and while the script makes perhaps too many jokes at the character's expense - I'm not sure the uni-brow was entirely warranted - Kahn maintains her dignity while remaining funny, whether ratting out her fellow cousins or mooning over the widower Jimmie hopes to snag. Hoskins, a wonderful Babe in Playcrafters' 2008 Crimes of the Heart, gets her shot at the Meg(-ish) role this time, and sells Peaches' vivacity and over-the-top exuberance for all they're worth. Southern accents can be godsends for performers in stage farces, and Hoskins, with her fierce and unpredictable readings, uses her dialect the way fencers use épées - to score points via speedy, unexpected jabs. (She's so riotously assured that when her "mortuarial cosmetologist" Peaches delivers the groaner "People are just dyin' to hire me!", Hoskins makes the line legitimately hysterical by pronouncing "dyin'" as "DY-Y-Y-Y-y-i-i-in'.")
Wallace is more hesitant with her drawl, and may not be physically right for Gaynelle, considering the jokes made about the woman's disinterest in exercise and the news that her husband left her for a younger, prettier girl. (Looking at the young, svelte, gorgeous Wallace, you can't fathom what sort of Venus that guy wound up with.) But who cares? Wallace is such a fantastically focused, and even forceful, performer, and makes such a clear connection with her co-stars, that her also demonstrating go-for-broke comic spirit during Gaynelle's numerous near-breakdowns is just icing; you can imagine other actors in her role, but that doesn't mean you'd want to make a trade.
And despite my mixed-to-sour feelings about the production, I wouldn't trade my time spent at this Jones/Hope/Wooten outing either, not just for the continual pleasure of seeing Kahn, Hoskins, and Wallace perform - and, more specifically, perform together - but for my theatrical introduction to Chris McElyea. Playing a low-voiced, rubber-limbed hanger-on who isn't quite the dimwit he appears, McElyea delivers Newt's abashed flirtations with gracefully sly wit, seeming to apologize for his failed pick-up lines before he's even had the chance to make them fail. But this young actor, in his Playcrafters debut, also proves himself a wildly game physical comic, demonstrating a stunning ability, when talking to attractive women, to turn his body into a question mark: lips and crotch out, the rest receding. (McElyea seems just about perfectly cast as someone who describes himself as "open-minded ... and double-jointed.") The Red Velvet Cake War may be derivative, but when McElyea and the show's leading ladies are around, it's also, like its titular confection, pretty damned tasty.
The Red Velvet Cake War runs at the Playcrafters Barn Theatre (4950 35th Avenue, Moline) through July 19, and more information and tickets are available by calling (309)762-0330 or visiting Playcrafters.com.