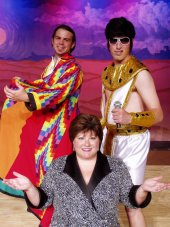 When I learned that Quad City Music Guild's new presentation of Joseph & the Amazing Technicolor Dreamcoat would feature a cast of nearly a hundred - 98, to be exact - I was both thrilled and slightly concerned. Thrilled because ... well, come on, what fan of musicals wouldn't want to see and hear an assemblage of that many performers?
But my concern stemmed from wondering what director Harold Truitt was going to do with them all. Even with 56 members of the children's chorus seated on both sides of the stage, apart from the main action, 42 seemed a rather excessive number of participants for this enjoyably featherweight biblical piece. Would Joseph's enormity prove beneficial, or detrimental?
Happily, it's the former. Andrew Lloyd Webber's and Tim Rice's score - wonderfully played by Music Guild's 10-piece orchestra - sounds gloriously rich with more than eight-dozen vocalists attacking it, but even more impressively, Truitt has found ingenious ways in which to employ his surfeit of talents: The cast not only portrays biblical characters, but sheaves of corn, stalks of corn, cows, celestial objects, and, in two memorable instances, a camel and a goat. Astonishingly, there isn't a moment in the show when the masses feel extraneous, and through it all, the ensemble looks as though they couldn't be more delighted about being there.
I know the feeling well, having performed in Joseph myself. (Then again, is there anyone out there who hasn't? Music Guild's production marks at least the sixth time the musical has been produced locally over the past 12 years.) I was fortunate enough to appear in the Circa '21 Dinner Playhouse's 2005 revival, and consider the experience three of the best months of my life. Seriously, what's not to like? Zippy, tuneful, and clocking in at under 90 minutes - with the intermission - this early Lloyd Webber work practically defines lighthearted musical escapism. The show moves so quickly, and exudes so much personality, that it seems practically impossible to screw up, and Music Guild has accentuated Joseph's considerable pleasures with its sprawling, wildly colorful presentation; watching it, you feel as though you've landed in a gigantic, musical box of Crayolas. (Cindy Mayfield's costumes, well over 100 of them, are extraordinary. They make you long for a local equivalent of the Tonys, so her work could get the acknowledgment it deserves.)
Truitt's staging of the piece is every bit as vibrant. Working with the inspired choreographer Kathy Lafrenz, the group numbers here are fantastically enthusiastic, and several have the benefit of being funny, to boot. Those dancing corn stalks and cows in "Song of the King" are a riot; Matthew Downey leads a joyful "Benjamin Calypso"; and Act II's comedic pièce de résistance, "Those Canaan Days," features numerous laugh-out-loud moments. All throughout the show, director/set designer Truitt and his topnotch collaborators give you plenty to smile at. I'd hoped for more variety in Steve Parmley's lighting, but what effects there are (including the wonderfully predictable use of Prospect Park's glittering proscenium arch) tickle the eye, as does the mass of brightly colored shirts worn by the kids' chorus; to quote Homer Simpson, "Oooo ... they look like Skittles!"
In a fruit-related tangent, this Joseph also boasts some wonderful second bananas. Maureen Malley's slinky exuberance as Mrs. Potiphar is a particular treat, while Greg O'Neill and D. Craig McFarland form an endearing Mutt-and-Jeff pair as the Butler and Baker, respectively. Michael Callahan's powerful baritone threatens to overwhelm his role as Jacob - and, unfortunately, his face is completely hidden beneath a billowy beard - but the actor's gifts for eccentric character comedy are unabated. Mike Millar, with a confident drawl, performs a thoroughly winning cowpoke number, and Tom Vaccaro's Reuben is the show's standout performance; alternately purring and spitting out his lyrics with a deliriously exaggerated French accent, Vaccaro looks like he's having more fun than anyone else on stage.
In her vocally demanding role as the Narrator, Chris Castle, to my ears, sounded note-perfect, and she's a smooth, assured stage presence. I've generally seen the part played with more rock-star vigor, yet Castle's lovely cadences felt just right for Music Guild's production, which is less a concert than a really kinetic bedtime story.
And Dallas Drummond's Joseph felt right, too. The actor doesn't reveal much of the character's egotism, which is necessary to make what plot there is in Joseph make sense, but he's likably low-key, and his vocals - on "Close Every Door" especially - are marvelous.
Similarly low-key was Nathan Bates in the traditionally show-stealing role of the Elvis-wannabe Pharaoh. But at Thursday night's preview performance, the actor - so good in Music Guild's Beauty & the Beast and You're a Good Man, Charlie Brown - needed to be keyed up more, as microphone glitches during his solo frequently left Bates inaudible. The malfunction underlined the insidiousness of microphones; when Bates' mic stopped working and we couldn't hear a word he sang, it was clear that the amplification was doing more work than he was.
Technical goofs will happen, and the moment didn't diminish the pleasure of this Joseph & the Amazing Technicolor Dreamcoat. But I urge all performers - and not just at Music Guild - to remember that mics, notoriously untrustworthy, are designed to accentuate sound, not substitute for it; from an audience's perspective, there's a big difference between "Aw, that poor guy lost his microphone" and "Aw, that poor guy lost his microphone ... and wasn't he great anyway?!"
For tickets, call (309) 762-6610.