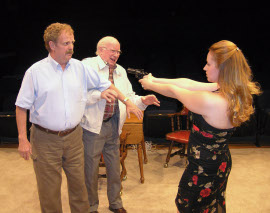 "Life's full of surprises."
These were among the first words spoken from stage during the opening-night presentation at the Richmond Hill Barn Theatre. Yet while this sentiment would've sounded perfectly appropriate coming from one of the characters in the comedic mystery Catch Me If You Can, it was actually a statement by the show's director, Kevin DeDecker, who preceded the performance with an announcement: Actor Mike Skiles had fallen ill, and his role as Inspector Levine would be assumed, that evening, by the production's stage manager, Drew Carter - a young man who would be carrying his script in hand, and would also be making his (accidental) stage debut.
I routinely enjoy Mike Skiles' performances and certainly hope he's feeling better, but I'll admit feeling rather jazzed by this unexpected turn of events, as I'd worked at the Circa '21 Dinner Playhouse during a two-month run of Catch Me If You Can in 2003, and consequently knew whodunit even before the "it" was revealed by playwrights Jack Weinstock and Willie Gilbert. I also knew, as those unacquainted with the show likely didn't, just how big a deal this actor substitution was; with the exception of the play's lead, no performer carries a heavier load than the one portraying Inspector Levine.
So on behalf of what appeared to be a most cheerful and satisfied audience, allow me to offer Carter hearty congratulations. Not only did he make it through Thursday's presentation with aplomb, but did so with such sweetness, relaxed charm, and sharp comic instinct that I, for one, am already looking forward to his next stage performance, accidental or otherwise; if Carter was at all terrified, he didn't let it show for an instant. One of the great joys of theatre, of course, is that you never know what's going to happen even when you do know what's going to happen, and in Richmond Hill's Catch Me If You Can, watching Carter create a wholly entertaining figure with no prep time was the second-greatest thrill of the evening.
Before getting to the show's single-greatest thrill, though, allow me to nutshell Catch Me If You Can's opening minutes, which find Al Whitmore's Daniel Corban enlisting the aid of Carter's detective; following a minor spat during their Catskill Mountains honeymoon, Corban's new bride has driven off in her husband's Corvette, and has subsequently gone missing. And that's as much of the plot as I'm willing to divulge, as the production reminded me that audiences new to the piece seem to get as big a charge from its setup as from its resolution. Suffice it to say that Corban's quandary winds up involving a mysterious blonde (Dawn Rena Lang), a priest (Archie Williams), a pair of illicit lovers (Renaud Haymon and Carla Stevens), and an elderly delicatessen owner.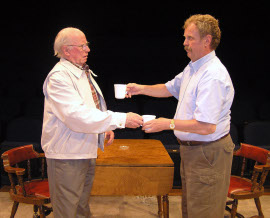 This character is played by Richmond Hill veteran Dave Rash (it's his 49th production in 41 years), and if you're familiar with the actor's work, it shouldn't shock you to learn that he's the show's single-greatest thrill. I can't think of one area performer who elicits such extraordinary audience empathy, and whether registering his character's understandable, heavily accented confusion or good-naturedly conversing with the "moose" (actually a deer head) on the wall, the assuredly confident Rash is a rib-tickling hoot; he enjoys acting so much, and is such a clever, genial comedian, that the crowd actually grew a little hostile at his eventual treatment. (Let's just say the character shows up with brunch, and ends up on the receiving end of a most unwanted tip.)
The others weren't quite at Rash's level - which is, admittedly, a really high level - but Lang had some snappy, entertainingly mean-spirited moments, Williams came through with a sensational burst of threatening anger, and Haymon, after nearly stealing the show with his one-scene turn in February's Light Up the Sky, came close to doing so again here. Only Whitmore seemed truly uncomfortable, as his Corban, who needs to be in an almost constant tizzy, didn't seem very invested in his wife's disappearance, and the actor stumbled over too many lines to develop a consistent rhythm.
Yet DeDecker kept things moving at a sprightly pace, and while I'm not the best one to judge just how well Catch Me If You Can's central mystery played for the uninitiated, I wasn't aware of any moment when the audience didn't appear fully invested in the goings-on; the punchlines got their laughs (with an added, juicy one involving Rod Blagojevich even getting applause), the gunshots (oops - spoiler alert) earned their jumps, and the excited, expectant buzz in the air felt genuine. Maybe people were merely waiting for something untoward to happen during Carter's scenes, but absolutely nothing did, and his presence added a sizable kick to Weinstock's and Gilbert's modestly witty, somewhat stale contraption. I read in DeDecker's director's notes that Carter is new to Richmond Hill, and with just one show he's turned out to be not only valuable, but on Thursday, positively invaluable. Life's full of surprises, indeed.
For tickets, call (309)944-2244.