A sparse set is on the Village Theatre stage for the New Athens Players' debut of Spotlight on Susan Glaspell, and this minimalistic choice is to be lauded, as letting the words and stories take the forefront was an excellent decision; there's a lot of meat that doesn't require extensive visual splendor to make a point. Director/producer Mischa Hooker seemed excited to show his passion for Glaspell, the Pulitzer Prize-winning Davenport native with a storied history. And after spending an evening immersed in her works, I can safely say it's a shame that Glaspell has been so overlooked – and how right it is for Hooker to bring her works into the spotlight once and for all.
The evening's first piece is The Rules of the Institution, one of Glaspell's short stories adapted by Hooker for the stage. On the surface, the plot follows Judith Brunswick (Olivia Hoft), a young lady two years out of college, as she tries to help another young lady abide by the rules of a home for women. What transpires is the perfect example of how the entire evening plays out: Characters have major, life-changing revelations; the entire plot thickens considerably; and their whole worldview shifts. This was particularly evident when Judith met with the board of the home: Mrs. Hughes (Dee Canfield), Mrs. VanCamo (Alaina Pascarella), Mrs. Emmons (Christina Sanders-Ring), and Judith's mother (Patti Flaherty).
While I don't think it was possible for anyone to speak the titular phrase "The Rules of the Institution" more, the message this cast offered was that conforming to societal expectations isn't strictly necessary. I would have personally liked to see a bit more personality shine through Hoft's character, as Judith seemed rather one-note to me, and not as though she was reevaluating every decision she had made. While The Rules of the Institution was largely serious in nature, though, a few refreshing moments of humor particularly stood out, especially when Judith's sister Sara (Kitty Israel) demanded reassurance that Judith would still attend her tea party, for instance, offering both fantastic insight to societal demands as well as Judith's developing growth, all with a fresh splash of levity.
After a short break to change the set (creating a little stream that proved perfectly rudimentary), we got to An Iowa Seer Comes Home to Greece. This portion of Spotlight on Susan Glaspell is an amalgamation of Glaspell's "Last Days in Greece," Floyd Dell's "A Seer in Iowa," and "Though Stone Be Broken" and "At Fifty I Ask God" by George Cram Cook (Glaspell's husband), all enmeshed by Hooker.
This piece was breathtaking. Not only did I learn much about Cook (brought to life by Dave Bonde), but I was also given the chance to appreciate the loveliness of words as Dell (Michael Carron) and Glaspell (Canfield) spun visual imagery about Cook's life and legacy. The acting prowess onstage was more than capable of capturing the beauty, and it was easy to get swept up in how they all took turns describing Cook and his talents.
Meanwhile, Hooker's direction in this segment was spot-on. While there wasn't a lot of physical action for the most part, all three actors moved with precision and purpose. In one particularly gorgeous moment, Bonde and Canfield sat down in unison. It doesn't sound like a big deal, to be sure, but trust me, moving so seemingly effortlessly in sync is a testament to their accomplished skill level. I was sad for this portion of the evening's spotlight to end.
After another, longer intermission brought another resetting of the stage, it was time for Trifles, the only work of Glaspell's with which I had previous familiarity. Trifles is a fascinating story with what seems to be par for the course in Glaspell's writings: a complex, overarching message. Glaspell was truly confident in her ability to say one thing and mean something else completely.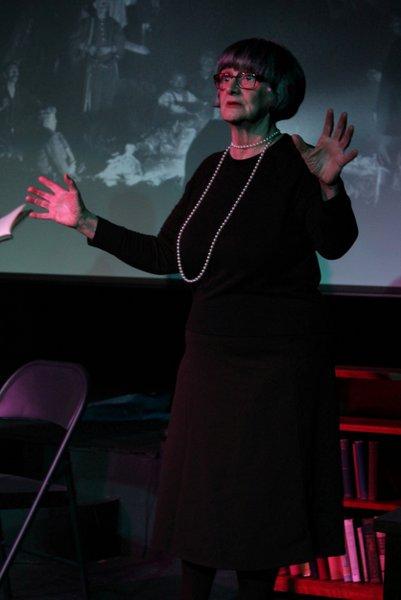 In this piece, John R. Turner is Sheriff Peters, and he's brought the county attorney (a charming Jay Buefer) to a farm home where a murder has taken place, as Mr. Wright was strangled while his wife reportedly slept deeply beside him. While Mrs. Wright sits in jail, they're tasked with searching the house for proof that she's a murderer, while Mr. and Mrs. Hale (Carron and Pascarella) and the sheriff's wife (Farence) tag along to look for proof of motive.
Trifles makes some clear statements about the importance of women and listening to what they might believe. As the men make observations about what they suspect happened, the women piece together their own opinions, and the audience is all the wiser. Hooker's cast masterfully gets to the point of the script: According to the men, women are thought of only as trifles, not bringing anything important to the table. Pascarella and Farence, here, are fantastic: Their characters clearly don't know each other too terribly well, nor do they seem to know Mrs. Wright much either, but they quickly become devoted to their fellow women. Whether lamenting over Mrs. Wright's spoiled canned fruit that froze or one of the more sinister conclusions made in Trifles, the women become a team – and a team you can't help root for, as the menfolk seem more buffoonish every time they enter the stage.
Hooker's Spotlight on Susan Glaspell was an overall lovely, intimate dive into a world we can now only remember through writings. The three individual pieces pair wonderfully – and just kept getting better as the night evolved. (Though all three curtain calls could have used a little oomph!) The New Athens Players are a new company, and I hope this production is not their last, as their commitment to simplicity and storytelling is admirable. I'm looking forward to seeing where they go from here.
Spotlight on Susan Glaspell runs at the Village Theatre (2113 East 11th Street, Davenport IA) through March 5, and more information and reservations are available by e-mailing NewAthensPlayers@gmail.com and visiting the show's Facebook page.