It's always fascinating when theatres announce their seasons and troupes decide to produce the same show within months, or weeks, or even days of each other. (When one high school produces the latest-available Disney, for example, it's almost inevitable that another school will pick up the same script and produce the very same title.) With all kinds of theatres in the Quad Cities, the ability for coordination amongst groups is nearly impossible. And so, it was with great interest that I attended the QC Theatre Workshop's latest offering of author John Cariani's Almost, Maine, which was opening on the same weekend as Scott Community College's production of the piece, and one weekend after North Scott High School's production. Why would a little play about love and life in rural Maine simultaneously attract the attention of a local college, a local high school, and one of the Quad Cities' most skilled theatre companies?
Cariani's script is not a traditional theatrical work with one singular storyline that takes an audience through a journey from start to finish. Instead, Almost, Maine loosely strings together the lives of 19 residents who live in an unincorporated area of Maine called Almost. These snapshots into the lives of each character are delivered through a series of eight vignettes that open with a prologue, feature an interlogue that binds the acts together, and end with an epilogue. Each of the collective 11 scenes lasts mere minutes and usually employs no more than two actors on-stage at a time, with no more than three actors in any given scene. But the beauty of the script is its poignant, witty, heartbreaking, and hopeful look at the one thing that bonds these characters under the Northern Lights on a bitter Maine night: love.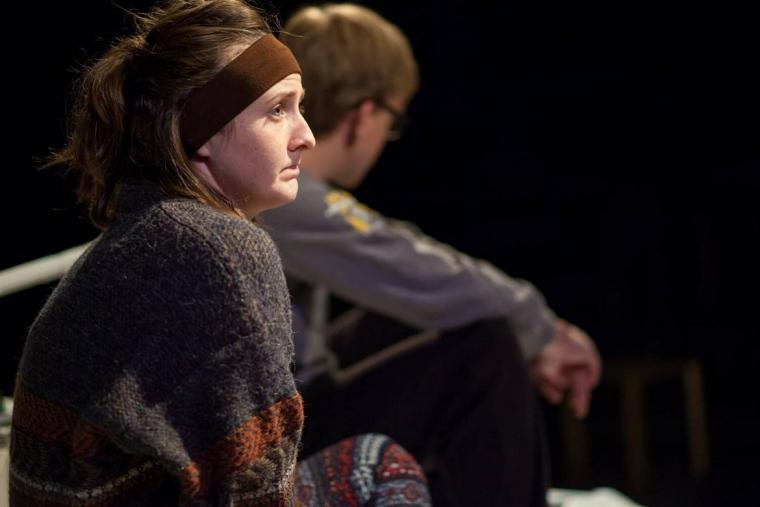 First-time Workshop director Jordan McGinnis has assembled a young, dynamic, highly professional eight-person cast who pour their hearts into these quirky, flawed, and warm characters. And McGinnis proves adept at pacing this production just right, and has apparently learned quickly the power of creating a calm and charismatic environment that charms the audience from start to finish.
Each performer plays two to three separate characters, and each has moments to truly shine. I particularly enjoyed Amelia Fischer's snowmobiling, backwoods tomboy Rhonda, who experiences her first kiss from her platonic friend Dave, played by Joe Oliger. When he and Fischer begin to undress as the logical next steps from that first kiss, the mood at the November 11 performance was so sweetly innocent that the audience was giggling and "Aw-w-w-w!"-ing at the same time. But watch for Oliger, too, in the scene in which his Chad literally falls in love with Josh Pride's Randy. The chemistry in this scene is priceless, and Pride's face when Randy, too, literally falls in love with Chad is hilarious.
I always appreciate seeing Lis Athas at the Workshop, but I've previously only known her via her stage-manager and house-manager duties. Seeing her onstage makes me appreciate Athas even more. Her rapid-fire readings as Hope, a woman who shows up at her old boyfriend's doorstep after being gone from the community for years, is optimistic and wistful. My own hope is that we get to see Athas on stage more often in the future.
Almost, Maine's most heartbreaking moment comes early in the show when Glory (Megan Hammerer) camps out in the backyard of East (Kyle DeFauw) carrying the remnants of her broken heart in a paper bag, and hoping to apologize to her deceased husband beneath the glowing Northern Lights. Hammerer, with real tears, creates an almost manic quality in Glory that captures the audience as she shares her truly tragic journey, while DeFauw navigates a gorgeous juncture in which he spontaneously decides that Glory is his true love.
Tying the show together at the beginning, middle, and end are Ginette (Jessica Holzknecht) and Pete (Steven Mondloch), who have trouble communicating their feelings as a couple. Mondloch has an almost "Where's Waldo?" look and innocence about him, while Holzknecht portrays Ginette's pureness beautifully by her willingness to go the distance to be as close as possible to her love.
Emma Brutman's set, at first, reminded me of an Icee-drink machine that was missing a sweater-wearing polar bear. However, the very functional design captured the cold yet eccentric environment of Almost, Maine, making it an ultimately perfect setting.
It's as clear to me as a cold New England winter's night why four separate area-theatre groups, over less than a decade, have chosen to produce Almost, Maine. Scripts as simple and ingenious as this are hard to come by, and the QCTW delivers a warm and calming performance. You should make your reservations to see these particular Northern Lights before they dissipate into the black autumn sky.
Almost, Maine runs at the QC Theatre Workshop (1730 Wilkes Avenue, Davenport) through November 19, and more information and tickets are available by calling (563)823-8893 or visiting QCTheatreWorkshop.org.