The Clinton Area Showboat Theatre is titling its summer schedule of shows "A Season of American Classics," and it was kicked off on June 2 with The Odd Couple. And what a kickoff it was, as the ensemble cast, directed by Jami Witt, didn't have a weak player on the team.
Being of a certain age, I remember the weekly attics of Tony Randall's Felix Unger and Jack Klugman's Oscar Madison on the TV sitcom spawned from playwright Neil Simon's 1965 Broadway hit, and wondered, as I perused the audience on opening night, how many of them knew that this play started it all – the series, the current re-boot, and the two movies. I spotted several 10-year-olds, several teens, and a whole lot of 20-somethings sprinkled among the older adults, but as evidenced by the spirited laughter throughout the evening, Simon's 50-year-old play still holds up for everyone.
Those of you who are Mad Men fans and enjoy the stylized, classy 1960s clothes and sets will see another side of 1965 New York here. Oscar Madison is a newly divorced sportswriter who has taken his newfound "freedom" to heart, never cleaning or putting anything away, and hosting weekly poker games in his eight-room apartment. Scenic designer Steven P. House and his crew created this mishmash man-cave outfitted with the latest Salvation Army plaid sofa, mismatched chairs, and poker table. With clothes strewn everywhere, and the constant mist of cigar and cigarette smoke (created by water vapor), it's the opposite of style and class … and yet I found it irresistibly inviting. To add to the ambiance, when the two windows of the apartment were open, they let in the sounds of NYC street traffic, which was effective without being distracting, and an impressive, realistic touch by sound designer Cameron Hoffman.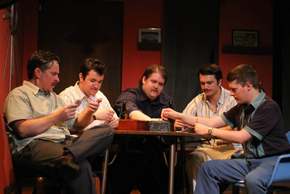 The opening scene of Oscar (Matthew Teague Miller) and his poker buddies (Otis Jeffries, Derrick Bertram, Jon Loya, and Cash Maciel) featured dialogue full of energy and funny lines, and set the tone for an engaging and satisfying show. Although all of the actors playing Oscar's pals held their own, Maciel, as Vinny, particularly stood out. With his high-pitched Brooklyn accent, Maciel's Vinny managed to get on everyone's last nerve to the comic delight of the audience. These performers also knew how to hold their next lines until the laughter subsided (which they had to do often) and yet kept the pace sharp and quick, making their conversations all the more realistic.
Upon learning that their pal Felix Unger (David Coolidge) has been thrown out by his wife, the guys try to help, with Oscar offering Felix a bedroom that he reluctantly accepts. Before long, though, we understand why Felix has been kicked out; in the words of Oscar, "He's a nut!" As the compulsive neat-freak Felix, Coolidge plays his character with a blend of comedic drollness and earnestness that becomes Oscar's undoing, and manages to embody that annoying person that we want to feel sorry for, but who makes it impossible because he's so darn irritating.
Miller, as the irascible but likable slob Oscar, employs a fast-talking tempo that's naturalistic yet so distinct that I never missed any of his acerbic, humorous lines. His transformation from caring friend to man on the edge of a nervous breakdown was played with just the right amount of tension and comic mania, and Miller proved the perfect foil to Coolidge's Felix, who offered a genuine cluelessness about his irksome behavior. The Odd Couple's leads were amazing in their timing and readings and reactions, even though, at times, Miller would deliver his lines more toward the audience than Felix, which was distracting. Miller was most effective when his interplay with Coolidge was personal and direct, and we could simply sit back and enjoy the fireworks.
As the kooky Pigeon (their last name) sisters – neighbors whom Oscar is hoping to "get to know better" – Holly Moss and Olivia Schaperjohn were also engaging with their spot-on British accents. The women's silly sexual innuendos were delivered with great comedic timing, and it was fun to watch them as they giggled and flirted in quirky outfits (also designed by House) suggesting 1960s Carnaby Street.
This story of two friends who become mismatched roommates has nonstop humor and ends with pathos, and as presented by the Showboat, The Odd Couple also boasts creative chemistry and energy that make for an enjoyable evening of theatre. I only have one question for Neil Simon: How does a newspaper writer afford an eight-room apartment in New York City?!
The Odd Couple runs at the Clinton Area Showboat Theatre (303 Riverview Drive, Clinton) through June 11, and more information and tickets are available by calling (563)242-6760 or visiting ClintonShowboat.org.