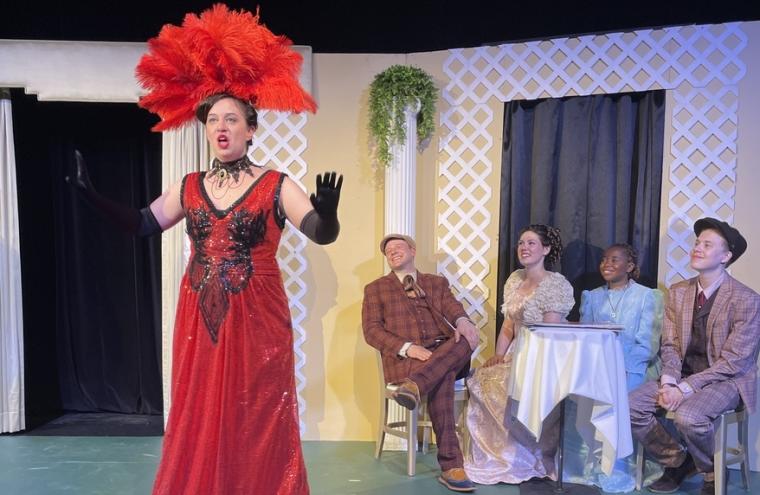 As a Broadway classic, Hello, Dolly! is one musical I've always known about but have never actually seen. Director Lora Adams' Black Box Theatre production, meanwhile, is a lighthearted tale that enchants from start to finish, so unless you're a certified fun-hater, I can't think of anyone who wouldn't enjoy this show.
The plot follows matchmaker Dolly Levi (Shelley Cooper) as she forces her way into the heart of the half-a-millionaire shopkeeper Horace Vandergelder (Doug Kutzli). Vandergelder's employees, Cornelius Hackl (Tristan Tapscott), and Barnaby Tucker (fellow Reader reviewer Roger Pavey Jr.), also find their way into Dolly's mixed-up meddlings. Is Hello, Dolly! a deeply insightful piece that will leave you thinking for weeks? Not in the slightest. But it's a fun romantic comedy and – gosh darn it – the world could use a dash of frivolity, couldn't it?
Packing a personality punch, Cooper's Dolly is a delight. With her excellent stage presence and an attitude that commands attention, it was rather difficult to cast your eyes elsewhere when Cooper was on stage. For a self-proclaimed meddler, I didn't find the Dolly character all that meddlesome in Adams' show, but that had more to do with the stripped-down version presented than Cooper's ability. I can infer that many stagings of Hello, Dolly! boast massive choruses and scores of male waiters dancing about Dolly during the titular song. In contrast, Adams' production features just two waiters (Tyler Henning and Robert Gregory) flanking Cooper, and truthfully, I didn't mind at all. This intimate staging allowed Dolly to steal the focus rather than rest on the laurels of a chorus, and I quite enjoyed it. Furthermore, I didn't find the current production lacking in dazzle, even with its modest cast of 10.
Cooper herself dances beautifully, executing Madeline Rhode's choreography (or her own for the Harmonia Gardens sequence) in ways that seemed effortless. Her capabilities were so graceful, in "Put on Your Sunday Clothes" especially, that they nearly made the others' look foolish in comparison, but considering that Dolly, later on, is meant to be teaching them all how to dance, this somehow works well and allowed Cooper to shine. And each and every one of her costume changes brought more "ka-POW!" to the intimate Black Box Theatre. The costumes, also designed by Adams, were lovely. Hats, dresses, feathers, accessories … . Adams let the costumes deliver color and visual interest that popped against the otherwise fairly neutral set designed by the director and built by Michael Kopriva. Yet the set made the Black Box stage space look classy, easily transforming to any location it was meant to throughout the piece.
The millinery shop of Irene Malloy (Jacqueline Issacson) was one such locale that played well with just the simple addition of some hats. This Act I scene gave ample opportunity for the cast to prove their comedic timing.; it's a silly sort of fun, but Pavey's head peeking out was a perky little addition to the action and made me chuckle.
Also commanding his share of the spotlight was Tapscott's Cornelius. It's truly a perfect role for Tapscott, with his signature goofy exuberance and uncanny ability to maintain composure while knowingly digging one of his characters into a hole – or in this case, debt. He was well paired with Issacson, prim and proper as she was, making the juxtaposition of their characters seem even more fun. I appreciated Cornelius' big-brother attitude towards Barnaby, too. Poor Barnaby. While I don't think he ever did get to see the whale of his dreams, I loved the charm and innocence Pavey brought to the role. It's not fair to call Barnaby simple-minded, but he doesn't have high aspirations just yet. Being matched up with Minnie Fay, played by a small-but-mighty Mukupa Lungu, offered Pavey the chance to show his dapper side over his winningly singularly focused self. (For what it's worth, Cornelius is lucky to have a friend like Barnaby in his corner: After all, someone has to keep track of how much money they have.) In this perfect friendship, Cornelius is a dreamer and schemer while and Barnaby is a bit more practical, qualities both Tapscott and Pavey brought to the stage well.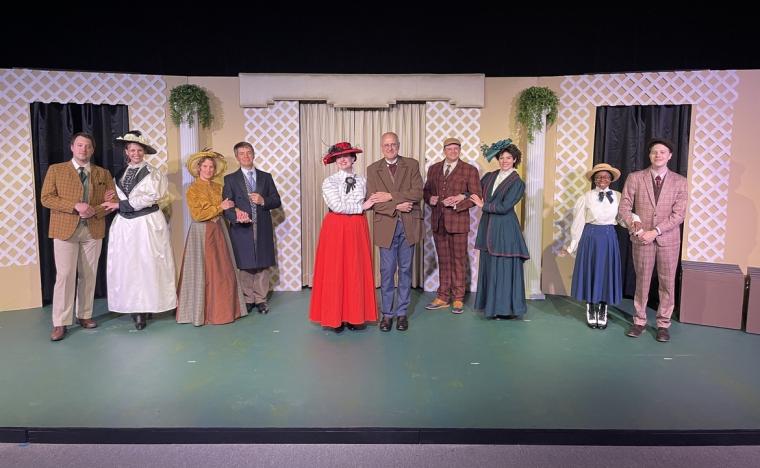 The half-a-millionaire himself, Horace Vandergelder, certainly didn't seem too keen on the idea of marriage., yet Kutzli managed to keep the character lovable instead of merely cantankerous. What Horace lacks in understanding he makes up for in authority. While he gets a negative reputation, it's clear he's just been alone too long, making his cold heart safe for the taking. Is Dolly the best choice for him? That's unclear. But as there isn't a musical sequel Goodbye, Dolly! singing its way through a divorce, there's at least a shimmer of hope in the happy ending.
This Hello, Dolly! has everything going for it, really. A great cast, beautiful costumes, well-sung tunes … . And did I mention that it's overall just a big bunch of fun? Because – hello! – it is.
Hello, Dolly! runs at the Black Box Theatre (1623 Fifth Avenue, Moline IL) through June 10, and more information and tickets are available by calling (563)284-2350 and visiting TheBlackBoxTheatre.com.