No show that opens with 10 sharply dressed, great-looking, terrifically talented performers dancing a spirited tap number can be all that bad, which is a good thing for Holly Jolly Christmas, the musical revue currently playing at the Circa '21 Dinner Playhouse. Considering, however, that the production has no loftier purposes beyond entertaining crowds with familiar holiday tunes and spreading a little yuletide cheer, I think audiences could be easily forgiven for turning to their theatre-going companions after the curtain call and saying, "Well, that was nice... but what the hell was it?"
The problem isn't that Holly Jolly Christmas is confused. It's that it's confused in so many different ways; the show boasts ideas for a half-dozen different full-length presentations, and none of them appears to have been thought out properly. I adore Circa '21, yet I don't necessarily mean it as a compliment when I say that the theatre's latest is the sort of area production that you can only, on rare occasion, find at Circa '21: a fantastically performed, smartly directed, handsomely designed take on maddeningly weak material. Heaven knows that director/choreographer Norb Joerder and his game cast are doing what they can to give the show a professional sheen and shimmer, but the effect is like decorating a corn stalk with ornaments and tinsel. Gussy it up all you want, but it still ain't no Christmas tree.
To be sure, during that opening number, greatness seems entirely within the production's grasp. Nattily attired in the first of many spectacular wardrobe selections by costumer Gregory Hiatt, 10 members of Holly Jolly Christmas' 14-person ensemble deliver a medley of the title tune and the "Happy Holiday"/"Let Yourself Go" combo from Irving Berlin's White Christmas, and the smiling performers' lovely harmonies and divine dance skills immediately promise a revue of elegance and unforced wit. Enjoy the feeling while it lasts, because it'll be another two hours before you experience it again, and by that point, the actors are about to take their final bows.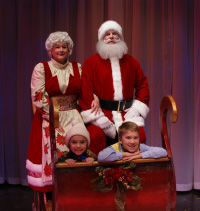 For right after its prelude concludes, Holly Jolly Christmas introduces us to our de facto hosts for the production: Santa and Mrs. Claus (real-life spouses Kevin Grastorf and Autumn O'Ryan). Their characters bantering like a third-rate Stiller & Meara, the actors are forced into exchanging intentionally awful jokes and even more-awful holiday-themed puns, and any hope for sophistication goes right out the window. ("You may as well laugh, folks," says Grastorf following Santa's first groaner. "These aren't going to get any better." At least we were warned.) Grastorf's and O'Ryan's repartee is polished, and O'Ryan is endearing, but their arrival is a supremely depressing comedown from the show's initial high. You may not "believe" in Santa and his bride, but you have to believe that they -- and we -- deserve better than the lowbrow Catskills routines they're given here. (As Holly Jolly Christmas progresses, book writer Ty Stover reveals his wisecracking, flippant Santa to be shockingly lacking in Christmas spirit. Despite Grastorf's undeniable vocal prowess, this jolly old elf emerges as something of a grump, jerk, and hack.)
If you think, though, that the dichotomy between the opener's class and the Clauses' sass is confounding, hang tight; the stylistic leapfrogging is just getting started. After our emcees' comedic badinage (mercifully) ends, Santa and spouse take us on a global sleigh ride to Italy, Hawaii, Mexico, and Ireland, where we're treated to samplings of Christmas songs from each locale. (And each solo wonderfully sung by the likes of Joseph J. Baez, Justin Droegemueller, and Adam Ioele.) It's a fine, totally workable conceit for a holiday revue, and one soon dumped in favor of another conceit: a traditional hearth-and-home narrative in which a pair of adorable tykes snuggle up next to the fire, and awaken to the late-night chimney descent of ... Willy Wonka. (Before you exclaim, "Willy Wonka?!?", I should mention that he's not actually Willy Wonka; Baez's colorfully outfitted, top-hat-wearing character is just performing magical sleight-of-hand and singing Wonka's theme song, "Pure Imagination," from the 1971 movie. Totally different.)
Then it's time for a madcap, Babes in Toyland-on-acid melee featuring singing and dancing gifts, a pair of fussbudget elves, and a Pinocchio with hairy legs and the falsetto of the wooden puppet from Shrek. Then intermission. Then a '50s dance party, with its center-stage banner hailing "Kris and Konnie Kringle." (Do your best to ignore the capitalized initials.) Then a trip to Bethlehem, where the Three Wise Men harmonize while the Sugar Plum Fairy dances on top of the manger. Then a Mrs. Claus recitation of some maudlin, Robert Fulghum-esque treacle about Christmas being a state of mind and such. Then ... .
Enough. How sentient beings are expected to get through all this with dignity intact I'll never know. But astonishingly, Holly Jolly Christmas' cast manages to pull it off. In addition to the previously mentioned talents, Friday's production featured bright, committed work by Elizabeth Miller and Jennifer Stone -- who deliver marvelous renditions of, respectively, "The Christmas Song" and "Christmas All Over the World" -- and by Patrick David, Meghan Gibson, Scott Hamilton, Liz J. Millea, and Andrea Moore. (None of whom, unfortunately, is given quite enough to do; denied even one line of dialogue, the lovely Gibson's one solo contribution is her ability to dance en pointe, albeit beautifully.) Ali Girsch and Grant Osborn, local grade-schoolers who'll alternate performances with Cole Bizarri and Mackenna Janz, were joyously confident singers with truly impressive pitch.
And beyond the obvious, outstanding abilities of the ensemble (made all the more striking for their having to battle some seriously disruptive opening-night sound glitches), the show looks and moves about as well as you could hope for. Adam Parboosingh offers dynamically rich, effective lighting to complement Susan Holgersson's spare yet frequently stunning set pieces -- the fireplace unit and big, big, big Christmas tree were especially marvelous -- and Joerder provides such snappy pacing and, in the Bethlehem scene, such eye-catching tableaux that you could easily ride past the script's nearly complete lack of sound judgment.
Did Holly Jolly Christmas' incoherence seem to bother Circa '21's opening-night patrons? Not that I could tell; the show was given a standing ovation -- deserved for the tireless bonhomie of the performers -- and even the worst jokes (especially the worst jokes) scored their laughs. Of course, part of the crowd's happiness may have stemmed from the show being so clearly designed for them.
I'm unsure whether this revue was written specifically for the area or if the script gets modified depending on which city it's staged in, but the constant references and gags involving the Quad Cities, John Deere, Muscatine, Route 61, and other local touchstones seemed hugely appreciated by the Holly Jolly Christmas clientele. As for me, I'd be willing to let this blatant sucking up off on a pass if it were at least consistent. However, in one of the show's musical centerpieces, Droegemueller plays a father who's stuck at the Quad City International Airport during a snowstorm, and sings a melancholy holiday tune titled "Christmas in My Hometown." Droegemueller performs with heartfelt honesty, and the scene works, but was the audience aware that this sweet, touching number, as included here, was about a man wishing he could spend the holidays anywhere but the Quad Cities?
For tickets and information, call (309)786-7733, extension 2, or visit Circa21.com.