Can you call yourself a theatre buff if you haven't seen a play by Václav Havel? He wrote about 20 scripts, and was also the last president of Czechoslovakia, helped overthrow its Communist regime, and became the first president of the Czech Republic. He knew plenty about the stifling bureaucracy of that government, and his political activities and writings often got him packed off to prison.
Augustana College's assistant professor of theatre arts Jennifer Popple, meanwhile, has directed the dark comedy The Memo, one of Havel's most popular works, which is now running in the college's Brunner Theatre. Popple mentions in her program notes that this one, too, provoked the author's imprisonment. But here, today, in the Land of the Free, you can enjoy this slick production, as I did during Tuesday's dress rehearsal.
Grey White portrays the Overlord, an added character, who sets the tone immediately by silently and ceremoniously summoning minions to place the modular set pieces for the first scene. These blocks and benches in different configurations serve as an office, a classroom, and the translation center. Everyone in this nameless agency is now required to use the artificial language Ptydepe (pronounced puh-ty-dee-pee). Its main features are its lack of emotional overtones and its precision, supposedly facilitated by the rule that each word can duplicate only a certain percentage of the letters in any other word. Related terms don't share a common root, making it nearly impossible to memorize vocabulary, let alone use the language effectively in a work environment. Orwell's 1984 comes to mind, of course, but Newspeak was designed to obscure, euphemize, and lie. Ptydepe is supposed to convey perfect clarity, but instead is impenetrable.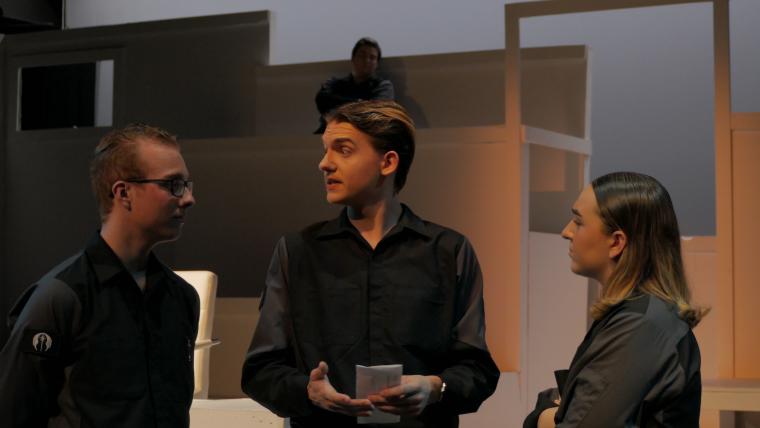 More than half the cast of 12 are first-year students, and I commend them for their prowess, though many have had acting experience in high school and before. Sylvia Hughes plays Gross, the central character, who is stymied when they receive the memo of the play's title, as it's written in Ptydepe. Hughes does well in maintaining a mostly calm demeanor, not overplaying the frustration. Havel's plot follows Gross' futile attempts to get the memo translated, as the other characters continually put obstacles in their path. Some of these hindrances are due to organizational mandates; some are because the characters are ambitious, self-absorbed, indifferent to their own job requirements, or just plain contrary. Or hungry. They're hungry a lot. Workers enjoying food more than anything else they do? I definitely get that.
Kaden Micklos plays Balas, who constantly locks horns with Gross. They live to give attitude, which is not only funny, but makes it easy to dislike them. The humor is augmented, though bittersweet, when Balas occasionally lets their facade slip and behaves like a human. Noah, entertainingly played by Noah Johnson, at first appears to be Balas' silent sidekick, but Balas constantly turns to Noah for reassurance, making the quiet presence more of a boss than a sycophant.
Gianna Zampogna as the secretary Avery, who is endlessly asking permission to go buy food, and Aniyah Davis as Chairperson Taylor (chair of what is unclear), are refreshingly perky, and don't play the bland drones one might expect. They do very well in enlivening the action.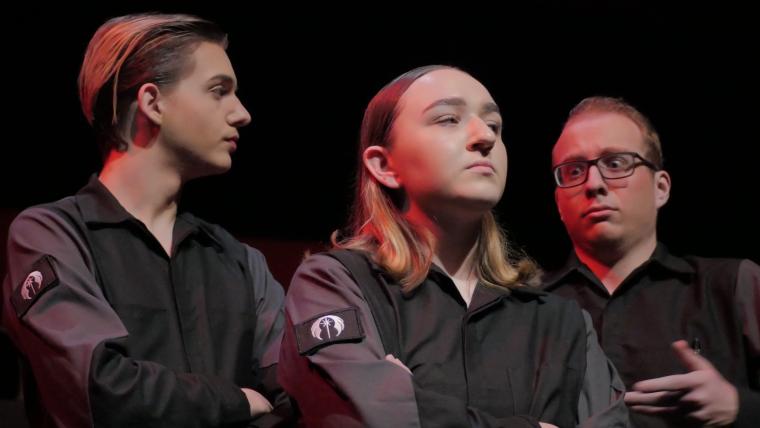 I appreciated the scenes in which actors conversed in Ptydepe in front of Gross, who doesn't understand a word of it (nor do we, naturally). Their speech flowed, and was convincing as a genuine language. I also especially enjoyed when Megan Yarusso, as the language instructor J.V. Brown, spoke amazingly rapidly (and amusingly) not only in Ptydepe, but also in the natural language everyone understood (English, in our case).
The show's set, designed by Roger Pavey Jr. (a fellow Reader theatre reviewer), consists of a colorless, almost featureless collection of levels connected with stairs, given interest by subtle shades of illumination (courtesy of lighting designer Riley Scranton) and a variety of rectangular openings. Popple's staging takes advantage of these window-like apertures – they don't just relieve the inherent monotomy, but reveal (and obscure) some of the action. Mike Turczynski is technical director and sound designer, and I must mention the transitional music between scenes – four measures of upbeat, elevator-style Muzak which repeat endlessly, mirroring the automated nature of everyone's lives. The interval between each repeated segment is too short for most of the show, underscoring how imperfect the identical facets of life can be. The preshow music is also wonderful, consisting of oddball pulsing with no discernible melody, giving a quasi-futuristic feel as well as a retro '60s sensibility. I could imagine an early Moog programmer concocting this.
The Memo has been called "ironic," "satiric," and "absurd" – adjectives I don't get in regard to this play. Because to me, now, in this Land of the Free, Havel's work feels fairly representational of the ridiculously nonsensical, circular non-logic of many agencies and facilities that I, personally, too often endure. Nearly 60 years later, in a democracy, this script holds up.
The Memo runs at Augustana College's Brunner Theatre (3750 Seventh Avenue, Rock Island IL) through May 14, and more information and tickets are available by calling (309)794-7306 and visiting Augustana.edu/tickets.