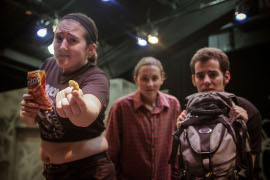 A musical based on the Weekly World News' tabloid-famous Bat Boy screams "camp." Augustana College's production of Bat Boy: The Musical, however, is not campy enough, as a couple of the leading actors played their parts too seriously or sincerely during Friday's performance, softening the effect of this musical's craziness.
I mean, this is a show about a boy who is part human and part bat, captured from a cave, and thrust into the world of humans - that's ridiculous, and the telling of his tale could, and should, have been ridiculously funny. For their parts, playwrights Keythe Farley and Brian Flemming and composer Laurence O'Keefe certainly add a lot of humor to their show. As the town veterinarian's family raises Bat Boy, whom they've named Edgar, he adopts an accent from watching BBC documentaries, yearns to go to the town's church revival after reading the Bible a second time, and, later, cradles the head of a cow he's just killed while singing to it.
Okay, so some of it is dark, macabre humor, but it's still humor in the vein of camp-horror. The problem is, director Jeffrey Coussens' production isn't campy when it most needs to be. When the details of Bat Boy's origin are revealed, Edgar's mother (Kathryn Martin's Meredith) tells the tale in all seriousness, and displays legitimate emotional pain. Martin, however, doesn't seem to be in on the fact that the specifics behind the birth are a darkly hilarious joke, and turns the story into a complete tragedy when it should be at least a little tongue-in-cheek.
And Marshall Forte struggles to make sense of his Dr. Thomas Parker, the veterinarian charged with putting down the Bat Boy after Edgar is brought into town. As written, Parker seems more evil than fatherly, sustaining Edgar with animal blood, using the creature to secure sex from his wife, and eventually plotting to frame Edgar and have him killed. Forte, however, doesn't play up the doctor's monstrous side, which makes it less clear that he's leading a double life - acting kindly while striving to win back his wife's affections, but performing dastardly deeds behind the scenes.
Calvin Vo, however, exudes charm as Edgar. Even before the Bat Boy learns to speak, Vo makes him endearing through the use of coos and monkey-like sounds delivered to humorous effect. The musical seems to (finally) come to life, too, when Vo's Edgar does speak. The actor's deliveries are so eloquent and so charming that it's easy to root for his character, which we should; we're supposed to sympathize with Edgar in his plight, as he's rejected, judged, and hated by the good Christian townsfolk simply for being an "abomination." (Sporting makeup designer Amie Rogers' elongated ears, fanged teeth, and a shaved head, Vo is also just cute enough to make it hard not to like him.) And as the vet's daughter Shelley, the notable Hannah Buto blends a touch of angst with a little teenage rebellion and overly dramatic emotions; there's an earnestness in her portrayal that walks the fine line between being sincere and amusingly maudlin, never crossing too far over into either.
Some of the men in the chorus, meanwhile, fare better while portraying women. (The six chorus members portray a total of 18 characters, with each of them playing at least one gender-opposite role.) As Shelley's boyfriend Rick, Bill Cahill seems strained. But the actor loosens up as townsperson Lorraine, seemingly more comically comfortable in a dress and wig, and offering some hilarious moments while in the background of scenes, particularly while raising his hands and shouting church-isms during the revival sequence. Josh Malone's Daisy is almost equally delightful, but it's his Greek god Pan - appearing to bless Edgar and Shelley's relationship in a sort of animal orgy - that's the actor's best character. Malone's vocals aren't perfect during Pan's song "Children, Children," but Malone doesn't allow missed pitches to prevent him from selling the number, and appears to relish the humor of the lyrics and his minimally clothed look. Tyler Henning's Sheriff Reynolds is also worth noting for his pleasing vocals and ability to make his character's emotions clear despite having to act from behind sunglasses the entire time he's on stage. And Kailey Ackermann elicits laughter as Reverend Hightower through her use of stereotypical, tent-revival-preacher inflections and expressions, waving her arms in the air and preaching to the audience.
Scenic and projection designer Adam Parboosingh deserves a special mention for the slaughterhouse fire scene. When the mother of one of Bat Boy's "victims" tosses a lantern into the slaughterhouse window in an attempt to kill Edgar, Parboosingh creates a fire that's amazing in look and in detail. Like much of the show's scenery, the slaughterhouse is depicted in a projection. Yet for the fire, Parboosingh adds animated flames that flicker with a red and orange glow, which eventually give way to a hint of rising smoke - an arguably unnecessary detail that showcases Parboosingh's remarkable thoroughness. (It's also worth noting that Parboosingh's tangible scenery - the walls and windows that aren't projections - suggests that their designer consulted with Catherine O'Hara's modern-art diva from the film Beetlejuice.)
Unfortunately, none of the good aspects of Augustana's production are enough to save this Bat Boy: The Musical, though Vo's Edgar does come close. Most of the vocals sound as though the actors could've used more rehearsal time on their songs, in order to get their notes and entrance cues right, and some of them, on Friday, also hadn't quite fleshed out their characters, or appeared to need further direction from Coussens in order to pull more of the humor from this musical's dark humor. As is, the piece ends too seriously, all but erasing the memory of any of the evening's prior fun.
Bat Boy: The Musical runs at Augustana College's Potter Hall theatre (3701 Seventh Avenue, Rock Island) through May 6, and information and tickets are available by calling (309)794-7306 or visiting Augustana.edu.