Garson Kanin's Born Yesterday was a Broadway hit in 1946, and while the subject matter holds up 72 years later, it isn't strictly necessary that it does. While there are some parallels to be drawn from the Timber Lake Playhouse's production and today's society, the audience at Friday night's performance didn't seem to dwell on them, as director Chuck Smith put forth a straightforward comedy that elicited some chuckles but probably not intense political discussions.
What happens here is that an extremely wealthy and corrupt businessman, Harry Brock (Richard Gomez), travels to Washington D.C. with his dumb-blonde girlfriend Billie Dawn (Olivia Ursu) in order to bribe legislators and help his business. However, when unrefined Billie's ignorance becomes a liability to his reputation, Harry hires journalist Paul (Alex Rudd) as her teacher, and as Billie's education grows, so does her closeness to Paul – along with her understanding of just how unethical Harry really is.
I don't know what it is about classically ditsy characters always seeming to have nasally voices, but once you get used to hers, the utterly endearing Ursu stole the show. With her excellent comedic timing (especially while playing gin), her poise, and her charming singing voice, all eyes were drawn to Ursu whenever she was on stage. And her Billie truly comes to life under Paul's tutelage, blossoming as she realizes that she can be more than just a pretty face and is deserving of far more than the two mink coats Harry bought her. As Billie's comprehension evolves, Ursu's delightful performance shines even brighter.
Harry Brock is your stereotypical overlord, and Gomez seemed to have two emotions in his role: angry and angrier. (He did, however, execute two minor but great fights by choreographer Paul Stancato incredibly well.) Because of the character's perpetually grumpy nature, we were never given a chance to invest in Harry as anything other than an abusive villain, which he most certainly was. To be sure, Harry's henchmen – his cousin Eddie Brock (Dylan Goike) and lawyer Ed (James Tweedale) – were yelled at fairly consistently, even though they remained loyal to their boss. Curiously, Goike also walked around with a blue hand towel the entire first act, even when it didn't make sense. (Do most legitimate businessmen have a little Linus-like crutch?)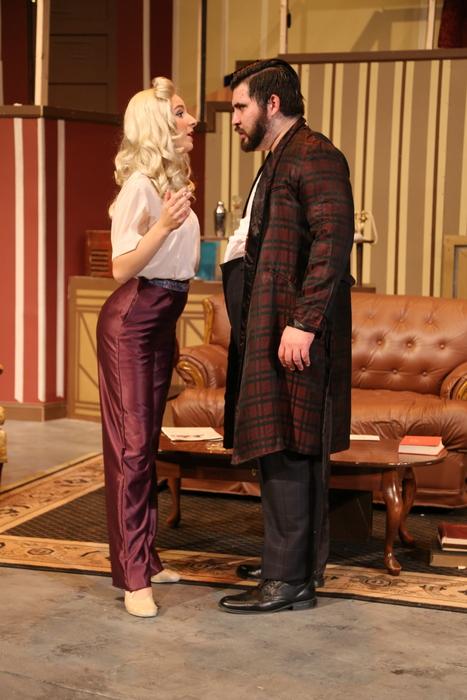 Tweedale brought great maturity to the role of Ed, and was seemingly the only person affected by the copious amounts of scotch poured every time Harry blinks. Ed is both remarkably healthy for being dead for 16 years (according to the U.S. government, anyway) and is nearly always the character who can make angry Harry more reasonable. It's even Ed's idea to educate Billie, and Rudd was perfectly adequate as the well-mannered and eloquent journalist Paul. Rudd's character was likable and sweet, but I never bought into his romance with Billie, though I think that had more to due with the writing than with Rudd's and Urus' chemistry.
From Born Yesterday's start, many characters go on and on about how (in 1946, mind you) Harry's hotel room "costs more per night than a senator makes in a week." But the tired furniture cushions in Spencer Gjerde's otherwise grand two-story set didn't reflect the suggested opulence, and this wasn't the only scenic-design element that left me perplexed. It was, for example, an interesting choice to place Billie's bedroom as far away from Harry's as possible. But if director Smith wanted Billie to demand attention at every turn, he certainly succeeded with the sheer distance required for her character to travel every time Harry summoned her.
Sarah Lake-Rayburn's costume designs, meanwhile, really ran the gamut. The main characters were impeccably dressed, with Billie's second-act outfit even getting some well-deserved murmurs of audience appreciation when the lights came up on her. It was also a clever choice to have Paul's tie coordinate with Billie's pants once their relationship was established, serving as a visual indication of which side Billie was now on. Conversely, the actors who weren't on stage much were dressed so poorly it became a distraction. There was a laughably too-large suit on one gentleman and one bellhop sported flood-water pants with no socks, which doesn't make sense for 1946. Whether these outfits, with their apparent inattention to detail, were meant to be sight gags that didn't play well or were one of the downfalls of Timber Lake producing a new show every two weeks, I'm not sure.
The Born Yesterday script is timely, teaching (but not preaching) about democracy and the importance of knowing what's going on around you; while its focus on the parallels to today's political environment were unmissable, this production's ultimate takeaway, thanks to the standout Ursu, was "Stay Informed." As the idealistic Paul wisely remarks, "A world full of ignorant people is too dangerous to live in," and that sensible principle, combined with some wry humor, made for a sufficient production at the Timber Lake Playhouse.
Born Yesterday runs at the Timber Lake Playhouse (8215 Black Oak Road, Mt. Carroll) through Junr 30, and more information and tickets are available by calling (815_244-2035 or visiting TimberLakePlayhouse.org.