To my recollection, I haven't yet been formally introduced to frequent Richmond Hill Barn Theatre performer Jackie Skiles, who plays the lead in the venue's current mystery/comedy Busybody. But it's nice to know that we have something in common. In Skiles' program biography, she lists Lavinia Hubbard in 2005's Another Part of the Forest as her favorite Richmond Hill role to date. That was my favorite Skiles role, too. Until now.
In this enjoyably frothy 1964 piece by playwright Jack Popplewell, Skiles portrays Lily Piper, an old-school Cockney maid who resides in the basement of a London building owned by business tycoon Richard Marshall (Thom May). As the play opens, Lily is on the phone in her boss' darkened office, informing the police of a dead body - whom she presumes to be Mr. Marshall - in an adjoining room. When Lily finally thinks to turn on the lights, she discovers that the corpse has moved, and is now slumped over in a chair five feet away from her. And after Lily leaves the scene and returns with the police some 10 minutes later, she discovers that the corpse has disappeared altogether.
Evidence suggests that there was, indeed, a murder on the premises, even though detectives Baxter (Stan Weimer) and Goddard (Cory Holbrook) can't ascertain where the body might have gone, or whether it was, in fact, the body of her employer. Yet with a number of suspects on hand - including Marshall's possibly unfaithful wife (Suzanne Rakestraw), his cagey business partner (Nathan Johnson), his unsmiling secretary (Molly McLaughlin), and his chirpy typist (Cara DeMarlie) - the loquacious, nosy Lily is determined to solve the mystery herself. Consequently, Busybody stands as both a traditional whodunit and the rarer who-did-it-get-done-to?, and despite Popplewell's happily puckish script, Richmond Hill's latest probably wouldn't be half as entertaining as it is without the blissful silliness of Jackie Skiles.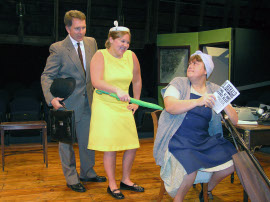 The role of the levelheaded, lovably sarcastic housekeeper is one of the main delights in British period comedies, but she's nearly always used for supporting relief; the character will generally offer a snappy comeback and indulge in a nip from her flask, and then she'll be off. Popplewell, though, had the good sense to put this unflappable, "h"-dropping figure front and center, and it's doubtful that anyone who sees director Joe DePauw's production could wish otherwise.
From that first phone call, it's clear that Skiles has her Cockney accent down pat, and knows how to employ it for maximum comic effect. (At Sunday's afternoon performance, she scored - and earned - dozens of laughs through cadence alone.) Yet beyond the beauty of her timing, everything about the actress' portrayal is right on the money. Skiles' warm, ingratiating ease and cheerful lack of pretense suggest someone completely comfortable in her own skin - Lily is a woman who obviously has fun wherever she goes - and luckily for the audience, the performer appears wholly unconcerned about looking ridiculous; in scenes that find her wrestling with a toppled chair or warding off an attacker with a potted plant, Skiles throws herself around the set with gleeful abandon.
Skiles is faster and funnier in Busybody than I've ever before seen her, and she's at her absolute finest when playing off Weimer. A by-the-book grouch with a serious head cold - his nose-blowing sounds like a man screaming with a sock stuffed in his mouth - Detective Baxter finds himself driven nearly mad by Lily's constant meddling. In this actor's hands, though, Baxter's anger is suffused with performance joy; you sense the thrill Weimer takes in delivering his exasperated tirades and deadpan put-downs. (After calling the police station to report that someone might be trying to dispose of Lily, the maid asks Baxter who it might be. "I don't know," he replies. "I'm just hoping.") Weimer and Skiles banter like a veteran comedy team, and their scenes lift Busybody from the realm of pleasant farce and take it to the level of inspired farce.
Amusing as it is, it's too bad the rest of the show doesn't quite match its leads, even though DePauw does come through with some lovely bursts of miniature slapstick. (He stages a terrific, brief bit with Skiles and McLaughlin fighting for the same chair, and does expert work with a running gag that finds Baxter's hat crushed three separate times.) But while the production's cast delivers a number of charming moments - I particularly liked Johnson greeting Lily by singing a lyric from "I Ain't Got Nobody" - Popplewell's secondary characters aren't written with much wit; I wished that McLaughlin and DeMarlie, especially, were given better chances to display their comic talents.
The central mystery, which requires the usually smart-as-a-whip Lily to conveniently forget a crucial piece of information, is a little too convoluted (and, in the end, confusing) to be fully satisfying. In the rare moments when Lily isn't on-stage, DePauw's usually sharp pacing slows to a crawl. And on Sunday, the second act's momentum was hampered by one of the actors obviously having enormous difficulty remembering lines; you could tell that the audience was taken aback with discomfort, because for a few heart-stopping minutes, everyone in the Barn collectively stopped coughing. (Which might've thrown the actor all the more.)
But these were really just minor irritations in a production that offers a lot of pleasure. I've never watched the TV series Monk, but to hear people (including my parents) rave about it, it sounds like Busybody is exactly the type of show for whom Tony Shalhoub's mystery/comedy is unmissable, and for those who adored Murder, She Wrote, too; Skiles, here, could be channeling Angela Lansbury at her most endearingly dotty.
For tickets and information, call (309)944-2244 or visit RHPlayers.com.