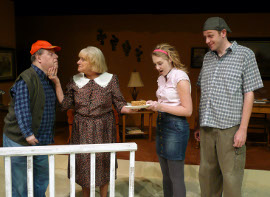 It doesn't happen often, especially if you attend a lot of local theatre - where the on-stage faces tend to become familiar ones. But every once in a while, you'll be at a production that you're really enjoying, and gradually realize that you're routinely focusing on one performer above the others - and asking yourself, with a grin, "Who is that?"
Granted, in the Playcrafters Barn Theatre's current Leaving Iowa - the first theatrical collaboration between the organization and Black Hawk College - this might not happen to you if you're already familiar with the work of Dana Moss-Peterson. And if you have a good memory for past Playcrafters shows, you might very well be familiar with his work; among the man's credits are roles in 2003's Amadeus (for which he played Mozart), 2002's Harold & Maude, and 2000's intriguingly titled Dickens' Christmas Carol: A Traveling Travesty in Two Tumultuous Acts. Yet as someone who hadn't seen any of Moss-Peterson's portrayals prior to his mid-decade move to Philadelphia, Playcrafters' latest was my introduction to the actor. And now that he's returned to the area, and to an area stage, I only have one question for him: "What the hell took you so long?"
I don't mean to suggest that Moss-Peterson, although a tall individual, towers over his co-stars or the presentation itself. Written by Tim Clue and Spike Manton, director Tom Naab's fizzy, buoyant comedy is a thorough delight, boasting dozens of inventively silly grace notes and numerous performers who appear to be having, and are certainly delivering, a terrific time. Yet in his role as Leaving Iowa's lead - a young man who, like his portrayer, returns from Philadelphia (albeit Boston in the original script) to his old Midwestern stomping grounds - Moss-Peterson offers so many exquisite variants on comedic incredulity and exasperation, and performs them with such physical and vocal confidence, that it's nearly blindsiding. Not long after he first appears on-stage, you find your eye instinctively going to the actor for whatever hilarious reading or reaction will come next, and at Friday's sold-out performance, I'd doubt I was in the minority on this; I can't be the only one who missed portions of dialogue because I was still laughing at the Moss-Peterson lines or looks that preceded them.
And trust me, it's a shame to have to miss any of Leaving Iowa's dialogue; Clue's and Manton's script could almost be the blueprint for mixing family-friendly sentiment and laughs without the material curdling into either saccharine excess or eye-rolling corn. With Moss-Peterson's Philly reporter Don Browning routinely providing first-person commentary, the play's arc follows him in two dovetailing narratives. In one, Don treks along Iowa highways and rural roads in search of a suitable place to dispose his father's cremated remains; in the other, the teenage Don endures an excruciating road trip with his family (Don Faust's Dad, Pam Kobre's Mom, and Hannah McNaught's Sis), with Pop seemingly intent on visiting each of the most boring "points of interest" in the Midwest. Naturally, in the course of his travels and reminiscences, elder Don grows to appreciate his father's misguided but undeniable enthusiasm, and to regret not appreciating it - and all those youthful outings with the family - sooner. But in Leaving Iowa, as with many vacations, the destination is less important, and ultimately less enjoyable, than the trip itself. And thanks to the show's authors, director Naab, and Playcrafters' other participants, that's one enjoyable trip indeed.
To be sure, Clue and Manton poke a lot of good-natured fun at cultural clichés and figures well-known to Midwesterners; there's a particularly rewarding running gag about the Brownings' (and John Wayne's) home town of Winterset, Iowa, being "Home of the Duke!", and more than one farmer that the family encounters turn out to be missing some fingers. (One of the digit-deprived characters in Playcrafters' production, played by Taylor Apple, scares the Browning kids further by greeting them in a Jason Voorhees-style hockey mask.) The playwrights, though, are also exceptionally, comically well-tuned to the region's conversational quirks - especially in characters' habitual repetition of things just said - and the prickly ways that parents and children, stuck in too close a proximity for too long a time, can strain each other's last nerves, intentionally or not. (Here, mostly intentionally.) In Leaving Iowa, the family sounds like family. In Playcrafters' presentation, happily, they also feel like family.
Naab's cast of veteran and student actors offers a series of wonderfully eccentric, oftentimes hysterical turns: Tom Morrow, whose college professor hates Iowa almost as much as he hates his students; Jane Schmidt, whose brazenly drunken motel guest can't find the room key she's holding in her fist; Nicholas Waldbusser, whose motel clerk blithely swats flies and tosses all irritants (ice cubes, the guest-registry bell) into a desk drawer; Josh LeFebvre, whose energetically inept battlefield-re-creation soldier mortifies Don and exhilarates Dad; Ariel Schronick, whose vivacious, loquacious waitress helpfully wipes Don's teaspoon on her apron and plops it in his coffee cup. But with Moss-Peterson joined by the spirited, radiantly funny McNaught, the alternately understanding and aggrieved Kobre, and the indefatigably cheerful Faust (he's like an even peppier Clark Griswold), it's the quarrelsome, nattering, utterly recognizable family dynamics that provide most of Leaving Iowa's biggest highs. You're simultaneously thrilled to spend time with this clan on their journey and also relieved that, during your formative years, you weren't forced to. (Kudos, by the way, to Naab for the makeshift car that carries our travelers, which the director smartly positions so that every audience member, at some point, is treated to a head-on view.)
Given the episodic nature of the script, Leaving Iowa's storyline frequently shifts between past and present during blackouts, and it would've helped the momentum in Playcrafters' production if more of them were covered with dialogue or music. (Perhaps tunes or news broadcasts on the car radio?) Yet while it features its share of awkward presentational touches - Why are characters standing in the car? Why does Mom never answer the phone with a "Hello?" - the show remains topnotch. Jacque Wamer and Sara Laufer, respectively, deliver impressive sound and lighting effects, Stephanie Naab's costumes are sharply rendered, and Tom Naab deserves more than a few ovations for his happy parade of aural and visual gags. (Grant Wood's American Gothic has rarely been used to such amusingly cheeky effect.)
Plus, he earns major thanks for the casting of Moss-Peterson, and the actor earns huzzahs for being so spectacularly, riotously believable as both a comically anguished adolescent and a sardonically reflective adult. (Commenting on Dad's conviction that his travel plans are always spontaneous, Don laments, "Elections in Cuba are more unpredictable.") Whether joining Sis in a goofy dance at the heart-stopping prospect of visiting Ghost Caverns, or offering sweetly rueful acknowledgment of his ties to the state he eventually escaped, Dana Moss-Peterson is a wholly satisfying presence in a wholly satisfying entertainment. Early in the production, we're told, "Adventures in Iowa, like steep hills, are hard to come by." In Playcrafters' Leaving Iowa, happily, that's absolutely not the case.
For tickets and information, call (309)762-0330 or visit Playcrafters.com.