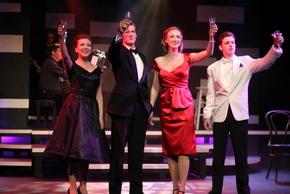 The Clinton Area Showboat Theatre's My Way: A Musical Tribute to Frank Sinatra is filled with beautiful vocals from beginning to end, as Christian Chambers, Livvy Marcus, Jonathan Young, and Bailey Jordan Reeves sing their way through 55 of Sinatra's songs. Backed by a three-piece band under the lead of musical director Matt Bean, who also plays piano, this production covering the singer's hits - along with a few facts about his life thrown in here and there - sounds sensational, and is a true delight for the ears.
Thursday's performance, however, was marred by nerves, or uncertainty, or some other influence that left the actors appearing stiff, giving director David Coolidge's staging an overall feeling of plasticity. There was a lack of connection with the songs, and each other, as the cast moved about almost like automatons, executing choreographer Ty Taylor's elegant dance steps and subtle movements as if they required far more effort than they should have, given the graceful simplicity in Taylor's design.
With Chambers, the problem seemed to be a lack of confidence. That's a shame, because were I to pick one cast member to sing My Way's entire lineup of songs, it would be Chambers. He performs with a Harry Connick Jr. vibe to his vocals, truly crooning Sinatra's singles, with his "Should I Reveal?", "I'm Gonna Live 'Til I Die," and "Witchcraft" particularly noteworthy. However, I kept wondering: "Where's that endearing Rum Tum Tugger swagger I saw in Chambers' Cats performance a couple weeks ago?" I know he's got it in him to steal the spotlight in this production, yet something seemed to hold him back Thursday evening - he's good, but with more bravado in his countenance, he could be outstanding.
Marcus at least excels at trying to create chemistry with her co-stars. With an ever-present joy and playfulness in her eyes that perfectly suits her delivery of "High Hopes," Marcus acknowledges the other performers - attempting eye contact that's rarely returned - and makes a valiant effort to connect with them. She even looks directly into audience members' eyes in a way that should serve as an example for the other three, who, instead, employ the trick of looking above the heads of those in attendance. Here, though, in such an intimate theatre, with a production that begs for audience connection (especially considering set designer Amanda Warriner created a 1950s nightclub around the on-stage musicians), that trick is all too obvious and negatively impacts the piece.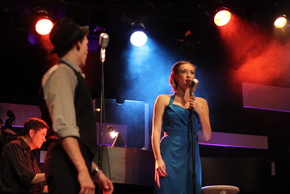 Young is the most guilty of employing this actor's crutch, and while his Munkastrap in Cats had him pegged as my favorite male actor for the season, this musical, unfortunately, didn't confirm that prediction. His rich baritone is heart-melting, yes, but I kept wanting to rush the stage, grab him by the shoulders, and shake him while telling him to loosen up. There seemed to be nothing sincere about his performance on Thursday, as he exuded an affected personality even while providing some of the piece's best vocals, such as his renditions of "The Lady Is a Tramp," "Young At Heart," and "One for My Baby."
For her part, Reeves seems to channel Jessica Rabbit in her slightly aloof, sultry delivery of "I Love Paris," and in her charming duet with Marcus on "Love and Marriage" in which they playfully taunt the boys. Yet while I considered her similarities to the Who Framed Roger Rabbit? film character during the first act, costume designer Emily Mae Billington confirmed them with Reeves' second-act dress: a sexy, red ensemble that, though not the same cut as the cartoon vixen's, would be an obvious homage if only it were sparkly.
Although it pains me not to offer a glowing review of the Clinton Area Showboat Theatre's My Way: A Musical Tribute to Frank Sinatra, this revue, at least on Thursday, just didn't have the necessary energy and chemistry; the production is fantastic to listen to, but open your eyes and there are too many flaws to ignore. There's hope, though, as perhaps some more stage time with the material will allow these potentially great actors, during the show's second weekend, to loosen up and really connect with Sinatra's music.
My Way: A Musical Tribute to Frank Sinatra runs at the Clinton Area Showboat Theatre (311 Riverview Drive, Clinton) through July 5, and more information and tickets are available by calling (563)242-6760 or visiting ClintonShowboat.org.