Last week, some friends and I got on the topic of uncomfortable theatre experiences in shows we were in, and I shared one from an opening-night performance in which our lead walked on-stage and uttered the play's very first line, and an elderly voice in the audience demanded, "Speak up!!!" Regardless of that individual's age and/or hearing, I considered it a rather rude bit of heckling. But on Sunday, I saw Genesius Guild's production of Henry V, and ... . Well, let's just say that I now have more sympathy for that clearly frustrated patron.
Everything, it seemed, was in place for a captivating and gratifying night in Lincoln Park, beginning with the uncharacteristically cooperative weather: Temperatures were mild, a refreshing breeze frequently wafted through, and, in a rarity this summer, there wasn't even a hint of rain. (In Executive Director Doug Tschopp's introductory remarks, he addressed both the outdoor conditions and the turnout, which numbered about 70, with, "It's a beautiful night. Where is everybody?!" A request to anyone delivering similar pre-show announcements in the future: Please don't reference disappointing attendance, even in jest. You're only making the people who did show up feel awkward.)
But there were plenty of other reasons to be jazzed from the start. The program listed the participation of 31 actors, two of them double-cast, and it's always fun to see the Guild stage overflowing with familiar and fresh talent. That fiercely gifted Guild veteran Michael King was directing, his 2016 Much Ado About Nothing and 2015 Macbeth two of the organization's more inventive, satisfying offerings of recent years. Ellen Dixon, bless her hardworking heart, was again serving as costume designer (and again, her wardrobe selections would prove stupendous). This was the first time Guild was staging Shakespeare's famed history play in more than three decades, making it a true once-in-a-generation experience. And on top of all this, it was Henry V, for Pete's sake, with its glorious language and stirring rhetoric and rich characters and still-surprising finale that effectively turns a battle epic into an Elizabethan rom-com. What, as the saying goes, could possibly go wrong?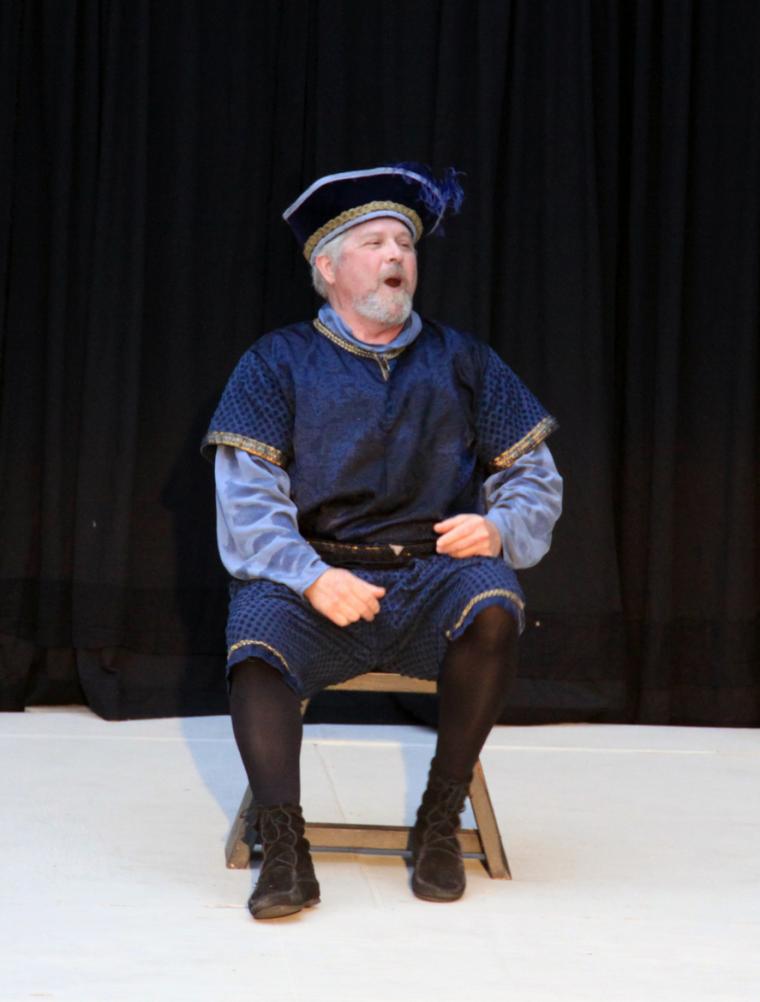 In its first minutes on Sunday, the answer was initially "nothing," because George Cornelius strode on-stage as the Chorus and spoke with an authority, intent, and bonhomie suggesting that this Hundred Years' War tale was in terrifically secure hands, as it certainly was during each of the actor's most-welcome appearances. As chorus figures in the Bard's canon go, Henry V's is one of the most helpful, but also one of the cheekiest. He regularly pops up to tell us exactly where and why events are shifting, yet routinely reminds the audience that this is merely a play, and one with understandable limitations – that it's up to us to imagine stampedes of troops and horses and, in his words, "piece out our imperfections with your thoughts." With his strong presence and hearty laugh, Cornelius does a marvelous job with this conceit. (King also gives him an amusing bit of added comic business involving the placement of the Guild's "Intermission" sign.) But piecing out the production's imperfections on Sunday often proved difficult, considering I could barely hear more than half the cast.
For the record, I was viewing the goings-on from the house-right – or rather, park-right – bleachers about four rows from the top, not in the seating area directly in front of the stage. But to hopefully offset any thoughts of "So why didn't you move closer?!" or "So why don't you get your hearing checked, old man?!", let me add a few things: (1) I'm still in my 40s, if barely; (2) I wasn't sitting much farther from where I usually do for Guild outings; (3) patrons should be able to hear everyone on-stage regardless of where their Guild-provided seating is; and (4) I checked in with a half-dozen friends at intermission – all of them seated toward the front, all of them in their 20s – and they couldn't hear actors, either. To misquote the popular breakup refrain: "It's not me; it's you." The overall projection and diction on July 23 were so weak that it was achingly tough to grasp what was being said or what was going on, and this is coming from someone who, having read Henry V and seen several productions on stage and screen, feels he knows the material at least well enough to gauge a plot.
This lack of volume and clarity wasn't, I hasten to add, an issue for every single cast member, and especially not for Steven Mondloch, who, blessedly, was our King Henry. Actively present and vocally forceful from his first seconds on-stage, Mondloch pulled off what were unquestionably the most important moments to pull off, as Henry's legendary St. Crispin's Day speech and "Once more unto the breach, dear friends ... !" roof-raiser were about as beautiful and rousing as they needed to be. (The biggest grins I got from the production came from Mondloch's readings, especially on his inspiring "We few, we happy few, we band of brothers ..." oration.) The sotto voce confusion surrounding him meant I didn't get as much sense of Henry's character as I would've liked, and his Act V proposal to Elizabeth Shaffer's French-speaking Katharine found Mondloch crossing the line into abject buffoonery, which was, to say the least, jarring. (The actor's delivery of "Here comes your father!" was honestly hilarious, but given Henry's previous eloquence, just where did this melodramatic-goofball Henry come from?) All things considered, though, Mondloch was topnotch, and at least I could understand him, which wasn't always the case for even the louder members of King's ensemble.
Among that assemblage of 31, I had absolutely no problems gleaning the objectives, temperaments, and, putting it bluntly, words of Bryan Woods' John Bates and Philip Tunnicliff's Michael Williams; in one very fine scene between these actors and Mondloch, all three even managed to project above that nightly 9:30 p.m. bugle solo on Arsenal Island. Guild veterans Mischa Hooker, Tyler Henning, and James Alt had no trouble making themselves heard and their motives understood, while Neil Tunnicliff made himself heard and understood with a delightful Welsh accent to boot, his comic relief Fluennen particularly delightful when expressing physically uncontainable happiness beside his king. And Faith Douglas was feisty, assured, and vocally clear in the role of the French Dauphin, her sardonically impish snarls and sneers suggesting a less-noxious Joffrey from Game of Thrones. (Major kudos, by the way, to King for reversing Guild's tradition of only placing male actors in male roles, with other cross-gender casting happening via performers including Kathy Calder, Patriece Gabryshak, Kaylee Gundling, Shannon Ryan, and Anna Tunnicliff. At one point in Guild's latest, there were five soldiers on-stage and more than half of them were women. Never thought I'd see the day.)
Otherwise, I found this Henry V largely populated with either charming performers (Shaffer, Jessica Holzknecht, Pierce Howard) who didn't project enough for their full charm to register, or actors with sufficient projection (Scott Tunnicliff, Doug Adkins, Ralph Baechle) whose internal pauses and less-than-clear motivations made it really hard to recognize their exact purposes in the story; I got the words, but not always what they meant. And, sadly, matters weren't helped by the presumably deliberate stagnancy of the staging. A few sequences, such as the one that finds Katharine and Holzknecht's Alice translating French words into English, boast a fair degree of vibrancy. (In that particular scene, it killed me to struggle with comprehension, because the playful Shaffer and Holzknecht look to be having a ball, and Shaffer appears thoroughly confident rattling off French dialogue.) Far more of them, however, feature mere chorus-line configurations of characters standing in a row and tossing barely audible information at one another; while the problem isn't solely Guild's fault, it feels almost perverse that this wartime saga should find its greatest excitement in events the Chorus merely tells us about. Here's hoping second-weekend patrons can hear the full scope of Henry V's action even when they can see it, or they, too, might leave with a certain Dauphin line ringing in their ears: "What a long night is this!"
Henry V runs at Lincoln Park (11th Avenue and 38th Street, Rock Island) through July 30, and more information is available by visiting Genesius.org.