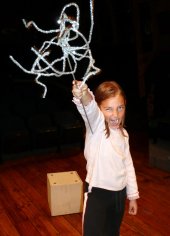 I'd be tempted to call the Richmond Hill Barn Theatre's latest offering the best Christmas pageant ever even if that wasn't its title. Yet that description wouldn't come close to suggesting just how successful it is as a play.
Apart from a few older kids and adult chaperones, the production's cast is composed of grade-schoolers - more than two dozen - and I have a hunch that many audience members will off-handedly (though agreeably) dismiss the show as "cute." Richmond Hill's The Best Christmas Pageant Ever, though, is significantly better than "cute." With its fine, funny script, superb direction by Jalayne Riewerts, and a hugely engaging acting ensemble, Barbara Robinson's hour-long one-act is given spectacularly committed and, better yet, honest treatment here; the presentation is frequently laugh-out-loud hilarious, yet its moments of sentiment are more than well-earned.
This beloved holiday tale of the Herdman children - a sextet of over-stimulated ankle-biters - and their infiltration of an annual church pageant doesn't feature any dancing, but the production still boasts some of the year's most impressive choreography. Employing minimal set pieces and beautifully controlled lighting effects, Riewerts continually, gracefully alters the play's locale without calling attention to the feat, and hustles her enormous ensemble on and off stage with great finesse; at Thursday's opening-night presentation, there wasn't one clunky scene transition in the entire show.
And Riewerts, who seems to possess an unerring ear for conversational rhythm, pulls off sequences of overlapping dialogue with aplomb. She occasionally divides our attention between two or more areas of the stage - never more effectively than when the pageant's new director (Stacy Herrick) engages in simultaneous conversations with her family and her officious, wheelchair-bound predecessor (the terrific Lynn Monge) - and nothing gets lost; the dialogue has a polished, naturalistic flow. (It's neither an insult nor an exaggeration to say that Riewerts' staging here is every bit as exquisite as it was for 2006's sublime Cat on a Hot Tin Roof.)
Yet the director's coup de grâce lies in her handling of the show's youthful performers, who are mostly spot-on with their cues and unafraid of making bold choices; it's no small praise to say that the kids here create true characters, and don't come off as children solely reading lines. Maggie Schlindwein, as the narrator Beth, is a lovely, wonderfully poised actress - she's a bit reminiscent of Natalie Portman in the mid-'90s - and she's surrounded by confident, pre-teen comedians: Amery Clifton, whose Charlie hits hysterical peaks of incredulous frustration; Megan Dale, whose Maxine utters dopey pronouncements with absolute sincerity; Jeni Bergle, whose Alice makes prissiness and self-centeredness most appealing character traits.
Space doesn't permit proper acknowledgment of the many eager participants, but two more deserve special mention. Emma Evans-Peck, as Imogene Herdman, is so much fun as a toughie that her transformation into the pageant's Mary is rather startling. There may be no better, less manipulative tear-jerking scene this year than the one that finds Imogene holding the baby Jesus (played by a Cabbage Patch Kid) and staring at him with hushed reverence; Evans-Peck's subtle emotionalism is heartbreaking in the best sense.
As for six-year-old Lauren Plumley, she's at an age when too many compliments might easily go to her head. I don't care. Portraying Gladys, the youngest and feistiest Herdman, Lumley's delivery has the sort of explosively funny, unpredictable freshness you only get from untrained scene-stealers, and while I suppose it'd be possible to watch her without smiling, I wouldn't want to meet anyone who could. (On Thursday, the little girl earned bonus points for bravery when the adult running with her in his arms tripped, sending them both tumbling to the floor in what looked like a really painful fall. Plumley met the spill with a big grin, exited, and later returned as spirited as ever.)
The play's grown-ups aren't too shabby, either. There are endearing bits with Dave Arnold and Suzanne Rakestraw (such a dead ringer - in look, voice, and eccentricity - for Joan Cusack that my friends and I did double-takes), and Martin Lipes is a lightly bemused charmer. Herrick, meanwhile, creates a figure that, even when harried, exudes ceaseless good humor and tolerance - her Grace Bradley is like the Sunday-school teacher of your dreams - and the actress' scenes with the children have an almost magical warmth. Herrick isn't merely good here; for what's she's asked to do, she's perfect.
I positively loved Richmond Hill's The Best Christmas Pageant Ever. I loved the eight-part bell choir that played a delightful, surprisingly moving rendition of "Joy to the World." I loved the smart-alecky wit, as when Grace, wanting to educate the Herdmans on the nativity story, pulls out her Bible, and the other kids reflexively groan. I even loved it when the chorus began singing faster than the musical accompaniment, as that's exactly what happens in a traditional children's pageant. My round-trip trek to and from Geneseo was just slightly longer than the show itself, and I couldn't imagine the time being better spent.
For tickets, call (309)944-2244.