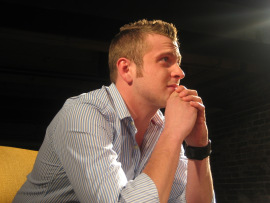 At several points during Friday's opening-night production of Fully Committed - which ran at Rock Island's Green Room through January 27 - actor Eddie Staver III took generous swallows of water from an onstage bottle, and rarely has a beverage looked more thirst-quenching, or more necessary.
Over the course of an intermissionless hour, Staver enacted Becky Mode's harried restaurant worker, and nearly three dozen others, in this smart, unexpectedly sweet one-man show, and did so without his invention flagging or his energy waning - a quick gulp every now and again, and he'd tear into another of the playwright's dialogues with the same gusto that accompanied his entrance. To his enormous credit, the actor was never breathless, but his audience sure was; in recent years, standing ovations have become rather commonplace in theatre, yet the one that greeted Staver's curtain call felt richly deserved.
It was all the more so for Staver being deprived of what he's clearly relished in his previous Green Room endeavors: other performers. In the venue's fall productions of The Glass Menagerie and Carousel, Staver's sincere, unwavering focus on his co-stars, combined with his willingness to truly listen to them, spoke volumes. (He seems the type of generous actor who can't help but make those he's acting opposite look good, too.) In Fully Committed, though, he was required to speak actual volumes, and to no one in particular; unlike most solo vehicles, Mode's one-man show doesn't even grant its one man the luxury of addressing the audience. The play's rhythms are conversational, but they nearly always feature one fast-talking conversationalist speaking with another - barring the very rare pause, those sips of water and the audience's laughter were Staver's only respites from continuous banter - and Fully Committed's star performed the stunt with heroic aplomb, even when the staging meant that he had to work even harder than he perhaps should have.
Mode's play finds a struggling actor named Sam taking reservations in the basement of a chic Manhattan eatery, vocalizing (and physicalizing) the personalities of those who call. Yet what keeps Fully Committed from merely being a funny, bitchy tirade against the New York restaurant scene is that the playwright's heart is truly with her frenzied protagonist. Sam endures his share of verbal abuse and humiliations - none more demeaning than his cleaning of a horrifically disheveled ladies' room - but Mode solidly empathizes with her hero (her jokes are never mean-spirited), and is careful to release incremental bits of character detail; we're given a gradual, touching awareness of why Sam is so superhumanly patient.
These flashes of insight come during Sam's phone conversations with his well-meaning brother and recently widowed father, and they enabled Staver to do what was easily his finest work in the piece. The success of these dialogues was partly due to the actor being able to slow down his rigorous pace and reflect on what was being said and what it meant; our understanding of Sam came less through his lines here than the thoughtful quiet between the lines. Yet, more specifically, the family conversations also allowed Staver to speak while facing the audience, a happening that occurred all too infrequently.
Right off the bat, director Derek Bertelsen did something very smart with Fully Committed, in that he never had Staver use any sort of prop (or mime) telephone; he trusted the audience to understand the play's convention without having his actor futz around with imaginary hold buttons or intercoms. And oftentimes, the conceit worked beautifully; it let Staver roam about the stage, and consequently alter the stage picture, without hindrance. (In truth, having Staver wear a headset-phone would've probably accomplished the same thing ... although it might have also looked a bit like a one-man version of Rent.)
Keeping Staver so frequently in motion, though, came with its own distractions. While the actor did a first-rate job in vocally differentiating his multitude of characters (I especially loved the voice he devised for the play's chef, who sounded like Ray Romano with a hint of Billy Crystal's Sammy Davis Jr. cadences), Staver's restlessness meant that we weren't able to look his creations in the eye as often as we might've liked, and as an actor, Staver's eyes are his best features - he tells stories with them. Subsequently, our following the individual narratives between Sam and his callers proved to be something of a challenge; without being able to fully register who Staver was playing in his face as well as his voice, I spent a few too many seconds wondering, "Okay ... now which nutjob is this again ... ?" (At times, we were deprived of Staver's expressions even when he was motionless: One caller was enacted in profile, and another - Sam's Irish pal - was performed with his back to us.)
Only in the play's midsection, though, was this a major stumbling block. (There was about a five-minute lull that, through no fault of Staver's, garnered no laughs whatsoever, and it seemed to briefly rattle the performer, who took more gulps of water than he maybe needed to.) And even when his staging was overly busy, the actor's quick-witted talents - to say nothing of the extraordinary acting feat itself - kept the audience alert. After the stunning, stripped-down presentation of Carousel, I thought the Green Room could produce just about anything. After Fully Committed, I'm reasonably sure that Eddie Staver III can play anything.