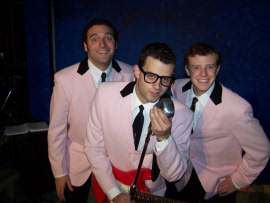 By their very nature, biographical jukebox musicals such as Buddy: The Buddy Holly Story - currently being performed at the Circa '21 Dinner Playhouse - have to be a little glib. Given roughly two hours of stage time, how can book writers adequately detail a performer's personal and professional arcs without drastically simplifying the experience?
Alan Janes and Rob Bettison, the authors of this pastiche of '50s hits, haven't exactly licked this problem; you leave the theatre with no greater understanding of the artist's fervor and drive than you had when you entered it. But the show's writers have also done something shrewd with Buddy: Instead of ignoring the format's built-in limitations, they've embraced them, turning the tale of Buddy Holly's brief rock-and-roll career into an amiable, lightweight musical sitcom.
The authors' approach - and, consequently, director Ann Nieman's - is evident five minutes into the production, when Holly (Todd Meredith) and the Crickets (Justin Droegemueller and Tristan Layne Tapscott) perform a live, drawling version of "Flower of My Heart" for a local country station, while the program's disc jockey listens in an adjoining studio. (Tom Walljasper plays the DJ Hipockets Duncan, oddly called Hot Pockets throughout the show.) At the song's end, the band immediately breaks into the up-tempo rock of "Ready Teddy," much to Duncan's - and his listeners' - shock, and seconds later, the DJ is fielding complaints from two callers simultaneously.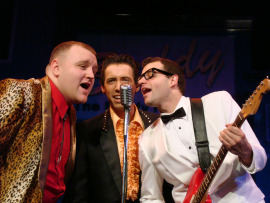 It's a sight to see - Walljasper performs his frenzied mime show like the comic master he is - but there's something a little too cutesy about the bit's eagerness to grab the easy laugh, and you soon realize this won't be a one-time occurrence. The following scene, with Duncan feigning his disgust at Holly, leads to a classic sitcom switcheroo, and subsequent sequences involving the singer's uncomfortable radio interview, his white-bread greeting to the Apollo Theatre audience, and his refusal to let band member Jerry pee are kind of funny (and Tapscott's tortured discomfort as Jerry is hysterical), but also kind of lazy - they're well-honed TV gags.
This sort of obviousness creeps into other aspects of the production, as well - was it really necessary to have Holly's bride (Jenny Stodd) relate her recurring nightmare about "the big fireball in the sky"? - but it turns out that the stock situations and cornball routines aren't as detrimental as they might've been, as a less contrived, more honest Buddy could have drained some of the effervescent fun out of many of its performers.
With little more than a couple of scenes to do it in, Teddric Alexander Matthews, Aurianna Angelique, and Linda Boelsche make sizable comedic impressions, and while you could conceivably ask for a more "realistic" Big Bopper and Ritchie Valens, you could hardly wish for more entertaining ones; James Fairchild attacks a self-amused rendition of "Chantilly Lace" - complete with a pitch-perfect "Hel-lo, ba-a-a-a-bay!" - with absolute fearlessness, while Vaughn M. Irving, thrusting his hips, delivers a spectacular "La Bamba." (Is there a Ritchie Valens jukebox revue out there that producers can attach Irving to?)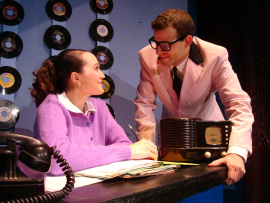 Several other topnotch musical presentations are delivered in ways you're not expecting at all - the a cappella "Why Do Fools Fall in Love?", performed in an exquisite four-part female harmony with Dennis Michael Keefe lending baritone backup, is a particularly sensational surprise - and there's no denying the thrill to be had in watching ensemble actors prove themselves to be first-rate musicians, a sight that Buddy offers routinely. Droegemueller's, Tapscott's, and Steve Lasiter's Crickets appear to be exceptionally gifted, but you're also treated to Keefe on sax, Matthews on trumpet, Stodd on violin, Chris Walljasper on trombone, Kari Orf on piano, Brian Wilcox on percussion ... .
As for Todd Meredith, it seems a little ungrateful to be left wanting more from his Buddy Holly, considering that he looks enough like him, sings enough like him, acts enough like (our idea of) him, and plays a mean guitar. But if my moderate disappointment with Buddy stems from outside of the show's narrative, I'm sorry to say it lies with its star. He's terrific when Holly's in concert and the performer is able to cut loose under Ron Breedlove's dazzling lighting effects, but in the book scenes - when it's important that we feel the need that fueled the artist's rise - Meredith's practiced, synthetic readings aren't very distinctive, and barely hint at the singer's passion and presence; his Holly could be any cute kid with a vocal hiccup and a dream.
Thankfully, his concert scenes rescue him (Meredith performs especially fine renditions of "Not Fade Away" and "Oh Boy"), and the show's overall geniality and charm save the night. Those of us hoping for more than a pleasant greatest-hits collage might leave Circa '21's latest feeling underwhelmed, but given the frequently inspired work on display in Buddy: The Buddy Holly Story - which elicited rapturous audience response on Friday night - it'd be hard to argue that this not-bad production doesn't yield plenty of really good things.
For tickets, call (309) 786-7733, extension 2.