There's a new band in town – and they're only around for two more nights. It's Hedwig & the Angry Inch, and the Circa '21 Speakeasy is the perfect venue for a show that is simply a rock concert. With just enough Quad City references thrown in to make it seem like an actual tour, Hedwig (Anthony Natarelli) and her band (Kyle Jecklin on bass, Peter Letendre on drums, and Ben Kays on guitar) take you on a captivating musical recollection of the headliner's life.
The band's name is, appropriately, "The Angry Inch," an homage to their front woman's "dangling participle" of scar tissue that remains after a botched sex-change operation. At one point, Hedwig refers to herself as having a "Barbie Doll crotch," and if that doesn't conjure up a very specific image, I am not sure what else could be said. But don't let the subject matter frighten you away, as this show is edgy in the best possible way.
Direction and production-design team Michael Turczynski and Andy Sederquist loaded the Speakeasy stage with a typical band set up – instruments in the back, microphones up front – and then added a multitude of wigs and dolls to decorate it. There was also a little bench over to one side that enabled Hedwig to sit between songs and share her history, starting with her childhood in East Germany. These moments lent themselves to a little bit of audience interaction and Natarelli is a natural at working it. The crowd on Saturday's opening night was spectacularly engaged, occasionally laughing before punchlines, and one enthusiastic gentleman, for a time, even became a part of the show.
With Hedwig in the spotlight, poor Yitzhak (Sara Wegener) gets no credit from the star as her stagehand/back-up singer/emotional support. But he is there, and he's a Jewish drag queen to boot. As the unsung hero of the show, he diligently responds to Hedwig's every need. (Mic stand needs to be adjusted? Yitzhak is on it.) And even though Hedwig drew focus 99 percent of the time, I still felt compelled to watch Wegener and her intense focus.
When frustrated by Hedwig's attitude, Yitzhak serves another purpose by occasionally kicking open the door to the alley so we can eavesdrop on the Tommy Gnosis concert next door. Part of me finds it hilarious that Yitzhak would purposely try to irk Hedwig, and the other part of me was deeply concerned the fire alarm would be kicked accidentally. That didn't happen, but we did get to hear snippets of Tommy's concert, which had a tendency to bring out a snippy Hedwig, and as the concert goes on, Hedwig gradually reveals why she has such intense feelings about the man and his fame.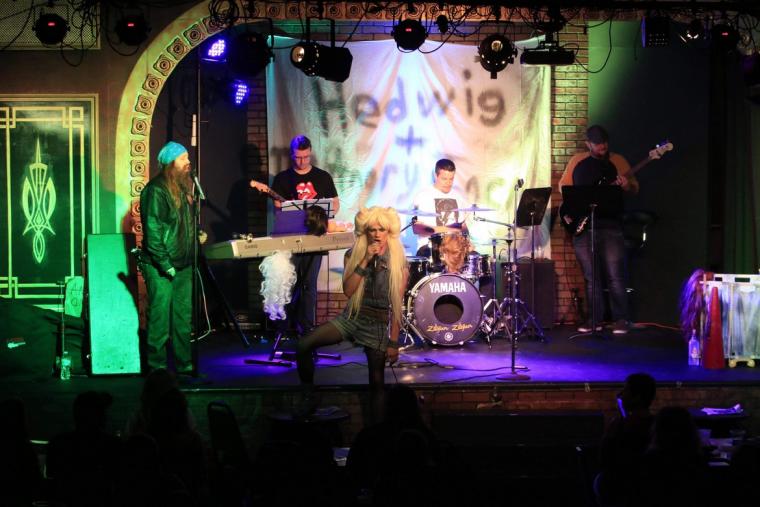 It should be noted that if something on-stage could be made into a phallic symbol, it absolutely was. (Which I think was to be expected, and since no one under 18 is allowed at Hedwig, it doesn't much matter.) And on Saturday, the occasional irreverent humor was met with overwhelming satisfaction, as was Hedwig's look. With spectacular blue eyeshadow, fishnet tights, a bedazzled jean vest, matching cuffs, and a larger-than-life blonde wig, Hedwig is her own brand of rock-'n'-roll pretty. Coming off-stage into the audience, Natarelli wasn't afraid of making eye contact (and some occasional body contact) with the fans. The space restricts how much the lights could extend into the audience, but I don't feel like it distracted from the production value at all.
Where this production did struggle a bit, however, was in regard to sound, as the band seemed to overwhelm the singers and tended to drown out the lyrics – a shame considering so much of the story is told through song. This could certainly be attributed to the acoustics of the space, however, as well as where I was sitting in proximity to the speakers.
But after intermission came the song "Wig in a Box," which brought with it additionally enjoyable audience participation as Hedwig (and some willing volunteers) led a sing-along with the matter-of-fact instruction "If you can read, you can sing." This was probably my favorite part of the show and the height of the fun; it's the Hedwig song everyone remembers for a reason. But slowly, as we gain more information about Hedwig's life, grief takes over and Hedwig has a mental breakdown, leading to intentionally incomprehensible lyrics, on-stage blow-ups, and eventually a measure of self-acceptance.
The show has a limited run, and there are a lot of choices in what to see around town. But if you enjoy catchy tunes and some funny jokes, and are even mildly interested in the life story of a genderqueer rock star, you're in for a treat. Hedwig & the Angry Inch is certainly worthy of your time.
Hedwig & the Angry Inch runs at the Circa '21 Speakeasy (1818 Third Avenue, Rock Island) through June 30, and more information and tickets are available by calling (309)786-7733 extension 2 or visiting TheCirca21Speakeasy.com.