About two minutes into Thursday night's performance of The Importance of Being Earnest, I panicked, knowing there were still two more hours of what had so far been - and seemed likely to continue to be - a flat, humorless presentation of playwright Oscar Wilde's work. Fortunately, though, my fears were mostly unfounded, as the Richmond Hill Barn Theatre's production improved as it progressed, and greatly improved with the arrival of the play's female characters.
Dubbed by Wilde "a trivial comedy for serious people," this farcical comedy is centered on two men maintaining made-up characters as a means of avoiding social obligations, such as dinner parties with family. They then get caught up trying to protect those identities when confronted with the possibility of romance with women who believe them each to be named Ernest. Directed for Richmond Hill by Joe DePauw, the script is filled with sharp wit in line after quotable line, worthy of the loud laughs that productions of the show, including Richmond Hill's, consistently elicit. (It is one of my all-time favorite scripts, both to watch produced and to perform in.)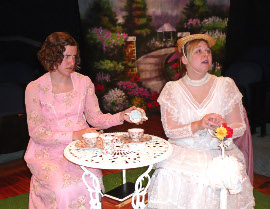 The play's humor, however, seems lost in the straightforward, careful delivery of the early part of the first act, and the English accents - with the male actors, in particular - render the interpretations bland, at least initially. As Algernon Moncrieff, an idle young bachelor, Isaac Ritter seems so focused on getting his accent right (which he does) that his performance seems unamusing until you get used to it. He wears a knowing smirk of a smile throughout (reminiscent of Clark Gable's) and speaks with almost unwavering deliveries, not punctuating his character's humor. It's a consistent portrayal, though, and once the taste of his style is acquired, it makes sense, as his wittiness is blatant in verbiage but subtle in communication. By the middle of Act II, the only issue I had with Ritter's performance was his habit of clasping his hands in front, then clasping them behind him, then clasping them in front again, and so on and so forth.
Nathan Johnson's accent is a distraction, as his John Worthing boasts a touch of Cockney (which isn't appropriate for his country-dwelling gentleman), but the dialect isn't strong or consistent enough to be Cockney. On top of that, the choices he makes in his characterization seem based on individual lines, rather than on the role as a whole. For example, Johnson nods his head in seemingly complete agreement as Cara DeMarlie's Gwendolen explains why the name "Jack" is so dreadful. ("It produces absolutely no vibrations.") Yet "Jack" is the name John goes by in the country, and there is not even a hint of concern on Johnson's face that Gwendolen might discover his "Ernest"'s real name. But then, Johnson does a sudden about-face, popping up out of his chair and showing complete concern about the possible discovery of his name. Johnson's performance is similarly all over the place throughout the show; he's never quite consistent enough to shape a full character.
The women, however, shine under DePauw's direction. Terri Nelson is perfectly snobby, with an even condescension as Lady Bracknell, Algernon's high-society aunt and the mother of Gwendolen. Elizabeth Buzard's Cecily Cardew - John's ward and Algernon's love interest - has a perky innocence appropriate for her youthful age. DeMarlie, whose Gwendolen has the fortune of speaking most of the shows funniest lines, is fantastically funny, especially in her impatience with Cecily in Act II; tight-lipped and with a slight head tilt, her expressions are almost as entertaining as her words. And Jackie Patterson, who reminded me of Frances McDormand in Miss Pettigrew Lives for a Day, offers a hilarious balance of feigned propriety and flirtatious blushing while in the presence of Reverend Chausible (played with shades of amicability and shock - but without an accent - by Ray Rogers).
The look of the piece is quite appropriate to the 19th-Century period, particularly in Jean Melillo's impressive (and lacy) costumes, and DePauw's choice to use potted, almost-blooming hostas in Act II's garden scene is a really nice, unexpected touch. It's also in the garden scene that the play truly hits its groove, compensating for an inconsistent first act, and continuing on with the great comedic achievement of Wilde's work.
For tickets and information, call (309)944-2244 or visit RHPlayers.com.