The terms "Neil Simon" and "classic" go together naturally. Simon wrote more than 30 stage works, several of them big hits (and consequently, he was made of money). The Odd Couple was his third play, premiering on Broadway in 1965, winning Tonys and breaking records. It found a wider audience in a 1968 film adaptation, and was transformed into a TV series in 1970. So most people know the premise: Neatnik Felix Ungar moves in with slob Oscar Madison after their wives leave them. And if you didn't know it before, now you do.
It was thrilling to walk into the Playcrafters Barn Theatre on Saturday and see a large crowd for Simon's comedy, as about four-fifths of the seats were occupied. And director Teresa Moore, along with her staff, crew, and cast, put together a smooth-running, well-paced, lively, and all-around-enjoyable production. The set, built by Randy Moore and dressed by Gaye Burnett, is lovely to gaze upon. It depicts Oscar's upscale apartment recently vacated by his ex-wife, and shows her good taste plus his added touches of random clutter. The window, an often-used set piece, glows with beautiful purple light from outside, while the marvelous stereo and enchanting floral dining-room chairs holler "late 1960s." Meanwhile, the large, lush plants added to the refined atmosphere – but knowing Oscar, I personally would've used dead greenery. (Brownery?)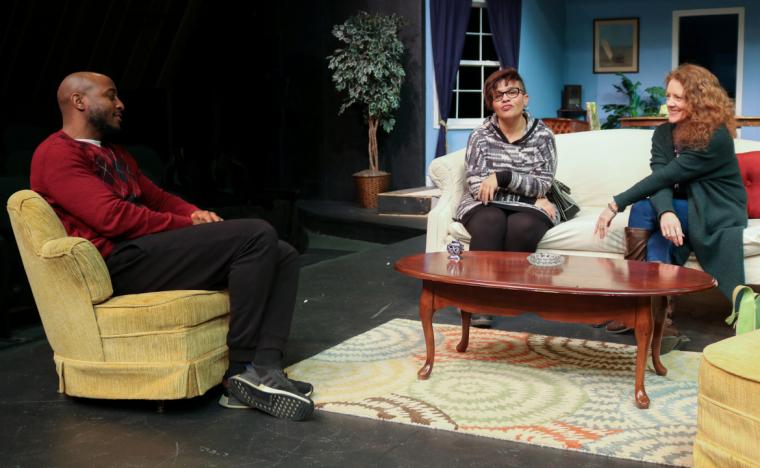 Matt Walsh's Oscar and Jadiem Wilson's Felix have a fresh, interesting dynamic. There are no Walter Matthau/Jack Klugman or Jack Lemmon/Tony Randall impersonations here, as these two make the characters their own. Part of their inventive portrayals are the result of the actors flipping the script, because overall, in Teresa Moore's rendition, Wilson's Felix is a laid-back, cool neurotic, and Walsh's Oscar is an uptight, stressed loafer.
Walsh has a wealth of stage experience, while Wilson is a first-time actor. Even so, in strength of combined presence, they are not an odd couple – they are evenly matched in performance. Oscar does more couch-pillow-rearranging than I'd expect (if I were Oscar, and if the pillows were crooked, I'd toss 'em on the floor), but one golden bit of business came from the way Walsh tries to unobtrusively shut a window. And when Felix is extremely upset, his demeanor isn't all that anguished – but Wilson plays the mock-suicidal scene wonderfully deadpan, when many other actors might have hammed it up.
Oscar's and Felix's poker pals are a Chex Mix of tasty fun, and I was impressed by how well they all delineate their characters – these aren't just clones in a generic little clutch. Sharon Cumberbatch, as Speed, is exuberant and appealing while trying to keep the other distracted card players focused on the game. Kendall Burnett, as the cop Murray, fills the space with boisterous gestures. Tom Akers, as the olfactorial misfortunate Roy, exudes misery, while Joe Urbaitis' Vinnie broadcasts his doormat status with cringy posture, and a sad little voice, without disappearing into the background. All of these characters are, well, characters – yet they're touchingly, genuinely concerned about their friend Felix. To me, the cue pickups on Saturday felt a bit slow in the opening scene. (Silences are written into it, but there was an extra beat or two between lines.) However, the actors found their rhythm, and collectively gave a great performance as a group of old friends.
Oscar's and Felix's British neighbors, sisters Gwendolyn (Nichole Collins Payney) and Cecily (Anna Kronenberger), are a bit of all right, which is wryly understated slang for gorgeous – and not just in looks. The performers' natural, vivacious enthusiasm lights up the stage, and their Northern English accents are consistently spot on – and they match! (At one point, Payney and Kronenberger do abandon their pep for some hilarious weeping.) Also, I must mention Gwendolyn's fab snowy bob and red platform heels, and Cecily's green print dress and mod drop earrings. Although no Odd Couple costumer is credited – it's possible that the pieces were assembled via a traditional cast-and-crew scavenger hunt – another nice piece of attire appears when Speed wore an appealing golden-brown blouse with floral embroidery. As for the guys' clothes, they're mostly standard men's fashions, which haven't changed much over the years. But then there are Felix's tight, high-water pants revealing his spiffy patterned socks – fine contrast to Oscar's baggy beige legwear that sports holes. I love details like this.
Some of the play's elements – including the theme of divorce and the risqué flirting – would have been at least mildly scandalous some 50 years ago, boosting the humor. Simon's script is still funny here, thanks primarily to the actors. Also to their credit, on Saturday, there were no hesitations or forgetting of lines. The actors' diction and projection were also consistently excellent – a vital element that's often taken for granted. But if you can't understand the actors, you're not going to enjoy the show. And you will enjoy this one. Based on Saturday's crowd, tickets for Playcrafters' The Odd Cuple may not be available if you just walk in. So make your reservations now. This play is a classic for a reason.
The Odd Couple runs at the Playcrafters Barn Theatre (4950 35th Avenue, Moline IL) through February 27, and more information and tickets are available by calling (309)762-0330 and visiting Playcrafters.com.