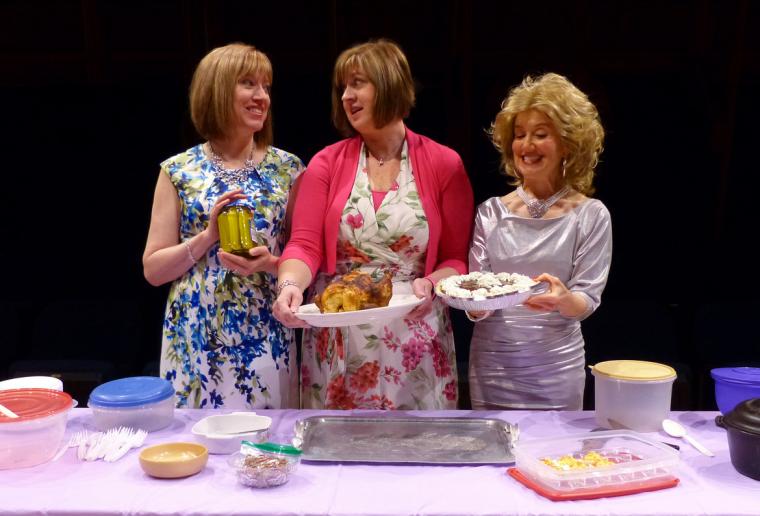 There's a big reunion in Geneseo! To celebrate the 50th-anniversary season of the Richmond Hill Barn Theatre, director John VanDeWoestyne got some of the 2008 Dearly Beloved gang back together for this summer's sweetly nostalgic revival. The theatre's audience voted to add the show to the season, and, along with over half the original production's actors returning, the plot features its own reunion in the form of a family wedding. Dearly Beloved must have been remembered fondly because Thursday night's opening was packed.
Written by Jesse Jones, Nicholas Hope, and Jamie Wooten, and set in Fayro, Texas, this comedy revolves around the three Futrelle sisters as they try to keep a wedding on track while navigating their own personal issues. Mother-of-the-bride Frankie (Lorrie Lord) is a wreck because the happy couple has gone missing and nothing is shaping out quite the way she thought it would. Her sister Twink (Valeree Pieper) decides the best way to help the wedding is to save money on the reception by way of a potluck. Her other sister Honey Raye (Diane Greenwood) stirs up even more drama, as her marriage broke up the family gospel trio The Sermonettes, and she is still not forgiven.
Meanwhile, wedding coordinator Geneva Musgrave (Jan Golz) doesn't seem to be coordinating much more than the impromptu town talent show. The bride's twin sister Gina Jo (Dana Skiles) is wandering around hiding from her crush in a giant hoop skirt. Not to be forgotten is the groom's mother Patsy Price (Heidi Pedersen), who is doing her darnedest to stop the wedding.
One of the downsides of the Richmond Hill space, for this production, is there's really not any room offstage. As such, the stage was cluttered with yet-to-be-used set pieces covered with black material for the actors to work around during the first few scenes, which unfortunately felt a bit choppy. And whether it was owed to the staging or opening-night jitters I'm not sure, but the actors seemed almost uncomfortable. Yet they found their collective rhythm after the setting shifted to the church fellowship hall, and even the audience seemed more comfortable watching the action unfold in front of them instead of in the corners of this theatre-in-the-square.
Weddings have a tendency to bring out the drama, and while this production provides a heaping helping of that, Dearly Beloved really serves up its conflicts with a side of comedy and family togetherness. Lorrie Lord, Pieper, and Greenwood are all reprising their roles from a decade ago, and their familiarity with each other is the strength of this production. (Whether Pieper and Lord walked into rehearsals serendipitously with nearly identical haircuts, or if it was a genius design choice, they really did appear to be sisters.)
Greenwood shines as Honey Raye, and her sparkly, slightly inappropriate dress literally reflects the lights so you can't help but be drawn to her. Luckily for VanDeWoestyne's show, Greenwood is always "on," and is physical-comedy gold. (Richmond Hill, though, may want to designate some seats as a potential "splash zone" when Greenwood's around.) Honey Raye, and Greenwood, absolutely stole my heart.
Twink's role is primarily that of comic relief, and Pieper rises to the occasion beautifully, especially after Twink's psychic (Zoey Sloane) tells her the only way to get her boyfriend Willie (Archie Williams) to pop the question is by seeing some wedding vows. (Unfortunately for her, though, he has a cold, so Twink is forced to sort through the Tupperware and keep Willie conscious and out of trouble.) Every time Pieper was on-stage on Thursday, the cast seemed more at ease and reassured by her presence – even when she was passing around questionable cheese.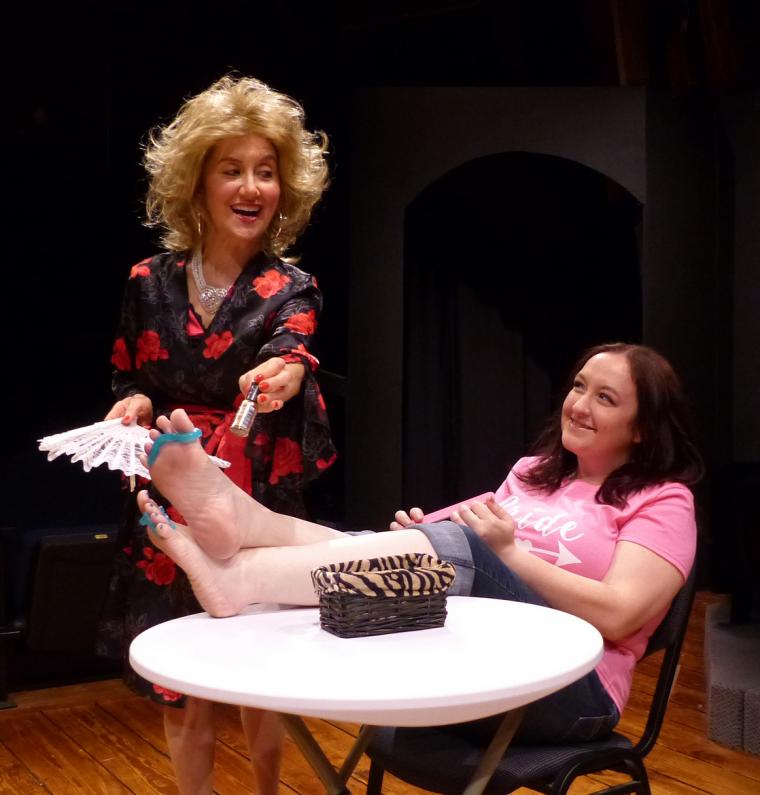 It's said that everything is bigger in Texas, and that apparently includes their potlucks. The wedding-reception food is almost a character of its own, as it's talked about and eaten throughout the bulk of the show. Dearly Beloved's "food crew" of Jackie Skiles, Jeff Blackwell, and Suzanne DeReu (who also acted as stage manager and costume designer) deserve a mention for the sheer amount of effort – and turkeys – they are going through!
While the women are the heart of this production, there are plenty of supportive men – among them Stan Weimer, Larry Lord, and Mike Skiles – in Fayro. But the runaway male star was Nolan Fassett as seminarian/UPS man Justin Waverly. It was apparently Fassett's first performance ever, and he's a natural. Fassett had perfect comedic timing and brought a wide-eyed innocence to the production.
Dearly Beloved had plenty of comedy to keep the audience chuckling, even through Thursday's performance lacked in belly laughs. Still, folks seemed happy, and whether you saw the 2008 production or, like me, this is your first introduction to the show, it'll feel just like coming home. It was the ultimate #TBT.
Dearly Beloved runs at the Richmond Hill Barn Theatre (600 Robinson Drive, Geneseo) through June 10, and more information and tickets are available by visiting RHPlayers.com.