Hearings. Depositions. Victims. Accusers. Lies. I am not talking about our recent news cycle, but rather Augustana College's production of The Crucible. When director Jennifer Popple decided to set her show in the unspecific future, she couldn't possibly have guessed that 2018, without even trying, would give the play such abundant relevance.
In case it has been a long time since high-school English, Arthur Miller's The Crucible begins after a group of teenage girls are discovered dancing in the woods. To avoid getting in trouble, the youths begin finger-pointing and accusing people of being witches – amidst the hysteria, the girls' manipulative ringleader Abigail Brown (MJ Mason) even accuses her ex-lover's wife for her own gain – and the collective act quickly snowballs into the Salem Witch Trials.
Immediately upon entering the theatre on opening night, a Puritan-esque girl wished me peace as she handed me a copy of the Salem Compound's covenant laws, and reading those laws while looking around the space that scenic and lighting designer RaeEllen Walker created informed me that this wasn't going to be your everyday Salem. With her simply-designed set employing large, white, moveable platforms, Walker really let loose with her lighting choices, as those effects were among the only aspects of color in this Salem's mostly neutral world; the deep blues and pinks really brought the stage to life. The only downside to Walker's design was that shifting the platforms was obviously a cumbersome experience. The run crew clearly tried their best, but some scene changes felt excruciatingly long, especially when, after a shift, the stage picture remained largely the same.
I would be remiss, though, to not mention Tristan Odenkirk's exceptional sound design. If you've ever watched a horror movie on mute, you know the mood and your emotional reactions are diminished without the background music, and Odenkirk's design has a similar effect on this production. From the digital voices to the haunting drum beats, this Crucible's sound was spot on, and paired with Rachel Brauns' movement direction, it set the somewhat creepy tone extremely well. The first few minutes of the show, which were full of sharp, specific, individual motions from the girls, were particularly interesting to watch as the group came together in unison while still retaining some individuality. Throughout Popple's presentation, the music and let's-call-them-dances punctuated scenes with eeriness.
Another design aspect that leaned toward the occult was the makeup, with Abby Roselieb and her team of four creating clever visual metaphors. I noticed that those in Salem who were fundamentally honest had a more natural look in contrast to the demonic makeup of those citizens prone to lying. The young girls, especially, employed long false eyelashes and copious eyeliner, making them seem as though they didn't have eyes at all; it was unsettling in a way I am certain was intended.
Ellen Dixon's costumes seemed quite basic at first glace: everyone dressed in grays and blacks with the girls in gray hooded dresses reminiscent of those in Hulu's The Handmaid's Tale. Yet every costume had excellent attention paid to the small details, such as the Salem-compound icon that was found somewhere on every character, be it a wristband or a patch. And Dixon's magnificent skill was particularly, dramatically evident at the end of Act I with the reveal of her magical, transformative wardrobe pieces.
When Deputy Governor Danforth (James Wheeler) first appeared after Friday's intermission, there was an audible chuckle from the audience, because his look – think Gothic Dracula – was so different from the others', and his entrance seemed almost over-the-top. But Wheeler was a strong presence, and even though Danforth isn't a likable character, he was exciting to watch due to the sheer strength of the actor's deliveries. When Wheeler spoke, everyone listened.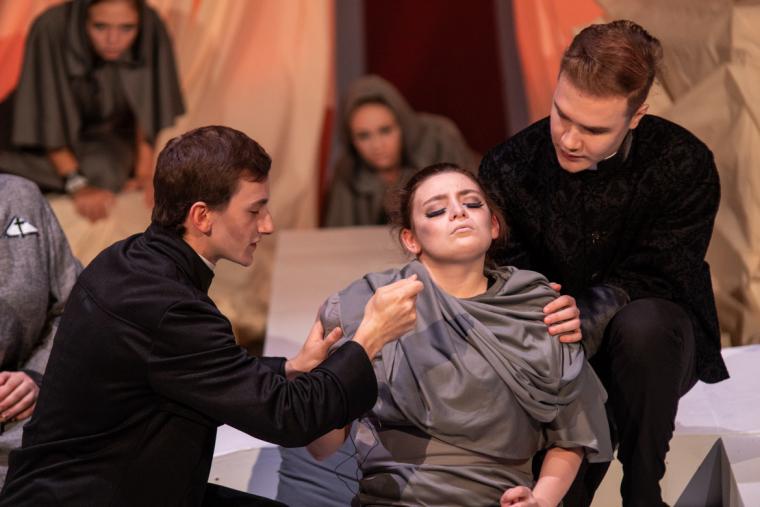 In contrast to Wheeler's villainy, Jaryd Whitmore, as Miller's protagonist John Proctor, effectively stole the show through the actor's controlled demeanor, where even his anger came from an honest place. Whitmore's John was the only character who knew exactly what the scheming Abigail was after, and therefore, no amount of witch hysteria could distract from his inherent goodness.
The two ladies in John's life, wife Elizabeth (Natalie Brown) and former lover Abigail, were presented completely in contrast. Brown's Elizabeth was restrained and almost overly calm, though her apparent lack of emotional depth made the figure more endearing on a stage full of writhing and wailing ladies. Mason's Abigail, however, offered key moments that allowed her personality outside of evil to shine, so watching the teen slip further into her delusions was hard to watch. The utter lack of remorse that made Abigail unlikable was offset by Mason's commitment and stage presence, qualities that allowed her to be captivating.
While I'm not sure the allegory-of-an-allegory approach was necessary or even realized to its fullest extent – I'm still unclear about how the production had anything to do with encroaching technology, as Popple discusses in the program's director's notes – The Crucible's relevance is not up for debate. Augustana's production, meanwhile, explored Miller's familiar story with honesty, truthfulness, and some truly spectacular design elements.
The Crucible runs at Augustana College's Brunner Theatre Center (3750 Seventh Avenue, Rock Island) through October 21, and more information and tickets are available by calling (309)794-7306 or visiting Augustana.edu/tickets.