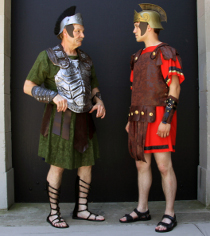 It's always a pleasure to be able to laud the chorus members of a production, and that's certainly appropriate for Genesius Guild's presentation of Shakespeare's Coriolanus; the crowd scenes involving the Roman citizens - a group made up of 15 actors - are some of the most dynamic moments in co-directors Bryan Woods' and Don Wooten's production. Usually seen angrily protesting something, there's a palpable energy in these performers' collective presence as the group storms the stage and creates a general hubbub in the background, adding more realism than would be on display had they merely stood in place and interjected occasional comments. Stirring things up beginning with the opening scene, and appearing multiple times throughout the course of the play, this charismatic group sets the stage for what proves to be an entertaining evening.
Coriolanus begins with the townspeople rioting about food being withheld from them following a victory over the Tarquin kings, with Tyler Henning's arrogant Caius Marcius the focus of their blame. Then enters Earl Strupp's calm, respectable Roman senator Menenius - a characterization the actor notably maintains throughout the course of the play - whose demeanor is in beautiful, stark contrast to the riotous crowd. Wholly unlike Menenius, Caius Marcius is contemptible, earning the crowd's ire for his disdainful treatment of them, and Henning is stunning in the role; he exudes a sincere confidence bordering on cockiness, and is aided by a voice that booms with arrogant authority even when his back is to the audience.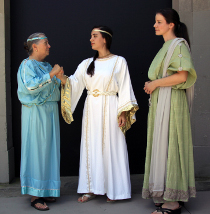 After hearing of the nearby presence of Rome's enemies, the Volscian army, Caius Marcius races off to lead the Roman army toward the Volscians' defeat, which ends with a one-on-one sword fight between Caius Marcius and Bob Hanske's commendably mature, even-toned Volscian commander Tullus Aufidius - a battle that, despite being a bit slowly performed on Saturday, is well staged by fight choreographer Aaron E. Sullivan.
Tullus Aufidius, while wounded, escapes by way of his soldiers, and upon his triumphant return to Rome, Caius Marcius is given the name Coriolanus and encouraged by his mother to run for consul, which would require him to win the support of the citizens he earlier offended deeply. Unfortunately for him, though, Neil Friberg's and Andy Cutiss' deliciously conniving and pleasingly paired tribunes Sicinius Velutus and Junius Brutus verbally work the crowds, rallying them against Coriolanus once again - an action that, instead of confirming Coriolanus as consul, ends with his banishment from Rome, a time during which he seeks the aid of his former enemy, Tallus Aufidius.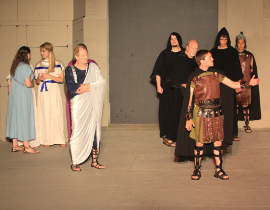 As Coriolanus' mother Volumnia, Rae Mary projects a matronly regalness that's somewhat gently spoken, though her words are confident and sometimes pointed. Irene Herzig wears a beautifully furrowed brow representing her tormented melancholy as Coriolanus' troubled wife Virgilia. Bryan Woods and Jason Dlouhy offer humorous, all-too-brief performances as Tullus Aufidius' daft, bumbling servants, and are joined by the always-noteworthy Calvin Vo as a somewhat less dimwitted attendant.
Once again, costume designer Ellen Dixon impresses with her choices, particularly the Roman soldiers' leather uniforms with sandals that wrap up to the knees. And whoever is responsible for the blood on Henning's face and arm is also to be commended for the shock it creates. Although long, running almost three hours, Genesius Guild's Coriolanus remains interesting both for Shakespeare's telling of the tale and this theatre group's staging of it.
Coriolanus runs at Lincoln Park (11th Avenue and 38th Street, Rock Island) through July 21, and more information is available by visiting Genesius.org.